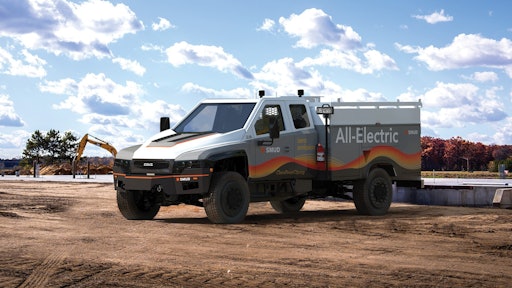 Zeus
Paul Lau, CEO and general manager of the Sacramento Municipal Utility District (SMUD), believes electrifying the transportation and building sector "is a cornerstone of a strategy to get to zero carbon" due to the relatively large emissions generated by those industries. For its part, SMUD, the sixth largest community-owned, not-for-profit electric service company in the U.S., has set a goal of removing all carbon emissions from its power supply by 2030.
"It's the most aggressive carbon reduction goal of any larger utility in the United States," Lau asserts.
To meet its objective of 100% zero-emissions vehicles and equipment by 2030, SMUD has been progressively electrifying its fleet of more than 1,000 transportation assets. "We've made good progress on some fronts," says Lau. "For example, we removed the last gasoline-only sedans from our fleet in 2019.
"But it's been more challenging with larger medium- and heavy-duty trucks because the electric options are limited," he continues. "That's why the Zeus vehicles are so exciting."
Zeus Electrifies Work Truck Applications
Zeus Electric Chassis, Inc. has developed a versatile battery-electric vehicle cab and chassis platform that enables fleets to use existing OEM body partners, system integrators and upfitters to adapt the vehicle to various Class 4, 5 and 6 applications. Such applications can include bucket trucks, cranes, dump bodies, service bodies and more.
According to the company's website, currently available chassis models offer from 290- to 510-hp ratings and from 2,040 to 3,500 lbs.-ft. of torque. GVWRs range from 16,0001 to 26,000 lbs. with payloads from 8,000 up to 13,000 lbs. All models utilize lithium-ion NMC batteries as the primary power source.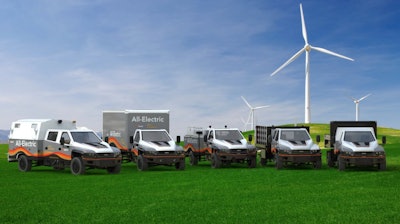 Armed with the desire to shrink its carbon footprint in the larger vehicle size classes, SMUD will become Zeus Electric Chassis' first customer. "Our purchase of five Zeus vehicles removed five medium-duty diesel trucks from the road along with their associated admissions," Lau states. "SMUD would help demonstrate to California and national commercial fleet operators that electrification is possible for medium-duty or Class 4 and 5 work trucks, which is the core of commercial and construction fleets."
The first production Zeus Class 5 electric work trucks are being built to spec for SMUD, with four of the trucks being upfit with truck bodies from the Knapheide Manufacturing Co. Configurations will include an electric stake truck, electric open-body service truck, electric closed-body service truck with crew cab and an electric dump truck.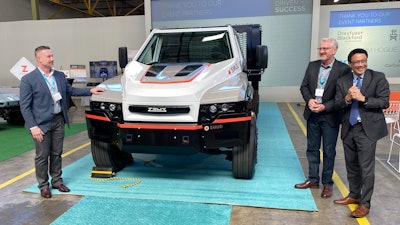 A configuration of the electric stake truck was unveiled to Knapheide dealers and distributors at a special event during Work Truck Week in Indianapolis on March 8., and from there, was shipped to Sacramento for a ceremonial presentation of the key fob to SMUD at an event hosted by the California Mobility Center (CMC). The first of the five production trucks ordered by SMUD, the dump body, which will be shown at the ACT Expo in May prior to being put into service in the field.
Ensuring the Best Upfit Solutions
Effectively marrying a truck body and chassis is essential to the success of any vehicle upfit. That's why Zeus chose to bring body OEM Knapheide into its chassis design development early on – to ensure the focus was kept on meeting customer needs.
"Other EV companies are either not knowledgeable about commercial applications, or they're intensely focused on a certain application, like last-mile delivery," states Chris Weiss, vice president of engineering at Knapheide. "Either way they don't understand the complexity of the commercial market, both in terms of channel-to-market and design constraints. And they are struggling with it.
"The best upfit solutions start with a conversation," he continues. "To make fleets more productive, we need to understand what our customer wants to do, and tailor our solution to meet their needs."
The truck bodies for SMUD's Zeus vehicles are built at Knapheide's Quincy, IL manufacturing facility, procured through Custom Truck One Source (CTOS) and delivered to the Zeus facility for installation. Holistic integration of the truck body with the configurable chassis is one of the key differentiators for the Zeus Power Platform.
The traditional channel-to-market process for work trucks can take four to five months of cut-and-paste to integrate the truck body and chassis. The chassis design of the Zeus Power Platform keeps the battery within the frame rails and incorporates pre-engineered system solutions that make the upfit installation cleaner, quicker and safer. This is particularly important with an electric vehicle given the high-voltage lines that connect the chassis power to the body.
The ability to tailor to customer requirements is essential. "As our customers explore the opportunities with electric upfits, we need to define up-front their power needs via work and range," Weiss comments. "The electric chassis is a great solution overall as it provides the power source for all the electric truck equipment. With the unique approach of the Zeus design, if more power is needed, more battery capacity can be incorporated into the chassis to meet the customer's needs."
The integration between the Zeus Power Platform and Knapheide truck bodies has proven a productive pairing. "It's important for Zeus to demonstrate to our customer that they can continue to get the same tried-and-true truck body on our electric chassis as they are accustomed to having," says Bob Grinstead, founder and CEO for Zeus. "Working with Knapheide and CTOS on these initial truck deliveries allows us to do just that."
Next Step Toward Validation
The next step in the process is ensuring the EVs can fulfill that expectation in the field. As a founding member of the CMC, a public/private partnership to support, fund and commercialize new EV technologies, SMUD has been able to work with Zeus to customize the vehicles to its specific needs and road test them in its utility operations.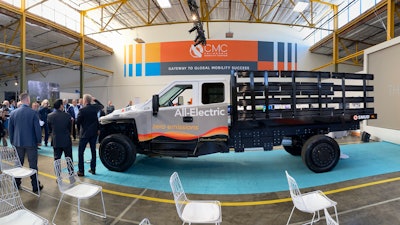 "The CMC helps connect startups like Zeus with potential clients like SMUD to test the technology in commercial tests in various industries," Lau explains. "We're very excited to take delivery of five vehicles in the second quarter of 2022 and test them in several applications across our business."
The trucks will be put into service with five different crews to validate the technology and create a Class 5 electric vehicle truck fleet adoption process for the future. "We'll use them in a variety of applications from facilities management to our line asset groups to substation work. The Zeus trucks will replace existing equipment, so we'll see how [much] carbon emissions saving from day one," says Lau. He is optimistic that the trucks will not just match but outperform their gasoline counterparts.
Operation of the vehicles will be documented every step of the way. "Our development team will be collecting data from the onboard GPS and telematics systems for real-time diagnostic analytics of duty cycles, charging patterns," says Lau. "[We] will incorporate feedback from the operations on a weekly basis, which we will also share with Zeus along the way."
Editor's note: Quotes from Paul Lau, Sacramento Municipal Utility District (SMUD), excerpted from a video transcript by Zeus Electric Chassis, Inc.