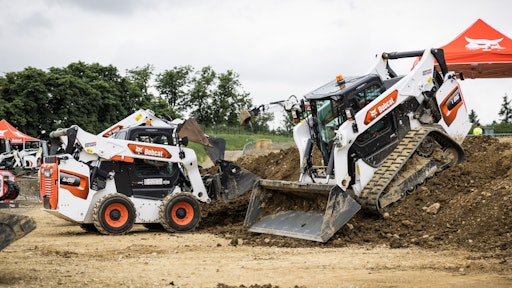 Bobcat
One of the must-see booths at Bauma 2022 will be Bobcat's. The equipment manufacturer is using the show to debut its latest loaders and a couple of innovative machine solutions. The booth will also host the company's electric compact track loader prototype.
Bobcat's booth will be located at FN.817 and will include the following:
the latest Bobcat wheeled and tracked loaders
the T7X electric CTL concept
mini-excavators—including four new exciting additions in the 5 to 8 tonne category
the very latest R-series telehandlers
light compaction products
a number of new attachments


S86 Skid Steer and T86 CTL
Bobcat also has a special new product introduction planned for Tuesday so stay tuned to IRONPROS for more information on that machine.
The stars of the Bobcat booth will likely be the new S86 skid steer and T86 compact track loader. These are the final two machines in Bobcat's new R-Series generation of loaders and are also the largest Bobcat loaders to date.
Plus, for the first time on a Bobcat loader, the company has implemented three different auxiliary flow outputs: standard, high flow, and super flow. Bobcat says the new Super Flow function increases productivity from attachments by 15-20%.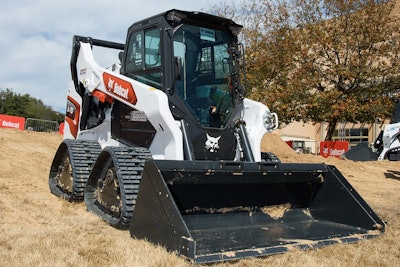 Quad Tracks
Bobcat will also display its new Quad Tracks solution at Bauma. This concept is currently being tested in certain markets in the U.S. and allows you to effectively convert your skid steer to a CTL by replacing the tires with four individual track pods.
Because the conversion is a simple process, converting it back to a skid steer is possible whenever desired. When using the track pods, Bobcat says the ground pressure created by a Quad Track loaders "falls between that of a comparable skid steer" and CTL. In other words, not quite as easy on the ground as a CTL, but not quite as rough as a traditional skid steer.
Bobcat notes that systems like Quad Tracks are not new in and of themselves, but the technology has not been applied to skid steers, "which require a track system that can withstand side-to-side movements, as well as forward and backward, which is introduced in skid-steering." Because of this, the product has been chosen as one of the finalists in the Mechanical Engineering category of the Bauma 2022 Innovation Awards.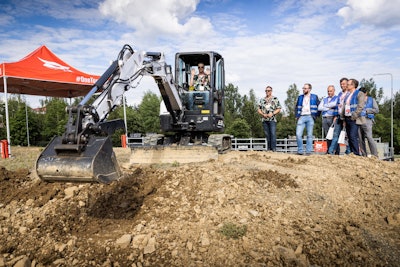 E35 Excavator With E/H Controls
At the show, Bobcat will also be showing its new 3.5-ton E35 compact excavator with electro-hydraulic controls.
"With the help of integrated sensors, the machine can also carry out some semi-automated tasks helping the operator with precise grading and levelling, trenching or repetitive tasks such as return to dig among others. We want to show the capability of such a concept and prove the value it brings to the operator's job and their productivity," said Vijay Nerva, Head of Innovation and Acceleration, Doosan Bobcat EMEA.