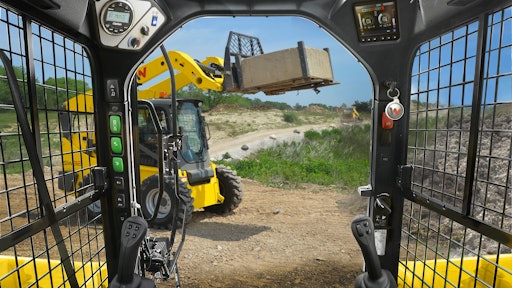 Wacker Neuson
To experienced equipment operators, compact machines may drum up images of cramped operator environments, minimal comfort features and rudimentary controls. However, manufacturers have been rapidly evolving the operator environment to maximize every inch of available space, while providing features found in much larger machines, such as climate control, pressurized cabs and sophisticated touchpad controls.
Compact equipment in particular offers very little space for designers to utilize. "As we design cabs for our compact machines, it's vital that we utilize every inch of space for maximum operator comfort and configure operator controls in a way that maximizes functionality in an ergonomic way," says John Dotto, Wacker Neuson Product Application and Training Specialist. "Wacker Neuson employs engineers with specialties in ergonomic design and it leads us to do things like maximize floor space in our skid steers and compact track loaders (CTL) in order to keep an operator's feet and legs in an optimal position throughout the work day. Operator comfort has a direct impact on productivity, and the more we utilize the basic principles of ergonomics specific to the type of equipment we build, the greater productivity we can provide our customers."
As costs have come down for certain HMI products, they are now finding their way into compact equipment. The new generation of equipment operators is also driving operator cab and human machine interface (HMI) designs. Many of them have grown up with video games and smart phones, so they are used to operating multifunctional devices and having everything available at their fingertips. "They are looking for the bells and whistles, the comfort, the ability to be able to easily operate a vehicle," explains Peter D'Addario, VP of Sales at Carling Technologies. "And they do that based on the types of products they've grown up with. So that's a very important consideration when designing equipment."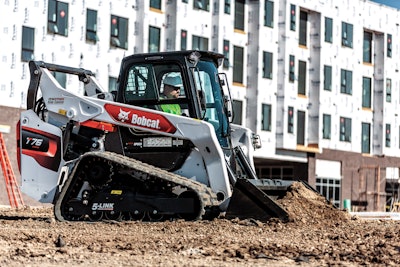 He says keeping these factors in mind helps to keep the new generation of operators' attention, enabling them to be more productive, while also helping with employee retention.
Comfort is key to operator retention. "Many operators seek the same comfort features they enjoy in their automobile," says Sarah Peckskamp, Marketing Manager – Loaders, Bobcat. "When we designed the R-Series loaders, we kept this in mind by offering a roomy, sealed and pressurized cab environment with an air-ride seat, heating and cooling options, and eye-level push button controls." Other automotive-style features include standard keyless start and LED lighting.
As manufacturers update their compact machines, the operator environment has become a major point of focus. CASE recently introduced a new lineup of skid steers and CTLs that feature many changes to the operator environment. "These new CASE B Series loaders feature a completely redesigned operator interface, including new left- and right-hand posts with simple ignition, push-button operation, easy throttle control and intuitive switches for all core machine functions," says George MacIntyre, Product Manager for Compact Equipment, CASE Construction Equipment.
Operator-focused designs place an emphasis on ergonomics. "CASE features one of the widest CTL cabs in the industry, providing excellent space for more comfort and operator positioning," says MacIntyre. "Joysticks on electrohydraulic models have been designed with a narrower, more comfortable grip, closer switch layout and a smaller head size for easier operation. The electrohydraulic pods on each joystick have also been made smaller to give the operator more legroom inside the machine."
Evolving vehicle architectures
"This decade will probably be the most disruptive in history when it comes to vehicle architectures," says D'Addario. This change is being driven by several factors, he says, most notably autonomous driving, connected vehicles, electrification of powertrains and shared mobility, or ACES.
Construction equipment—and heavy equipment in general—is also getting smarter. Digitization and connectivity are driving development efforts for OEMs because of the ACES trends in the industry, says D'Addario, which is making its way into compact equipment as well as larger machines.
The overall goal with changing vehicle architectures is to provide continuous improvement in uptime, productivity and efficiency.

HMI devices are becoming more complex, says D'Addario. There are multiple functions being built into single devices and he says in some cases, operators are gaining the ability to use them without looking at the device but instead keep their eyes on the task in front of them. Joysticks, keypads and multifunction displays are among the products enabling this which themselves are being enabled by the changing architectures of heavy equipment. "They're eliminating point-to-point harnessing," he explains. "If you reduce the points of contact, you're reducing weight, the amount of wire and connections, and you're improving the quality and reducing the number of potential failure points.
"This is introducing a multiplex network, either CAN, LIN or other device," he adds. With this multiplex network, it is now easier to connect the vehicle to the internet or the cloud which enables diagnostics capabilities for predictive maintenance. It also enables the introduction of systems like GPS and rearview cameras.
READ MORE: Carling Technologies VM-Series Multiplexed Operator Control Module
Mark Petersen, Global Product Manager for Joysticks at APEM, says the use of joysticks is becoming more prominent in heavy equipment cabs. This is being driven by an increased emphasis on operator efficiency, comfort and safety. "The cab is almost being designed around the joystick," he says. "As vehicles become more complex, the joysticks are integrating more and more functions to accommodate the complexity of the vehicles."
Improved ergonomics are also playing a large part in joystick designs to help promote prolonged use. "We're also seeing an increase in demand for electronic joysticks that can provide haptic feedback to the user," he says.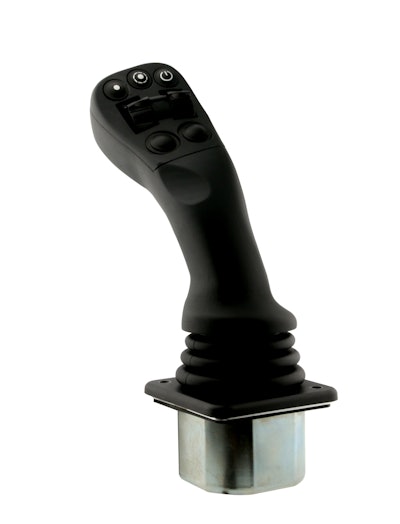 The move toward software-driven features versus hardware means that compact machines are becoming easier to upgrade, as well. In many cases, increasing the performance of a machine or adding additional features may be possible with a simple software update.
Software engineers continue to produce updates for existing machines, which means owners should check that they have access to the most current updates. "Wacker Neuson engineers are continuously looking for enhancement and improvement opportunities, which include software updates to machine controls and in-cab displays," says Dotto. "Technicians should verify that the latest software is installed when a machine is going through its periodic maintenance to ensure that the machine is running at peak performance. Having the latest software updates allows operators to fine tune settings to suit their preference, level of experience and expectations from the machine."
More control at an operator's fingertips
There is limited space in an equipment cab and operators need to stay focused on their work. Operators essentially need functionality in their hands, says D'Addario. They want access at their fingertips for the machine functions they need to do most frequently. "So, what we're doing is applying multiple functions in one device," he explains. "Before you used to see a single row of rocker switches or row of push button switches all throughout the cab. All these functions are now being combined into a single device, or one or two devices."
This puts everything at an operator's fingertips and eliminates the need to search for a button. The operator "knows where that function is and can access it without having to look. It's much more ergonomic having everything combined in one or two devices," says D'Addario.
As such, he says Carling is continually developing HMI products which can be customized for or in conjunction with an OEM to achieve the goal of placing as many controls as possible at an operator's fingertips.
Listen to our podcast interview with D'Addario to learn more.
Multifunction displays have become more commonplace in equipment as a means of providing functionality in a centralized location and simplifying machine customization. The displays and touchpad controls allow operators to tailor machine operations to match the application and operator preferences.
Wacker Neuson provides a wide range of adjustment options on its loaders. "Adjustments that can be made from inside the cab include speed and sensitivity settings to the drive (propulsion), steering and work group (arms and bucket) controls," says Dotto. "Profile settings can be saved for a specific operator when using a unique log-in code for machines equipped with our 5.7-in. (14.5 cm) color display."
The CASE B Series multifunction display allows operators to make and act on decisions right from the operator seat. "The new display puts all essential information right at the operator's fingertips—from basic operational information such as engine hours and fluid levels to 'trip meters' and utilization data that provide fleet managers and operators greater insight into machine performance," says MacIntyre. "Electrohydraulic models provide the additional simplicity of switching between ISO and H operating patterns with the simple push of a button."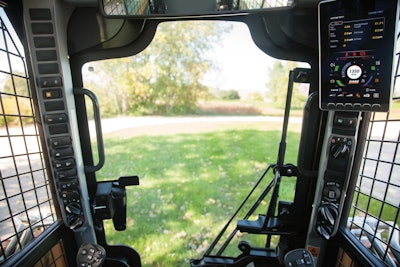 READ MORE: MTA Develops New Display for Case B Series Compact Track Loaders
Being able to adjust machine control settings from inside the cab can bolster operator confidence. "Operators can set total machine responsiveness to low, moderate or aggressive, or independently set tilt, lift and drive speed, as well as loader arm and drive control to best meet the demands of the job," says MacIntyre. "A creep speed feature allows the operator to set machine speed at a consistent/slow 'creep' while independently setting attachment speed via the throttle for optimal use of high-capacity hydraulic attachments."
According to John Pannone, VP Sales, HMI Systems/Key Customer Management, North America at EAO, manufacturers' desire to ensure the flexibility of their machines is driving the use of multifunction displays and components in operator cabs. This flexibility can be seen in the creation of control panel screens which are configurable, as well as increasing use of displays to provide information to operators. With the increased use of displays, Pannone says devices for cursor control—or navigation on the display screens—are also becoming more common in equipment cabs. All of this is being driven by the fact OEMs want to make their equipment easier to use in various types of applications and environments. Using display screens which can be configured as needed allows operators to switch from one application or job site to another more easily. People want to get away from single use machines, says Pannone, which is driving design trends for equipment cabs.
The company's new Series 09 CAN Keypad and Rotary Cursor is an example of one such configurable component. It is CAN based (J1939 or CANopen) which allows the operator or the equipment manufacturer to easily configure the operator inputs of the keypad. Typically, it would be more cumbersome to do so, requiring more customized items, says Pannone. Since it is CAN based, there can be a lot of inputs and outputs, and there can be more feedback for the operator—such as illumination behind a button when it has correctly engaged a machine task. Though he notes it is important to not overdo the feedback otherwise it might become distracting.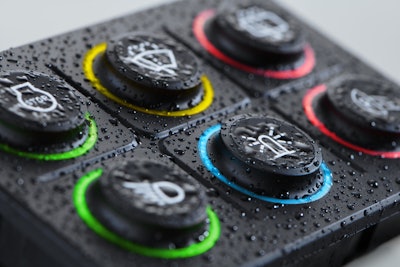 When designing a cab, Pannone says it is important to understand the environment and application in which a piece of equipment will be used, as well as the user. "It's always a balance between function and intuitiveness," he says because it is never certain what the skill level may be of the equipment operator.
Operator comfort is a priority
Improving comfort is a big area of focus for manufacturers when developing a piece of heavy equipment. In some cases, this means the addition of an enclosed cab on a piece of compact equipment. Better quality seats, infotainment and HVAC systems are also being added. The ultimate goal, says D'Addario, is improving efficiency and uptime, and reducing operator fatigue which helps improve productivity, as well.
"To optimize comfort, Wacker Neuson relies on direct customer feedback and input when we design operator stations," says Dotto. "One of the outputs of this direct feedback loop is seen in the way we design our air conditioning systems. On our newest mini-excavators, the design of the air conditioning system was an engineering priority with a focus on maximum cold air output in most hot and humid environments. The same is true for all new product development, with a specific focus on cold air with maximum airflow."
HVAC controls have replicated the simplicity of automotive controls. "In addition to traditional climate controls on many of our machines, some newer models offer automotive-style climate control where the operator can set a desired cab temperature," says Dotto. "The system then works to automatically maintain that temperature."
Designing better cab pressurization systems has also been a priority. Manufacturers are striving to increase the long-term integrity of these systems.
"Wacker Neuson skid steer and compact track loader cabs are designed to maintain the best possible air seal over the lifetime of the loader by utilizing a single pod design," says Dotto. "Essentially, the entire cab is a modular unit that tips for service, floor and all. Cab designs that tip an upper structure only while the cab floor remains integrated in the frame require a seal that can wear out over time, leading to a loss of pressurization that allows dust and pollutants into the operator space. Our 'pod'-style design eliminates the need for such a seal."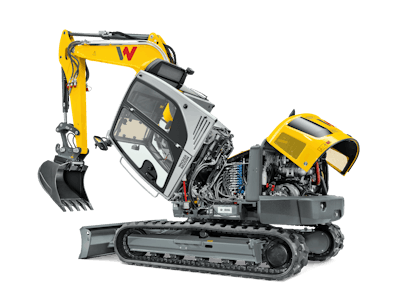 Bobcat R-Series loaders have a new one-piece, sealed and pressurized cab design. "It provides a near-seamless interior for a new level of operator comfort and improved service access," says Peckskamp. "The roomier design offers a sealed and pressurized environment that repels dust and dirt in the cab, isolates the operator from engine and hydraulic noise, and enhances the efficiency of heating and air conditioning. When it's time for maintenance or repairs, the entire R-Series cab rotates out of the way to provide improved access, with hardware on the cab exterior for easy removal."
In many cases, operators spend hours in the cab of a compact machine and it literally becomes their office.
"Operators have an expectation of comfort and convenience in the cabs of their machines," says Dotto. "The cab is essentially a mobile office, so features such as Bluetooth radios and plugs for charging cables are important. It's also important to have room for storage, a place to secure a phone and good-sized cup holders. It might sound simple, but sometimes it's the little things like this that make a big difference to an operator working a long day in a machine."
This article was adapted from one entitled "Compact Equipment Cabs Evolve to Boost Operator Comfort and Productivity" which originally ran on our sister site ForConstructionPros.com.
Companies in this article