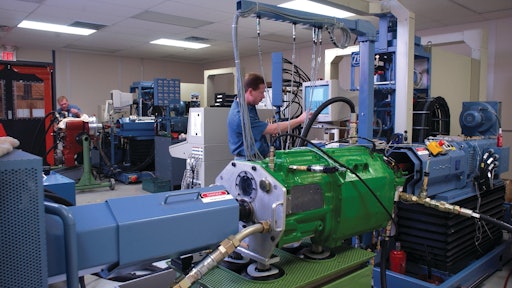 The USS Merrimack was a 4,636-ton steam frigate built at the Boston Navy Yard and commissioned in February 1856. After four years of service in European and Pacific waters, she returned to the Norfolk Navy Yard in Virginia, and was decommissioned in February 1860.
Merrimack was still there receiving repairs when the state of Virginia seceded from the Union in mid-April 1861. In an effort to make her unusable to the Southern cause, Federal forces burned and sank Merrimack as they withdrew from the Norfolk Navy Yard on April 20, 1861.
On June 23, 1861 the Hon. S.R. Mallory, Confederate Secretary of the Navy, ordered that the USS Merrimack be salvaged and converted into an armored casemate ironclad.
Albeit dramatic, the salvaging of the USS Merrimack fits with the modern day explanation of remanufacturing as defined by The Remanufacturing Institute (TRI):
'Remanufacturing is the process of disassembling products during which time its components are cleaned, repaired or replaced and then reassembled to sound working condition.'
Since that Civil War era repurposing project, remanufacturing has grown into a significant revenue stream for many companies in many industries. Henry Ford was an early adopter of full-scale remanufacturing as we know it today. During the Depression, Ford 'authorized' a number of his dealerships to remanufacture engines and other components. Today the automotive industry remains one of the largest segments of the $53 billion remanufacturing market.
Remanufacturing is broken into two sub sectors: capital goods and consumer durable goods. Capital goods remanufacturing is by far the more mature segment of the market and one that encompasses the off-highway industry.
The off-highway component
The message is fairly consistent among OEMs and component suppliers in the off-highway industry. While experiencing impressive success today, many entered the field of remanufacturing only because their customers demanded it.'Our program started in 1973 at the request of one of our customers,' says Steve Fisher, general manager of Caterpillar Remanufacturing Services. 'Basically they said they would only buy new product from us if we offered them a remanufactured product as well.'
The first remanufactured product that Caterpillar offered was a medium-duty on-highway truck engine. 'Frankly, at that time and for the first part of our reman journey, it was viewed by the company as a necessary evil. It wasn't something we did because we chose to, rather because our customers required it.'
Bruno Jost, remanufacturing manager for Bosch Rexroth, tells the same story about the origins of remanufacturing in his company.
'In 1994, when Rexroth was still owned by Mannesman, we were approached by our largest customer. They wanted to start a remanufacturing program with us because they had this type of program in place with other component suppliers,' says Jost.
Since those reluctant entrees into reman, there has been a significant shift in corporate attitudes toward remanufacturing activities at both firms. Fisher recalls that in the mid- to late-'90s, Caterpillar began to realize the full potential of remanufacturing.
'First, it's a great value for the customer, says Fisher. 'Warranty is same as new, quality is the same as new and reliability on reman products is the same as new products, but it's anywhere from 40% to 60% of the cost of a new product. Second, there is the social responsibility aspect. Remanufacturing is the ultimate form of recycling.'
And finally adds Fisher, that if it is done well, remanufacturing is 'a very attractive business.'
Over the last five years, Cat's remanufacturing business has doubled in size and scope. And they expect it to double again over the next five years.
'Technician in a box'
As off-highway equipment and components become more electronic, the level of sophistication needed to repair those product increases. And it is no secret that there is a shortage of skilled technicians out there. So remanufacturing becomes a viable alternative for dealers and others who traditionally repair products, but today do not have the resources or know-how to do so.
'Buying remanufactured products is a way for a customer, dealer or distributor to buy labor capacity off the shelf. We describe it as a 'technician in a box',' says Bob Wille, marketing development manager for Cat's Remanufacturing Services.
This knowledge gap in the service industry has also created unique opportunities for organizations that do stay up-to-date with tools and technician training.
Palmer Johnson Distributors, Madison, WI, is one company that has taken advantage of the fact that fewer firms are able to commit the resources necessary to repair more sophisticated components.
Palmer Johnson designs, implements and manages turnkey transmission and axle remanufacturing programs for off-highway OEMs including CNH, John Deere, AGCO and others.
'The reason we have many of these programs is that it's over and beyond what the dealer is set up to do,' says Joe Schwarz, service manager for Palmer Johnson Distributors. 'Often they just aren't doing enough volume to justify the investment in tooling and training.'
Low tech to high tech
Historically, the process of refurbishing components during remanufacturing has been a tedious, low-tech, time-consuming process. 'Blacksmith work' is how some have described it. But OEMs like Caterpillar have made significant strides toward elevating remanufacturing processes to more productive and profitable levels through the introduction of new salvage technologies.
'We are using lasers and some fairly sophisticated technologies to salvage and reuse material,' says Fisher.
From a cost and productivity perspective, this means that Caterpillar is able to rebuild many components that would have traditionally been scrapped during the reman process. This reduces the overall cost of the product and adds to customer value.
Feedback loop
One interesting benefit for component manufacturers that directly remanufacture their own products is that design groups can directly witness what products look like after a full life in the field.
This takes on added significance when design groups are based overseas, as is the case with Bosch Rexroth. And as Jost explains, design engineers did not have the opportunity to see how their products performed in the equipment of U.S.-based OEM customers. With remanufacturing activities based in the United States, engineers have access to that information, and can improve designs when necessary.
--------------------------------------------------------------------------------------------------------
Mission: wheel loader overhaul
'This project is completely unique for Case,' says Bill Thomson, manager of federal sales and marketing for CNH Global, Racine, WI, owners of the Case Construction Equipment brand.
Thompson is referring to the complete remanufacturing of 400 Case MW-24Cs which are 2.5 yd3 wheel loaders owned by the Army National Guard. For those familiar with Case's line of equipment, this is the 20-year-old equivalent to the current 21 series line of wheel loaders.
A complete rebuild
'We disassemble the entire machine,' says Thompson. 'And then split it into two halves, front and rear. All the major component systems on the machines are either rebuilt or replaced. The frame is shot blasted and repainted and then it's reassembled into a complete machine again.'
Remanufacturing of most components is outsourced. Case made an effort to hire select sources who are either based in Wisconsin or have ties to the state, says Thompson. So the transmissions are being rebuilt by Palmer Johnson Distributors, Madison, WI; the axles by a Case dealership and the engines by Springfield Reman Co., Springfield, MO, which already rebuilds engines for Case's commercial products.
During the rebuild process, the wheel loader only exists as a serial number plate. 'So one half of the chassis could go in one machine, the rear half in a different unit and the cab in a third. But once a machine is reassembled, the serial number plate goes back on and it is a complete unit again,' says Thompson.
Local labor
Case has set up shop for this project in 10,000 sq. ft. of leased space at Fort McCoy, in west-central Wisconsin. Here, the wheel loaders are disassembled and eventually reassembled.
Eighty percent of the workforce at the Case Remanufacturing Center are current or former military affiliates. Many of them have retired from the military as maintenance technicians.
While the schedule to remanufacture all 400 units extends over several years, Thompson expects it to be accelerated to meet increased National Guard deployment requirements.
By choosing to remanufacture these units rather than purchase new ones, the Army National Guard pays 60% of the price of a new one. And all remanufactured units have a full one-year warranty.