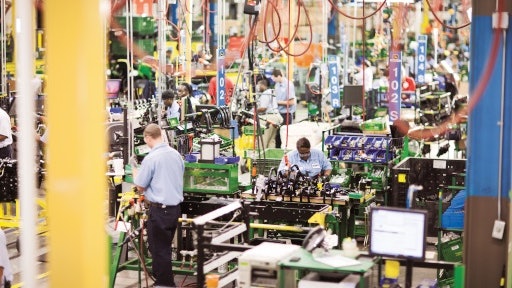 John Deere
John Deere announces it has secured licenses in five counties in Iowa and Illinois to upgrade its broadband network to 5G. The 5G licenses were obtained through a Federal Communications Commission (FCC) auction for the Citizens Broadband Radio Service (CBRS) 3.5 GHz spectrum.
"It's a spectrum range that we obviously did not have availability to in the past and something that we foresaw might take a little bit of time to get to some of our rural counties," says Craig Sutton, John Deere's Manager of Manufacturing Innovation and Technology Strategy. "We looked at how this spectrum could benefit Deere in some of our strategic plans in smart, connected factories and smart industrial knowing that we had more and more connected devices coming online, especially inside our factory operations."
The winning bid
The 5G license auction took place in late August with bids on service in more than 3,200 counties. License applicants were verified and Deere, among many other companies, was on Nov. 12 deemed qualified to bid in the auction and therefore buy the licenses.
The licenses will enable John Deere to accelerate the availability of 5G in its largest manufacturing facilities in North America. John Deere will implement 5G at its manufacturing facilities in the following counties: Rock Island, IL; and in Iowa: Scott, Dubuque, Polk and Black Hawk. John Deere operates major manufacturing factories in those counties, producing combines, front end equipment, tractors, engine blocks, heads and crankshafts, as well as transmissions, front and rear axles, gears and shafts.
According to FCC definitions, these counties are considered rural, even though, for example, Waterloo, IA, where the John Deere Engine Works and Drivetrain Operations are located, has a population of about 67,000. To be considered rural by the FCC, counties must have a population density of 100 people per square mile or less.
More than 6,000 people are employed by John Deere in Waterloo. Although it's not tiny, Waterloo is in a county small enough to be considered rural by the FCC. Rural counties are often the last places to receive an upgrade in broadband services, so telecommunications companies, utilities and private corporations like John Deere and Chevron, were invited to bid on 5G licenses to help boost broadband services.
Sutton says the FCC is completing due diligence on license bids, with licenses becoming available in the first half of 2021. During that time, John Deere will begin testing the spectrum. By the end of 2021 or early 2022, John Deere expects to have 5G operational.
"In early 2022, we'll start lighting up our factories and we'll be seeing more opportunities to put this in production," he says.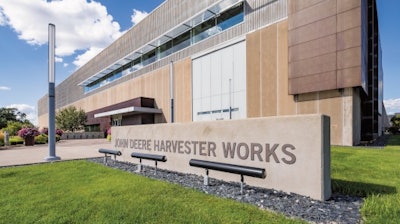 Improving smart infrastructure
By obtaining these licenses, John Deere will boost its wireless networks by providing access to 5G in its manufacturing facilities.
"John Deere has always focused on how to empower customers to do more with less by using technology, and our focus on tech goes way beyond the fields. It impacts every single aspect of our business, and we're constantly looking at ways to improve our own efficiencies and outcomes with it," says Jahmy Hindman, John Deere's Chief Technology Officer. "Implementing 5G in our manufacturing facilities allows John Deere to make significant progress in our smart industrial strategy by turning factories into smart and connected manufacturing facilities, a critical piece of the industrial IoT."
Sutton points out that John Deere factories, while not the smokestack buildings of the past, are filled with metal and heavy machinery. With miles of embedded ethernet cables connecting wi-fi drop points in factory ceilings, the facilities have limited flexibility for set up and upgrades. 5G will allow those facilities to become better connected, more focused on automation and more competitive in the market.
"One of the top goals that we continue to have going forward is just smart, connected factories and smart, connected supply chains making us a very nimble and efficient and technical savvy company," Sutton says. "It's a very, very tech savvy environment that we have going on inside our factories. We have digital twins, we have digital models, we have paperless work instructions. We have automation that's been in place and we continue to expand, and we see 5G continue to enable that, give us more opportunities to bring in machine learning inside a factory and augmented reality and how those technologies are going to continue to really drive our efficiencies."
Private 5G technology also allows the company to expand factory capabilities leveraging edge computing, analytics, and autonomous devices, and a larger set of smart applications like real-time location systems, asset tracking, inventory management, wearables, building automation and robotics for operational cost savings.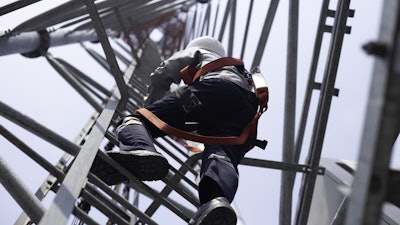 More data, faster
So how will 5G technology benefit the customer? Improved connectivity will allow John Deere to build better equipment with more data embedded into it, to ultimately allow the machines to operate better, longer, Sutton says.
"We're going to create more information about a machine and what we used to call a digital birth certificate," he says. "It really becomes the digital DNA of the machine. How was it built and how did all these pieces come together? How does all that work together at the end of the day? We not only understand our manufacturing operations better, but we've actually created more intelligence into our machines as they come off (the assembly line). The machines have digital knowledge about themselves. This is kind of like a mindset shift that with the digital IQ of our factories increasing, there is also an increase in the digital IQ of our machines."
That data will allow John Deere to improve the quality of machines being built and will help owners better care for the equipment.
"We really see it being part of a bigger ecosystem of digital intelligence that we're putting into all aspects of our operations," he says. "That digital information is of value that our customers should start to see in how they operate the machines, how they move them safely, how they do maintenance on them and how they do service."
Keeping it safe
As 5G becomes more of a reality, the conversation is increasingly turning to cyber threats on the multiple devices each person operates. John Deere's cyber team is assessing the 5G spectrum and performing due diligence on its level of safety and security at all levels of connectivity, from USB ports to network connections.
"That is just good standard cyber practices that we're really seeing come forward, and the team that does that for Deere, we have had them in this discussion from early on, and they're really helping us vet through what that would be, and then putting together all the proper techniques that we need to, to ensure super solid cyber protection inside of John Deere," Sutton says.
Adding 5G to its connectivity is one of many strategies John Deere is taking on as it moves into a more technological and automated era of operations. The company has made several announcements this year about product upgrades, startup acquisitions and other moves to modernize and improve its products and facilities.
Companies in this article