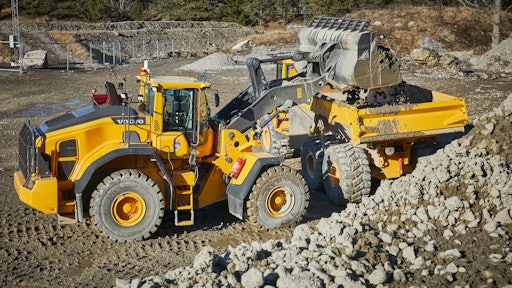 Volvo Construction Equipment
Machine connectivity and automation are increasing the need for networks which can handle vast amounts of data transfer. 5G is the next step in mobile network technology that will enable this, and is said to provide:
better coverage
higher reliability and
stronger security than other wireless solutions.
These aspects will aid the transfer of large amounts of data to make connecting and automating machines easier.
There are expected to be 20 billion connections by 2020, creating a need for better capabilities to enable all of these connections, says Michael D'Argenio, VP Digital Transformation & Customer Experience at SKF Americas. 5G is said to be a vehicle for enabling this vast amount of connections for a variety of industries. This includes manufacturing—for Internet of Things (IoT) capabilities—and heavy-duty equipment. D'Argenio cites a report which says 5G is expected to deliver $3.36 trillion in economic output globally in the manufacturing sector alone.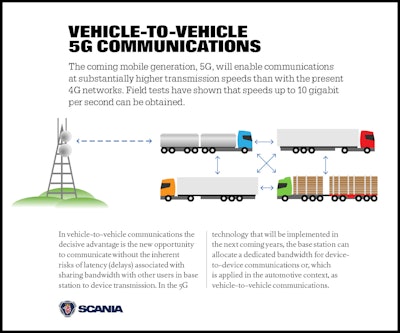 Scania AB is one of the many companies currently researching the use of 5G in the heavy-duty vehicle industry. It says the low latency (delay) in 5G connections could allow new technologies to be used by vehicles transmitting braking or directional information to one another. In a truck platoon or other similar automated vehicle connection, it could improve the reliability and speed of the exchange of information between two or more vehicles.
Because the data is transferred faster, the systems controlling the vehicle can react sooner—braking if needed or turning—to ensure safe operations.
"At Epiroc, we see key advantages of LTE and 5G solutions compared with other wireless solutions [which] include better coverage, higher reliability and stronger security, especially when machines are in the same area and share information," says Karin Jirstrand, Product Portfolio Manager - Interoperability Platforms, at Epiroc.
Jirstrand says 5G offers a great way of prioritizing network traffic and creating a reliable connectivity solution for remote operation and autonomous machines. "The mining industry has understood that connectivity is fundamental to be more competitive and that to move towards Industry 4.0 through digital transformation, guidelines and technological standards are needed to facilitate this process," she says. "5G is a standardized way of creating connectivity in mining, as well as other industries."
Last year Epiroc announced it was working with communications technology provider Ericsson to help mining companies achieve optimal wireless connectivity in their operations through LTE and 5G technologies. Ericsson's expertise in 5G and connectivity is being combined with Epiroc's mining equipment technology and know-how of the industry. Epiroc's test mine in Kvarntorp has been equipped with the latest 5G technology from Ericsson to be able to work together with 5G in a mine environment with autonomous machines, as well as telematics solutions. The aim is to provide stable and secure mining operations, as well as higher productivity and safety which will be made possible by digitalization and automation enabled by 5G, says Jirstrand.
"The collaboration has shown some areas to highlight in order to make the new technology applicable for mining users," she says. "One example is installing and monitoring the system, which is a part of the solution that is crucial for any mine moving into a new technology. More and more connected devices need to be visible, putting more focus on installation, monitoring and maintaining the system. Ease of use and stability is just as important as new and cool features."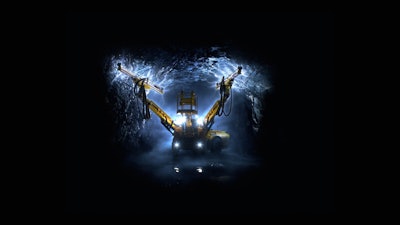 Technologies necessary for 5G
To utilize this new network, a 5G base station, 5G antenna and 5G terminal (modem/phone) are required. Jirstrand says what components are needed to employ 5G depends on the use case and the work site's layout. As the provider of the core technology and 5G components, Ericsson also offers simulation capabilities to understand the needs of the network in different parts of the work site and recommend the best setup. For a machine to use the 5G network, she says it should be equipped with an onboard 5G/LTE modem configured for the network at the work site.
"5G can operate on different frequencies, and those frequencies (usually referred to as spectrums) are more or less available in different parts of the world," she explains. "Spectrum is not available yet in the majority of countries. The market for 5G components is increasing, but the available number of compatible components are still low."
Onboard components to enable use of 5G may need to be sourced from the country in which they will be used due to regulation and spectrum availability, she says. And very few vendors provide out-of-the-box ruggedized equipment necessary for use in harsh operating conditions. The technology is still new, but the market demand is increasing which may make availability of necessary components easier in the coming years.
Calle Skillsäter, Technical Specialist for Connected Machines at Volvo Construction Equipment (Volvo CE), also notes the availability of 5G terminals is limited, especially for industrial applications. "This is a key factor that needs to be further developed if industries are to be ready to take full advantage of 5G when it is rolled out more widely," he says. "A number of 5G enabled phones are already starting to pop up in Asia, but the big bang will come when the a robust and widespread 5G infrastructure is put in place."
He says the big roadblock at the moment to making 5G more commonplace is frequency legislation which differs around the world.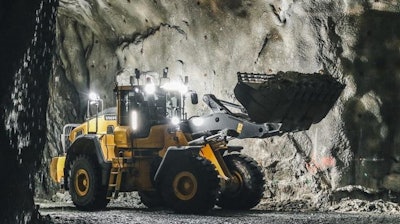 Jirstrand adds that making the spectrum for 5G available on the global market is also a critical roadblock. Testing the technology is a way to help overcome this though, and a critical step to embedding a new technology. She says increasing the number of users will help grow the technology.
"2020 seems to be the year where 5G can be publicly deployed on the global arena, at least that's what the 5G community talks about. By then, components need of course to be 5G compliant. There is already some publicly announced named 5G contracts in the world, in North America, Asia and Europe. Most of the markets are in the phase of auctioning the spectrum for 5G," she says.
Implementing 5G
Epiroc and Volvo CE has been researching the use of 5G for a few years now, working with Ericsson and Telia in the Pilot for Industrial Mobile Communication in Mining (PIMM) project, and the Telia Journey to 5G Partnership Program. With these projects, Skillsäter says "we have the possibility to test future connectivity solutions for our machines in mining applications, as well as other potential applications."
The company is currently focusing its research on its L180H wheel loader remote-controlled prototype, but will soon test 5G on its HX2 concept autonomous hauler, as well. The 5G network has been established at Volvo CE's facility in Eskilstuna, Sweden, as a means of evaluating how connected machines can create added value for customers. Skillsäter says the test areas have recently been established, so the company is in the early phases of its research.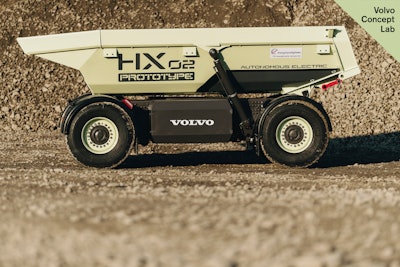 He says 5G allows Volvo CE to make significant steps forward in its research into connectivity and automation. "It allows us to transport data in ways that we could only ever dream about – to transport huge amounts of data in far less time. A faster, more reliable mobile network will mean we're at the forefront of driving a much faster market implementation of technologies like automation."
In sectors like mining and construction which use several pieces of heavy-duty equipment at one time, being able to automate more functions and machines can increase safety greatly. "If we move closer to removing humans from the production site entirely, it will bring great advantages in productivity and safety," says Skillsäter. "In addition, by eliminating the potential safety hazards and downtime associated with operations like mining, we can move closer to fulfilling our ambitions to deliver zero emissions, zero accidents and zero unplanned stops."
Jirstrand says that from Epiroc's perspective, an important aspect of 5G is the possibility it provides to prioritize different types of traffic over the network and give critical processes such as autonomous machines the bandwidth and latency they need. "The most prioritized type of network traffic is typically safety related," she says. "Features needed for evacuation need to have the absolute highest priority, in case of emergency.
"Wireless connectivity is a key element where more and more industrial devices are expected to be connected to this new productivity eco system. For many years, private high-speed wireless networks in industry have been possible thanks to the largely worldwide deployed standard IEEE802.11, popularly known as Wi-Fi. This paradigm is now about to change, and it's changing rapidly. 5G is the new enabler, in mining as well as other industries," concludes Jirstrand.
Companies in this article