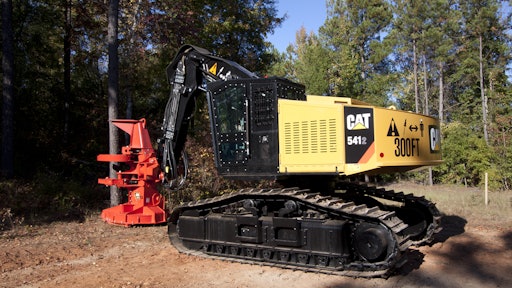 Caterpillar Forest Products introduces the new Series II track feller buncher with smoother hydraulic performance, better fuel economy, a more comfortable operator station and better visibility. Both the Cat 541 II and the Cat 552 II are full tail swing machines designed for high production clear cut and for clear or select cut in rough terrain. The 552 II is a leveling machine for more comfort on steep terrain.
The Series II features new compensator valve spools in both the implement and travel valve sections. The new valve compensators improve hydraulic stability and flow for enhanced multi-functioning. "The operator can maintain a productive rhythm when activating several functions simultaneously because there is minimal slowing or interruption in one function when another is activated," says Keith Hicks, Caterpillar Forest Products product performance engineer. "And with a more efficient hydraulic circuit, less hydraulic horsepower is required, so fuel consumption is also reduced."
In addition, the Cat track feller buncher hydraulics can be configured for either high or low flow attachments. This gives owners the flexibility to run any attachment and still maintain fast, smooth multi-functioning capability. "For example, when the Cat track feller bunchers are configured for low flow attachments, more hydraulic oil flow is freed up for other machine functions. This is an advantage over other feller bunchers that offer only high flow and cannot be modified to maximize performance for both machine and work tool," Hicks says.
The monitor in the cab has been downsized slightly to improve the operator's line of sight out the right front corner of the cab. "The operator has a clear view of the work tool and area to the right side of the cab for lining up a cut or repositioning the machine and linkage," Hicks says.
The operator's station features ergonomic joysticks, a comfortable, adjustable air ride seat, fresh air side window with screen and HVAC system with updated air ducts for better cooling and heating. All electrical harnesses are bulkheaded before they enter the cab, instead of lines fed in through holes in the floor. This keeps the cab sealed, so it is quieter and dust free.
The Series II machines are equipped with the Cat C9 ACERT engine that meets U.S EPA emission regulations. The C9 is a common engine design with a proven track record of reliability and durability in the woods.
Cat track feller bunchers have the best-in-class combination of lift capacity, swing torque and tractive effort-to-weight ratios. "With the Series II, we maintained the strong lift capacity of 21,800 lbs. at full reach, which exceeds other competitors by 15% or greater," Hicks says. "Ability to handle the larger loads, combined with long reach and strong swing torque means you do not have to move the carrier as much to reach the trees or swing to pile, so cycle times are reduced and productivity increased."
Shorter tail swing and higher ground clearance are also advantages of the Cat machines. "The Cat track feller buncher tail swing radius is the least compared to major competitors. That's an advantage for working in dense forest," Hicks says. The Cat machines are also less likely to get hung up on stumps and rocks. Cat track feller bunchers have a full 35 in. clearance between the tracks from front to back. "The Cat car body has a more open rectangular profile between tracks. With competitive machines clearance drops off closer to the tracks on either side," Hicks explains.
Three speed travel compared to two on many other machines also contributes to increased productivity. "The track feller bunchers are agile machines, and the operator won't have to down-shift as much to optimize speed and tractive effort," Hicks says.
The Series II is offered with a new optional HID (high-intensity discharge) lighting attachment for greater productivity after dark.