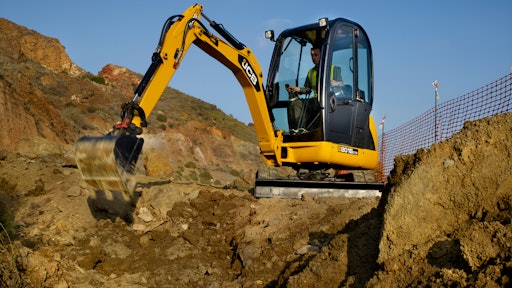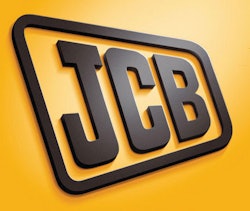 JCB has launched a new 801 mini excavator at INTERMAT 2012 - a machine that will offer customers more than 30 improvements for reduced cost of ownership, greater productivity, safety and comfort.
The new 8018CTS, which goes into production in the summer, will compete in the 1.5 ton sector and will feature:
A 52% increase in load holding capacity with improved lift capacity while maintaining overall class leading stability
An 11% increase in dig depth
A new style fabricated box boom for a more robust appearance
Increased dump height and reach
Reduced front swing radius
New dozer design with fold-out dozer extensions
Upgraded hydraulics for greater controllability
Improved service access
JCB's Chief Innovation Officer Tim Burnhope says: "This new machine has been developed after extensive consultation with our customers, dealers and end users. We have made more than 30 detailed improvements which will mean lower operating costs and enhanced productivity, comfort and safety."
NEW STYLE BOOM
The new 8018CTS features a new style fabricated box boom which gives the machine a rugged and robust appearance. Its slimline construction also gives excellent visibility down the trench. All the dig end hoses are routed through the inside of the boom offering excellent protection when digging narrow trenches.
The move away from a tubular boom to a box style boom allows the boom cylinder to be mounted on the top of the boom instead of underneath, giving greater protection to the cylinder and therefore lowering the cost of ownership.
GREATER PRODUCTIVITY
The new 8018CTS features a range of improvements which combine to make it a much more productive machine. Dig depth has been increased by an impressive 11% (244 mm) which allows excavations up to 2.48 m.
The dig end performance is further enhanced as the dump height increases by 52 mm, giving a load over height of 2.68 m. An increase in reach of 138 mm has also been achieved, taking ground level reach to 4.16 m.
All this has been accomplished even though the front swing radius has been reduced by 92 mm to make the machine even more compact when working in confined spaces. In addition, the bucket now cleans up to the dozer when a Quickhitch is fitted, aiding site clearance operations.
But the improvements don't stop there. JCB has acknowledged that more and more customers are using 1.5 ton minis for`lifting as well as excavating. As a result JCB has improved load holding capacity by a massive 52%. This has been achieved by increasing the boom ram diameter from 55 mm to 65 mm giving a greater lift force; by moving the kingpost closer to the centre of the machine; by lowering the centre of gravity and by use of a 'premium' hydraulic valve system.
Combine this class leading dig end with class leading bucket and dipper tearout forces and JCB's 8018CTS is a very powerful and productive mini excavator.
IMPROVED COMFORT
The 8018CTS features an expanding undercarriage which now comes with short pitch tracks as standard leading to a reduction in the amount of noise and vibration transmitted through the undercarriage while tracking across site and therefore offering improved operator ride comfort. Tracking speed is now manually controlled via a push button switch conveniently mounted on the dozer lever, giving ultimate control of travel speed especially during dozing and trailer loading operations.
The dozer now has a revised profile, which encourages material roll, enhancing dozing and grading performance. Dozer extensions are now an integral part of the dozer and they are hinged, allowing them to be effortlessly deployed for work or stowed for travel simply by the removal or installation of a single locking pin. The blade is 160 mm further forward giving improved stability over the front of the machine, as well as giving the operator better visibility to either edge of the blade.
HYDRAULIC CHANGES BRING MAJOR BENEFITS
The hydraulics of the JCB 8018 CTS - which is powered by a 14.2 kW Perkins engine - have been at the center of major technological advances which bring four major benefits to customers.
Better controllability thanks to improved spooling which makes it easier for the operator to make smooth precise excavator functions.
Improved load hold capability thanks to a new valve block, which is vital when lifting and placing heavy objects. Operators also have excellent control during pick and place tasks.
Improved straight line tracking for more accurate, quicker and easier machine re-positioning
The 8018 CTS has the ability to track in a straight line while operating all other excavator functions, bringing additional safety and productivity benefits
The final benefit that the new valve block offers is full control isolation. All hydraulic services are disabled including the dig end joysticks, tracking levers, boom swing and auxiliary pedals when the left hand pod is raised for optimum safety, removing the risk of inadvertent operation of the machine.
CAB REFINEMENTS
The cab on JCB mini excavators is one of the largest on the market with a wide door opening for safe entry and exit. The cab floor is flat and easy to clean and flat glass has been maintained throughout for low cost replacement. To further reduce the cost of ownership, a lower steel door panel is now standard on the machine to eliminate the need to replace damaged glass.
Inside the cab, the pedals have been relocated so the boom swing is now on the right-hand side and the auxiliary on the left. The tracking levers have also been refined to make tracking more precise, especially at slower speeds.
To maintain best in class service access, JCB has a tilting cab which elevates the cab or canopy to give unrivalled access to the engine, valve block, slew motor and rotary joint. The tilt angle of the cab has been improved by 17% which allows even better service access to super structure components. Quick release track levers and foot pedals allow a trained technician to lift the cab in a matter of minutes whatever the environment.
STRENGTH BUILT IN
To ensure the rear of the new 8018CTS is the strongest and most protected in the industry, JCB has opted for a solid cast counterweight, which will withstand the harshest of impacts and operating environments especially when combined with a 3 mm steel bonnet, which is the toughest in its class.
The hinged bonnet, with gas-strut assisted opening and closing, is even stronger because the plastic air intake grille has been replaced with a perforated steel grille. The bonnet has also been improved for better durability and external noise reduction.
To lower the cost of ownership for the customer JCB has also introduced steel bushes in the kingpost, dipper nose and bucket for increased durability.