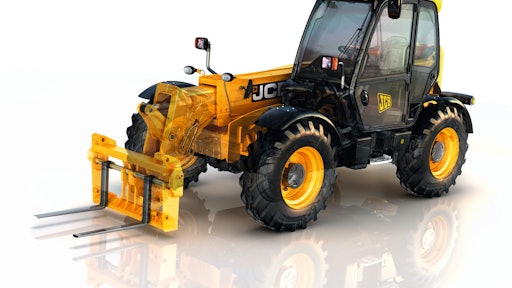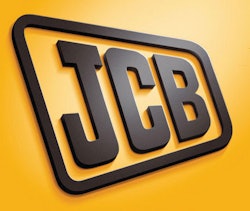 JCB, the world's leading manufacturer of telescopic handlers, has extended its Loadall range with the introduction of the high capacity 550-80 – the heaviest payload JCB model ever.
JCB Chief Innovation and Growth Officer Tim Burnhope says, "As market leader, we're always looking at ways to enhance the Loadall range to give our customers more choice, more functionality, more lift and more reach. The new 550-80 does all of those four things.
"The JCB 550-80 is designed to handle bulk and will be welcomed by users who need a large bucket capacity for heavy duty operations. JCB customers in waste handling and metals recycling are already seeing major productivity benefits from this high capacity machine thanks to a high lift capacity and a powerful driveline which ensures rapid loading cycles and exceptional productivity."
The 550-80 features:
An 8.1 m lift height with a massive 5.0 ton lift capacity
A 130 hp (97 kW) Dieselmax engine
140 liters/min variable flow hydraulics and Hi-flow pipework for optimized cycle times and auxiliary service performance
A splayed nose boom design for impressive breakout force
A high power-to-weight ratio means the machine can penetrate stockpiles with ease thanks to the power of the side-mounted JCB Dieselmax engine. The higher powered engine is available for even more demanding applications.
With a three-speed Powershift transmission, users will also be able to move bulk quickly and efficiently.
High back off power brakes provide proportional braking throughout the pedal travel, resulting in improved braking effort and safe, stable stopping. These brakes also reduce the energy absorbed by the braking system, and the rotational friction within the axle, reducing energy consumption and saving fuel.
The chassis is a one-piece fully welded design for maximum strength and rigidity, but minimum weight, with 25 mm thick chassis side plates, optimized for performance. At the boom nose, a Z bar bucket linkage, normally found on wheeled loading shovels, provides a high bucket breakout force of 6.5 tons - an increase of more than 50% on the current 541-70 Wastemaster.
The inner boom, one meter of which stays within the outer boom at full extension, incorporates a splayed nose design to maximize structural integrity. The low boom line also contributes to excellent all-round visibility, essential in a rapid cycle loading situation.
To conserve energy, the 550-80's new re-generation system harnesses gravity to assist the boom lower and retract functions.
Dump and rollback angles are excellent, 46 degrees on dump and 34 degrees on rollback. This increases the efficiency of material retention at ground level and means discharge at height into stockpiles, lorries and hoppers is very impressive.
A 140 liter variable displacement load sensing pump and Hi-flow pipework optimizes cycle times and auxiliary service performance.
Single lever console mounted servo controls ensure effortless, yet precise control. The spacious and ergonomic cab offers best-in-class operator comfort, with instrumentation that has been arranged in an intelligent and intuitive way. A hydraulic variable speed cooling fan is fitted as standard and automatically reacts to ambient temperature to adjust fan speed to optimize energy consumption.
The 550-80 is also available in Wastemaster specification to provide additional protection from arduous operating conditions. These features include a lower steel door section, roof and screen guards and belly plates.