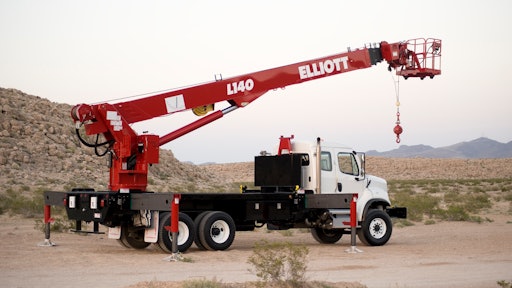 Elliott Equipment Company will be exhibiting at MINExpo 2012 in Las Vegas, NV, from September 24 to 26, showcasing new and innovative truck-mounted hydraulic aerial work platforms and cranes for the mining industry.
Elliott Equipment has been a leading manufacturer of customizable truck-mounted hydraulic aerial work platforms and cranes for over 60 years. All of Elliott's products are designed for rugged and heavy-duty service work including underground salt mine drilling, ANFO placement, drag-line maintenance and general facility service. In addition, all Elliott products are backed by an exclusive lifetime structural warranty in the USA/Canada.
Elliott's HiReach aerial work platform line features large steel work platforms up to 40 x 72 in. (1.0 x 1.8 m) with capacities up to 1,000 lbs. (454 kg). Unlike other aerial products, Elliott Equipment's aerial work platforms can also serve as cranes, with many models featuring an optional main crane winch rated between 3 to 7 tons (2.7 to 6.3 metric tons) and a platform jib winch rated up to 1,000 lbs. (454 kg).
Elliott's truck-mounted crane (BoomTruck) line features lift capacities from 10 to 50 US tons (9.7 to 45.3 metric tons) with tip heights from 39 to 210 feet (11.9 to 64.0 m) and compact/rugged designs for the most difficult mining conditions.
Visitors to Elliott Equipment Company's booth at MINExpo 2012 will have the opportunity to step inside a real steel work platform, modified to help visualize the value Elliott's products will add to the work site. The platform will include many of the tools available from Elliott Equipment, including air hose lines, welder leads, hydraulic hoses, pressure washers and much more.   Technical professionals will be on hand to discuss user applications and how Elliott can solve challenges faced on the job.
Attendees can visit Elliott Equipment Company in the South Hall, booth #26122.