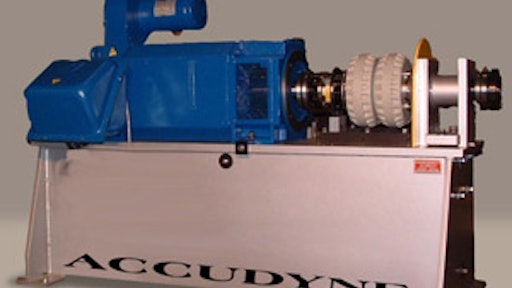 SAKOR Technologies, Inc., a leader in hybrid vehicle drivetrain testing, announces that it has designed and installed a complete turnkey Hybrid and Electric Vehicle Test System for UQM Technologies, Inc., a developer and manufacturer of innovative, power-dense, high-efficiency electric propulsion systems. Longmont, CO-based UQM will use the system to test its line of inverters and traction motors for use in hybrid and electric vehicles for the automotive, commercial truck, bus and military markets.
The turnkey Hybrid and Electric Vehicle Test System is extremely energy efficient and can effectively perform all types of performance and durability cycling, including complex profiles and road load simulations. At its heart is SAKOR's innovative 165 kilowatt, 12,000 RPM, AccuDyne AC Dynamometer, a four-quadrant dyno which offers full motoring and loading capabilities.
The complete system also includes a 225 kilowatt high voltage battery simulator, ideal for conducting research and development, performance evaluation and durability testing of high voltage DC power systems. It can be used for both battery testing and simulating high voltage batteries while conducting hybrid vehicle driveline and inverter system testing.
The high voltage battery test system uses a high-efficiency, line-regenerative DC power source, resulting in a very power efficient unit, minimizing electricity usage, lowering operating costs and providing an extremely environmentally friendly "green" profile. During discharge modes, absorbed power is regenerated back to the AC mains instead of being dissipated as wasted heat, which is common practice among other battery testing systems. This innovative method generates greater power efficiency and measurably reduces overall operating costs.
The test system is driven by a DynoLAB EM controller, which automates all types of performance, durability and continuous cycling operations, including full road load simulation. The completely integrated test system is capable of testing complete hybrid drivelines and subsystems, with or without actual batteries in circuit. The system can be configured to provide dynamic response for such situations as voltage sags and current surges, just as would typically be seen in-vehicle. Unlike the performance of an actual battery, the simulator output remains repeatable from cycle to cycle, regardless of charge state, resulting in more consistent and accurate test data.