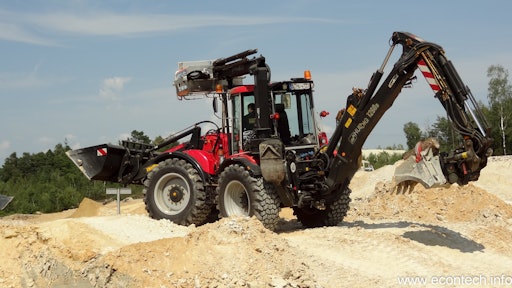 An articulated, wheeled construction machine, strong as an ox, which dashes with 40 km/h speed (25 mph) on public roads or rolls along on rails, which works as an excavator, wheel loader, manlift, trenching plough or even by radio remote control, a machine for cross-country applications and heavy construction work, combining power, efficiency and speed - this may sound like a dream for contractors.
In Scandinavia, this dream came true: Swedish company Huddig has created extremely versatile multipurpose machines which take over practically every job, using a front lift arm, rear mounted excavator boom, optional telescopic boom for a manlift or other tools. As a One-Man-Machine-Team, the Huddigs do lots of construction jobs alone. Contractors or owner-operators even may start new fields of business with the Huddigs.
Since the beginning of the year, these noteworthy construction machines have been available in Germany, Austria, Switzerland and Luxembourg, namely from Stuttgart-based general importer econtech. The company currently is busy to set up a distribution and service network.
Huddig produces two models, the 1060C with 10.5 t weight and the slightly bigger 1260C, weighing in at 13 to 16 t. The unusual multipurpose machines are manufactured by Huddig in Hudiksvall, Sweden just below the polar circle. In 2009 the company celebrated its 50 year jubilee. Since 1959 more than 10,000 machines have been produced, both in own name and for other leading brands like Valmet and Volvo BM. The founder of the company was OilQuick inventor John Soneruds. Today every machine is built individually, according to customer wishes, and only quality components of leading manufacturers are used.
Ingenious, proven technology
Because of the central-mounted articulation joint between the front and rear axle, a Huddig is able to work as a real wheel loader, with front and rear wheels rolling in the same track when maneuvering. This reduces rolling resistance and provides high forces when filling the bucket or when pushing or pulling attachments.
The low position of the oscillating pivot between front and rear frame diminishes lateral forces in demanding terrain and guarantees a smooth and stable driving behavior. Fuel and hydraulic tanks are integrated in the welded structure of the main frame which provides a low center of gravity and excellent stability. Thus, the Huddigs can even lift heavy loads far away sidewards, thanks to high side tipping stability, and also move with these loads.
The 1260C is powered by a Cummins engine and a ZF hydrostatic transmission with two speed ranges for up to 40 km/h speed. The hydrostatic drive system with infinitely variable control enables operators to adapt speed and torque optimally, according to site and working conditions. Very slow speed, needed to pull vibratory ploughs, vibrating compaction plates or similar attachments, can be precisely adjusted.
With the driver seat turned 180 degrees, the machine is steered by a joystick and speed is automatically restricted to 20 km/h (12.4 mph). Therefore, the Huddig 1260C can drive in reverse in the same matter as forward, just a little slower. This enables the Huddig to do many jobs while driving backwards, e.g. pulling a trailer or pushing a snow blower or lawn mower. Mounted instead of the backhoe bucket, these and similar tools may be moved with the excavator boom far beside and parallel to Huddig's own track.
Power for the 1060C is supplied by a Cummins engine and ZF transmission with torque converter for a maximum speed of 50 km/h (31 mph). The machine travels very fast on public roads, much faster than a mobile excavator, which shortens unproductive times considerably when moving to a new job. On the other hand, both a low loader and towing truck are saved which are generally needed to transport a crawler excavator.
Endless range of attachments
The Huddigs are equipped with one of the strongest hydraulic systems on the market which allows both fast and precise work. For hydraulically powered attachments, an oil flow of 264 l/min allows high performance under all conditions. With higher engine speeds of 2,000 rpm, the oil flow reaches up to 352 l/min. Therefore the efficient use of big brush cutters, snow blowers or other attachments is no problem at all.
Both the 1060C and the 1260C can be equipped with the Huddig lift. The telescopic boom of this lift is mounted on the left side near the rear corner of the driver's cab. Up to the maximum operating height of 14.2 or 20.1 m the lift's basket is admitted for two people or 200 kg. The Huddig manlifts are certificated. The lift can be operated either from the driver seat or from the basket. Because the lift's telescopic boom also has a quick coupler, different special tools can be attached, e.g. a holding clamp for raising large poles.
Huddig offers a wide range of attachments and additional equipment. For example, the front arm which normally carries a loader bucket, pallet fork, dozer blade or other tools, may even be equipped with a telescopic truck crane made by Palfinger. The excavator boom at the rear is often used along with a tiltrotator for moving buckets and other tools in the best possible manner.
For both Huddigs a road-rail-attachment is available, too. Especially for railway construction, maintenance and repair, for exchange of sleepers and ballast the machines can be equipped with a wide range of special tools. Due to their design, a Huddig can be quickly and easily driven on and off the rails everywhere, for example when a train is about to pass or to carry out work like embankment mowing beside the rails.
Nevertheless, the endless application possibilities are by no means finished: The Huddigs 1060C and 1260C are the only machines of their kind which can be equipped optionally with radio remote control. Thus the operator always has an optimum view of the job site and tools which is very helpful when having complicated digging tasks or when precisely positioning loads, parts or poles.
Companies in this article