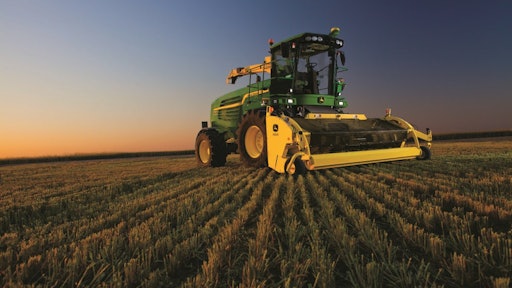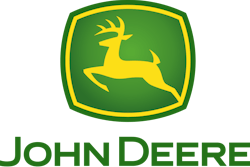 In an effort to meet Interim Tier 4 emissions requirements across all equipment platforms, John Deere introduces six new Self-Propelled Forage Harvesters (SPFH) for 2013. These new machines feature new, more fuel-efficient and powerful Tier 4 Interim (IT4)-compliant engines, factory-installed dual tire options, a new spout turning system, and kernel processing technology, all designed to improve forage harvesting performance in the field.
The new 7080 SPFH machines include the 7180, 7280, 7380, 7480, 7580, 7780 and the mammoth 7980 models, giving grain and forage producers and custom harvesters seven different sized models to select from based on their forage harvesting needs and size of operations.
"We've taken the power and productivity of the previous 7050 Series Forage Harvesters, and added our single-fuel solution IT4 engines and the exclusive KernelStar kernel processor technology that improves kernel processing without slowing down harvest," says Shaun Fritchey, product marketing for John Deere Ottumwa Works.
"In addition, we now offer a dual-wheel option that provides better in-field traction and a more comfortable ride at higher speeds. And, we've included a more robust spout turning system with faster rotating speed for greater reliability and ease in getting all the forage into the trucks and wagons," he adds.
The base package for most models includes the infinitely variable length-of-cut (IVLOC) transmission, Dura-Drum cutterhead and Duraline high-wear parts, and HarvestLab with Constituent Sensing capabilities. Optional features for most models include four-wheel drive, advanced header-height control and an automatic lubrication system.
No matter which model a customer selects, the new 7080 Harvesters have the horsepower to handle a wide range of grain and forage crops, Fritchey notes. "We've integrated the latest technology like HarvestLab for moisture and nutrient analysis, KernelStar advanced kernel processing that increases the processing surface by 270% compared to conventional processors, and the IVLOC system that lets the operator change the length of cut in 1 millimeter increments on the go, right from the cab."
The six smaller forage harvesters have PowerTech engines and the 7980 features a 19L Cummins engine to handle the most demanding harvesting jobs without compromising on performance. All seven models come equipped with quiet, comfort-filled cabs that leave the noise and dust on the outside, ComfortCommand seat and CommandArm controls within easy reach.
"Customers will notice that many other features and specs on the 7080 Series Forage Harvesters are similar to the 50 Series in providing high-performance forage harvesting and chopping in the field," Fritchey adds. "But we've included more technology into the machines to help operators put more consistent, high-quality, nutritious feed in the bunks for their livestock."