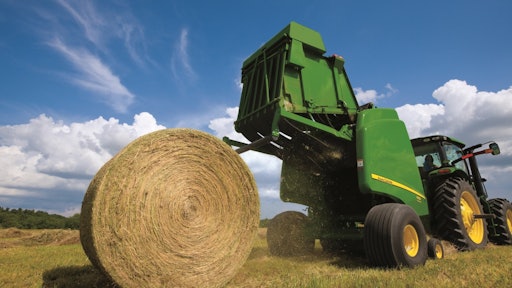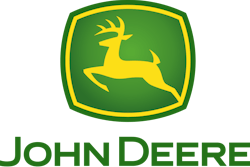 Building on the reliability and popularity of its 8 Series Round Balers, John Deere introduces 12 new models of its 9 Series Round Balers for 2013. The new large round balers, which include additional Class III and IV models, have larger cams and bearings in the pickup on premium models, Diamond chains and many other enhancements that increase durability and productivity of the balers while making service and maintenance easier.
According to Laura Cobb, senior marketing representative at John Deere Ottumwa Works, the new 9 Series Round Balers offer customers a larger selection of machines that will handle a wide variety of forage and silage baling needs.  
"We've also added silage-special balers to the Class III and Class IV baler line-up, giving customers options for larger bale sizes in silage, especially new five-by-six-foot bales," Cobb says. "For the 469, 559 and 569, we've made them faster and more durable, with faster gate cycles, heavier chains, and larger, stronger shafts, bearings and pickups. In addition, we've added adjustable tongues, extended lube drivelines and larger tire options for the 459 and 559 balers."
The new premium balers are also built with stronger chains, larger shafts and bearings, and more robust pickups. They feature newly designed gull-wing doors for ease of service and adjustments. ISObus electronics ensures responsive baler/tractor operation, including GreenStar 3 integration and monitoring and control with 1800, 2600, 2630, and CommandCenter displays. This new ISObus system enables an industry-exclusive Tractor Baler Automation to make baling easier and allow customers to cover more acres in less time.
"In the field, customers will appreciate the additional strength and reliability of the new 9 Series Round Balers, no matter which model they use," Cobb adds. "They'll have more optional features to choose from to customize their baler to the type of crop they have and the size of bale they want to handle. As a result, we've made it easier for customers to produce tight, uniformly sized and shaped bales faster than ever before."