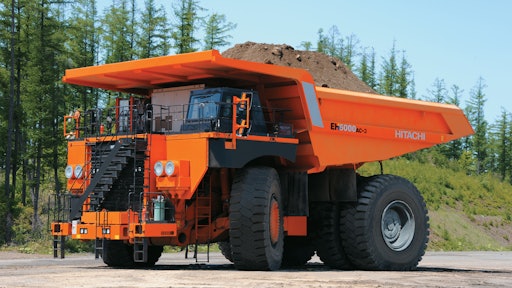 Hitachi introduced its new rigid frame hauler — the EH5000AC-3 — at the MINExpo International trade show.
The hauler is the first hauler to feature the company's brand new Advanced Hitachi AC Drive System, the only system available on the market that is designed and built by the same company as the truck.
The EH5000AC-3 is Hitachi's largest rigid frame hauler and is one of the most technologically-advanced mining trucks on the market today. It features a Cummins QSKTTA60-CE diesel engine that generates 2,850 hp (2,125 kW) at 1,900 rpm and meets EPA Tier 2 emission requirements. The all-hydraulic actuated braking system provides precise braking control and quick system responses, and a new Hitachi system monitor provides display information and diagnostics of all onboard systems and controls.
The most significant update, however, is the hauler's new AC drive system. At the core of the new system is the advanced propulsion technology, which delivers a whole new level of efficiency, vastly enhancing machine operations for mining professionals everywhere.
In addition, the new technology, which also powers Japan's famous bullet trains, outperforms previous and competitive systems through its simplicity, improved efficiency, and enhanced dependability. It features:
Slip control for traction — similar to active traction control.
Slide control for grip — similar to an anti-lock brake system.
Pitch control for smoother ride control and control of bouncing when stopping.
Skid control for stability in cornering when road conditions are slippery.
While slip and slide control were already available on the existing Hitachi trucks with Hitachi AC Drive Systems, the new Advanced Hitachi AC Drive System now features sensors on all four wheels. It also incorporates additional feedback from the drive system, front wheels, steering, suspension, and other systems on the truck to enhance the slip/slide control feature. Pitch and skid control are brand new features.
Hitachi is the only company in the industry that designs and manufactures all components of its drive control system. It started producing its own drive system four years ago with the introduction of the EH3500ACII, and has created vast enhancements to this technology in that time span.
"By specializing only on shovels and haulers, we are able to concentrate on producing highly-efficient machinery," says Ryan Blades, Division Manager, Hitachi Mining. "The new AC-drive technology advancements are a perfect example of the superior quality and performance of this approach."
In addition to its AC drive technology for rigid frame haul trucks, Hitachi also showcased its brand new SkyAngle camera monitoring system.