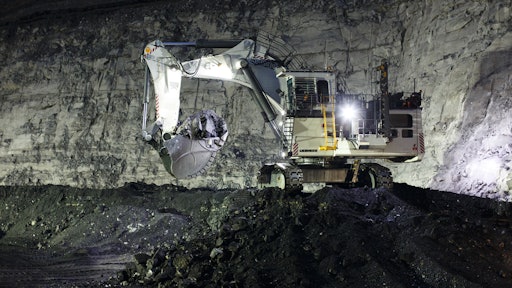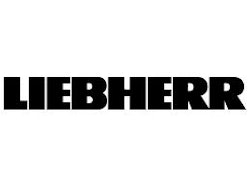 At MINExpo International 2012 in Las Vegas, Liebherr introduced the face shovel version of the 778,200 lbs./353,000 kg mining excavator. Boasting a 22 m³/28.8 yd³ bucket capacity in standard configuration, the R 9400 is the ideal machine to load a fleet of 150 ton dump trucks. Available in two configurations, either diesel or electric, the R 9400 offers the flexibility to perform in any application.
The production-tailored attachment kinematics combined with a mining-optimized bucket shape ensure the highest crowd and breakout forces. Even under tough conditions the R 9400's high digging force allows easy bucket penetration and high bucket fill factors to achieve high productivity.
Optimizing electrical, mechanical and hydraulic power distribution, the Litronic Plus System allows for easy control even when simultaneous movements are required. Every attachment cylinder is fitted with the patented Liebherr Electronic Damping System which provides controlled end-cushioning for fast and smooth machine's motions. Intelligent and power-oriented energy management diverts the pump flow during boom lowering, allowing other cylinder motions to operate unimpeded.
The R 9400 follows the Liebherr design philosophy of maximizing the machines performance by improving the efficiency of all individual subsystems. Engineered for optimum serviceability the machine is designed to ensure maximum uptime. The large and spacious cab creates a comfortable working environment to ensure peak operator performance. Mounted on silent blocks, the cab design reduces vibrations and limits noise pollution to provide a quiet environment promoting operator working efficiency.
All machine accesses have been optimized. The R 9400's upper structure is accessible via a powered 45 degree stairway fitted with handrails and the service drop down flap provides easy access to the main servicing features. Fuel, engine and hydraulic oil, grease, and windshield wash water can be refilled and drained from ground level.
Designed for hard application, the R 9400's heavy-duty three-piece fatigue-resistant undercarriage provides efficient superstructure weight distribution and reduces ground bearing pressure enabling the necessary stability and reliability.
Emergency stops are strategically located at ground level, in the cab, and in hydraulic and engine compartments. In addition to its ergonomic design, the R 9400's cab provides maximum protection for the operator. The structure is composed of strong, low stress tubing and safety glass and the Falling Object Protection System (FOPS) enables protection of the operator from objects falling onto the cab.
The R 9400 is powered by the Cummins QSK50 diesel engine which complies with the EPA Tier 2 emissions limits and provides an output of 1,675 hp/1,250 kW. The electric drive version is an efficient alternative for working in cold climate conditions. The power system makes the R 9400 cost effective without compromising productivity whilst reducing the machine's impact on the environment.