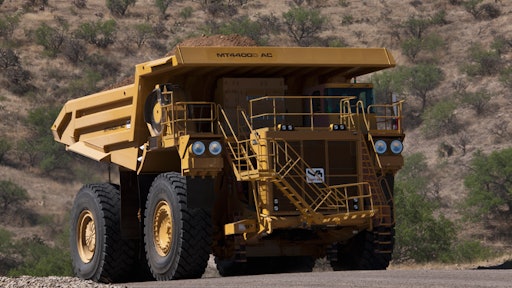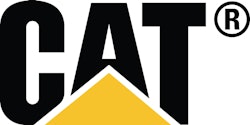 Caterpillar announces the new Unit Rig MT4400D AC Mining Truck as part of its ongoing investment in the Unit Rig products acquired through the acquisition of Bucyrus International. The new D series model integrates a Cat 3516C HD engine and the Cat 240T AC electric drive system with the Unit Rig MT4400 to create the MT4400D AC.
The new truck leverages Unit Rig's 50 years of electric-drive mining truck experience and the thousands of units currently working in mines around the world. The strength of the Cat engine and drive system and Cat dealer support combine with the Unit Rig straightforward and easy-to-service design to create great value for mining customers. The MT4400D AC will be commercially available in select regions in the second quarter of 2013.
The new truck as well as its predecessor are in the popular 240-ton (218-tonne) payload class and is rated for a gross machine weight 865,000 lbs. (392,000 kg). The MT4400D AC takes its place in the Cat large mining truck product line alongside the industry-leading 793D and 793F to provide an AC electric drive solution that meets the needs of many miners that do not require Tier 2 emissions and who are seeking a mining truck that balances productivity and operating cost.
Built on strong legacy
The MT4400D AC builds on Unit Rig's millions of hours of field experience with the MT4400 and combines and integrates the chassis, hydraulics, electrical system and suspension with a proven Cat engine, AC drive and vehicle information management system. The Cat 240T AC electric drive train is state-of-the-art, efficient and reliable, and leverages the hundreds of thousands of hours CAT has with AC drive in the lab and field, most notably in the 795F AC, which was first shown at MINExpo 2008. The drive train also leverages Electro-Motive Diesel's (EMD) experience in inverter design and manufacturing. EMD is a Caterpillar company, and the highly efficient system is Caterpillar designed, integrated and supported.
The MT4400D AC features dynamic retarding capacity combined with rear wet disc brakes to deliver operator confidence and solid productivity. The ROPS cab, wide access stairways, traction control, and quiet radial retarder grid with wide right-side visibility enhance safety and further benefit the operator.
Simple hydraulic systems, modular components, hydraulic gauge cabinet, grouped service locations, engine bay service walkways and more ground accessible maintenance points translate into less downtime and enhance safety for maintenance technicians.
Currently there is a MT4400D AC operating at the Caterpillar proving grounds in Arizona, USA and there are several MT4400Ds destined for operation at a mine in Mexico in the near future. Additional information about the MT4400D AC will be announced when the model nears commercial availability.