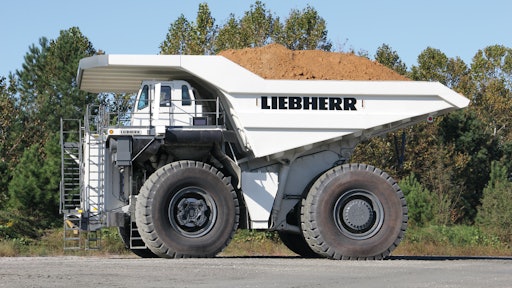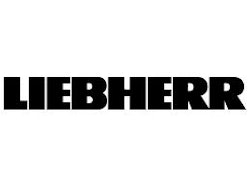 In order to expanded its product range and synergize with the line of hydraulic mining excavators, Liebherr has returned to the 240-ton class with the premiere of the T 264 at MINExpo International 2012 in Las Vegas.
Backed by 30 years of proven design and operational experience, this fuel-efficient mining truck is built for safety and reliability, and is sized to match the Liebherr R 996 B and R 9800 hydraulic excavators, as well as electric shovels and wheel loaders for optimal performance.
High power – maximum traction – ultimate performance
The T 264 combines an efficient Litronic Plus AC drive system and a high-power engine (up to 2,700 hp/2,013 kW) to yield higher speeds on grade. With its efficient hydraulic design and fast cycle times, the T 264 moves more material.
Developed and built by Liebherr, the proven Litronic Plus drive system determines the optimal way to extract power from the diesel engine. Efficient loading of the engine is critical to minimize fuel consumption and maximize performance.
The advanced Traction Control System with four-wheel speed sensing capability automatically adjusts torque to the rear wheels in order to maximize traction when cornering, accelerating from a standstill, or traveling down wet or icy roads. Developed by Liebherr exclusively for mining trucks, this system enables operators to consistently maintain steering control and truck stability.
The T 264 features high-powered, frictionless dynamic braking. The AC drive system delivers up to 4,425 hp/3,300 kW of electric dynamic braking, reducing engine loading and fuel consumption.
The T 264 is designed to operate for approximately 24 hours without refueling, dependent upon application. The extended operation is supported by its low fuel consumption and 1,300 gallon/4,920 liter fuel capacity.
Efficient service access and integrated monitoring
Liebherr mining trucks are equipped with ladders designed for easy engine access. The low working heights of maintenance areas provide safe and efficient service access. Access to the engine and alternator from both sides of the chassis, and there is dual access into the axle box for maintenance and inspection. Hydraulic filters and the battery isolation box, as well as filling points for fuel, hydraulic oil, grease and coolant, are all at ground level.
The integrated electronic system monitors, records and outputs vital truck health and performance data. Data is stored and available for download to perform detailed analysis. This system supports predictive maintenance strategies to minimize unscheduled downtime.