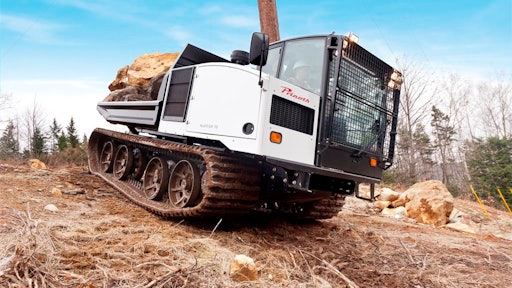 Prinoth displayed the Panther T8 tracked carrier at the MINExpo International Trade Show, which took place in Las Vegas, from September 24 to 26, 2012.
Prinoth unveiled the innovative Panther T8 to the public, displaying it with a surface diamond core drill mounted onto the piece of equipment. In collaboration with Orbit Garant, Prinoth presented the capabilities of the PANTHER T8 in the mining sector.
With its two-person cab, large deck space as well as ease of implement installation, the Panther is locked and loaded to perform without fail in the mining, electric and utility, oil and gas sectors.
The Panther tracks into hard-to-reach worksites all year round with all the implements necessary for site preparation and maintenance. From building access roads to exploratory drilling and pipeline installation, the Panther gets it done. Quickly, safely, economically.
With the ability to employ just about any implement, it is one very capable platform from which to work. All standard implements can be mounted to the Panther's 860 mm (34 in.) truck-inspired chassis with little or no modifications. This makes installation simple and easy and gives users one less thing to worry about.
Prinoth is also exhibiting at the Québec Mines Trade Show in Quebec City, from November 26 to 29.