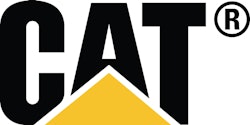 The new AD60, with a rated payload capacity of 66 tons (60 tonnes), is now the largest model in the Cat range of underground articulated trucks, providing a 9% capacity increase over the proven AD55B. The new truck incorporates advanced heat-shielding and cooling technology, significant refinement of its Cat C27 ACERT engine, enhanced ride characteristics, and now-standard monitoring systems, including the Cat VIMS Guardian and Truck Payload Management systems. Premium standard features include a choice of integrated body styles, electronic retarding, climate-controlled cab and ground level servicing.
Engine and cooling
The Cat C27 engine, rated at 776 to 805 gross horsepower (579 to 600 kW), has been significantly refined for the AD60, including new pistons and high temperature fuel injectors, more durable rocker arm assemblies, a redesigned crankshaft lubrication system, a high efficiency engine oil cooler and a higher capacity fuel cooler. The sum of these refinements is added durability, reliability and cooling efficiency for the C27.
New for the AD60 is a remote-mounted transmission oil cooler that ensures optimum operating temperature for the seven-speed Cat planetary powershift transmission, which features a lock-up torque converter for efficient, fuel-saving operation, as well as an electronically controlled retarding system for optimum safety and productivity. The new cooler lessens the heat load on the engine oil cooler, allowing the engine cooler to function more efficiently.
The new heat-shielding system isolates heat from the exhaust manifolds, turbocharger impeller, and exhaust piping to reduce engine compartment temperatures and to provide a cooler environment for surrounding components. In addition to being more effective, the heat shield is also easier to install and remove. New ventilated hoods and covers allow effective heat dissipation and assist in passive cooling of component compartments.
Operator environment and suspension
The spacious, comfortable, well protected operator station is now equipped with a standard air-ride seat, the Cat Comfort TLV2, which features electric adjustment of firmness and a design that minimizes vertical and lateral motion imparted to the operator. Updates to the front suspension system contribute to ride stability and operator comfort.
Value-adding features
Premium features in the AD60 design include electronic integration of the engine and drive train, providing controlled-throttle shifting, overspeed protection, and body-up shift inhibitor. The now standard Truck Payload Management System calculates payload data, and the VIMS Guardian System provides operators, service technicians and managers with machine health information to ensure high mechanical availability.
The choice of a dump or ejector body allows tailoring the AD60 to different applications, and the single-stage hoist cylinder speeds cycle times. The frame design features box-section construction with materials and welding techniques that optimize structural life, and the articulation/oscillation hitch promotes stability and maneuverability in all types of ground conditions.
Four-wheel, oil-cooled, multiple disc brakes provide reliable, non-fade stopping power, adding to the AD60 safety features, which include an integral ROPS/FOPS cab, ground-level shut-down switch, operator presence system, anti-skid deck surfaces, and push-out safety glass.