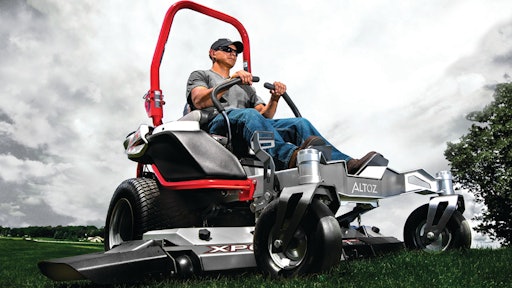 The all-new 2014 Altoz XP S line of zero-turn radius mowers offer high-quality construction and design that integrates seamlessly into exceptional performance. With a focus on rugged durability, operator comfort, and high output cutting, the XP S line offers three deck size options to cater to the needs of any consumer.
Arguably the most dynamic feature of the XP S line is the Aero Deck High Output System, a hallmark of all Altoz precision mowers. With quality-engineered performance that provides a deep deck for maximum airflow and unobstructed discharge of clippings, the XP S line boasts superior cutting with minimal clumping. The premium mulching blades offer thicker and wider steel resulting in superior mulching and discharge while holding a clean-cutting edge for an extended duration of time.
The rugged look of the XP S line is a direct result of the mower's toughness, with durable C-channel frame rails providing the foundation for maximum strength and stability. Combined with a powerful drive system, heavy-duty deck and deck spindles, rugged front forks, sealed fork castors and belt idlers, watertight electrical connections, and a clutch that produces 200 ft.-lbs. of torque, the XP S can withstand demanding conditions with unmatched durability.
Altoz has injected a passion for developing the highest quality mowers in the industry, and that passion is evident in each of their products. The result is a comprehensive commitment to design, quality and performance in a mower that can withstand the wear-and-tear of continued use with engineered longevity and comfort while providing a precision cut.
The 2014 Altoz XP S line (XP 480 S, XP 540 S, XP 610 S) consists of a choice of three deck sizes and two Briggs & Stratton engine options to complement the company's XC Series and the XP Z line of zero-turn mowers. They are manufactured in Greenbush, MN, and will be available in select U.S. markets beginning in the fall 2013.
Key Altoz XP S Features
Precision Cut
Available Deck Widths – 48 in., 54 in. and 61 in.
Aero Deck High-Output System – Refined, 4.5-inch deep-deck shape with adjustable baffle creates the optimal vacuum for maximum grass lift, with non-restrictive interior deck surfaces, for optimal cutting uniformity, reduced clumping and efficient grass processing. Three blades with 12 cutting edges and 18,500 FPM tip speed deliver extra-fine mulching.
Deck Lift and Cut Height – The foot pedal operated lift offers easy cut height adjustments in 0.25 in. increments from 1.5 to 4.5 in.
Anti-Scalping – Six anti-scalp wheels with adjustable heights are recessed within the deck to protect them and minimize scalping.
Productivity
High Speed Drive – 0 to 9 mph top speed.
Maximum Engine Performance – Briggs & Stratton Commercial Turf
Fuel Capacity – 7 gallon tank.
Toughness
Chassis – Durable C-Channel frame rails featuring laser-cut and formed heavy gauge steel for maximum strength and rigidity, with a low-profile front cutout for improved sight lines for the operator.
Heavy-constructed Aero Deck – Fabricated from multi-layered steel with thicknesses up to 0.312 in.
Drive System – Twin Hydro-Gear ZT3400 transmissions.
Front Wheel Fork – Constructed from 3/8 in. thick steel.
Fork Castors – Permanently sealed, heavy-duty axle roller bearings.
Deck Spindles – Heat dissipating cast aluminum spindle housing with four sealed bearings per spindle. Extra large diameter steel spindle pulleys operate at lower temperatures for exceptional belt life.
Clutch – Heavy-duty clutch with 200 ft.-lbs. of torque (125 ft.-lbs. for 48 in.).
Belt Idlers – Sealed-bearing belt idler system.
Electrical Connections – Delphi industrial watertight connectors.
Operator Comfort
Exclusive Front Frame Viewport – Low profile design provides improved visibility and sight line.
Seat – Features high-quality padding and arm rests that can withstand extended use while providing proper support.
23 in. Rear Tires – The large-diameter 23 in. tire delivers increased impact-damping comfort at higher top speeds.
12V Accessory Outlet – Convenient, integrated 12V charging plug and device storage compartment.