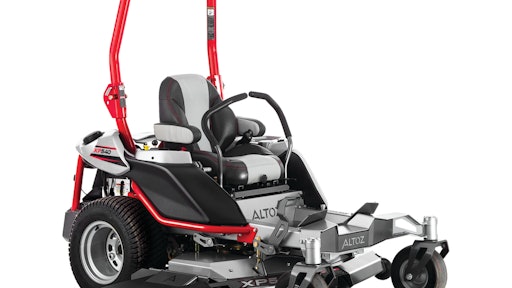 The all-new 2014 Altoz XP Z line of zero-turn radius mowers is built for the residential and commercial operator who appreciates exceptional cutting performance and premium quality construction. Sculpted from thick American-made steel and equipped with many of the key features of the premier XC Z, the XP Z line features two great mower options (540 Z and 610 Z) from the team of engineers at Altoz Precision Mowers.
The Aero Deck High Output System, a fixture of all Altoz precision mowers, sets the tone for the attention to detail and focus on functionality for the XP Z line. Thanks to maximum airflow from its quality-engineered design and premium mulching blades, the XP Z's deep deck and unrestrictive interior surface delivers a quality precision cut.
After years of high level research and engineering, the XP Z line raises the bar in the toughness category. With an ideal combination of power, speed and durability, productivity skyrockets with no sacrifice in quality. The XP Z line boasts a rugged drive system and clutch that produces 200 ft.-lbs. of torque along with heavy-duty deck, deck spindles, front forks and fork castors.
The XP Z line also features the SmarTrac Monitoring System to ensure the operator stays informed. With built-in maintenance reminders, a digital gauge, alarm protection, and an on-board clock, the XP Z line provides worry-free functionality.
Operator comfort is never compromised in the XP Z design. The American-made mower features unobstructed sightlines and maximum vision as a result of the exclusive front-frame viewport, while the ergonomic seat and adjustable suspension features high quality padding allowing the operator to mow all day.
"Altoz mowers are inspired by our passion for excellence," says Dennis Brazier, Altoz Chief Executive Officer. "We built the XP 610 Z and XP 540 Z models for lawn care professionals and residential homeowners who expect excellence in the cut and quality of their mower, and who take pride in the distinction that comes from owning a quality, reliable and durable machine."
"These mowers elicit two dramatic reactions from people," continues Brazier. "The first is a jaw-dropping response when they see the Altoz in-person, which is a reaction to the stunning race car-inspired design. The next is admiration of the quality of the cut, which is the result of the mower's superior performance. Both leave a strong, lasting impression."
The result of this comprehensive commitment to design, quality and performance are exceptional mowers that deliver a precision cut.
The 2014 Altoz XP Z models are represented with the XC Z, XC S and XP S lines of zero-turn mowers. They are manufactured in Greenbush, MN, and will be available in select U.S. markets beginning in fall 2013.
Key Altoz XP Z Features
Precision Cut
Available Deck Widths – 54 in. and 61 in.
Aero Deck High-Output System – Refined, 4.5-inch deep-deck shape creates the optimal vacuum for maximum grass lift, with non-restricted interior deck surfaces, for optimal cutting uniformity, reduced clumping and efficient grass processing. Three blades with 12 cutting edges and 18,500 FPM targeted tip speed deliver extra-fine mulching.
Deck Lift and Cut Height – The foot pedal operated lift offers easy cut height adjustments in 0.25-inch increments from 1.5 to 4.5 in.
Anti-Scalping – Six anti-scalp wheels with adjustable heights are recessed within the deck to protect them and minimize scalping.
Productivity
High Speed Drive – 0 to 9 mph top speed.
Maximum Engine Performance – Kawasaki FX850V – V Twin Cylinder, and Briggs & Stratton Vanguard.
Large Fuel Capacity – Dual 7-gallon tanks deliver 14-gallon capacity for extended operation.
SmarTrac Monitoring System automatically provides reminders to perform maintenance at operational intervals of 100 and 400 hours, with a four-function digital gauge (digital/analog RPM, resettable hour meter, hydraulic drive overheat alarm, low oil pressure alarm) and clock.
Toughness
Chassis – Durable C-Channel frame rails featuring formed, laser-cut and welded 1/4 in. and multi-layered steel construction for maximum strength and rigidity, with a low-profile front cutout for improved sight lines for the operator.
Deck – Fabricated from 7-gauge steel with thicknesses up to 0.270 in., the 61- and 54-in. Aero Decks weigh 215 and 195 lbs.
Drive System – Twin Hydro-Gear ZT3400 transmissions.
Front Wheel Fork – Constructed from 3/8-in. thick steel.
Fork Castors – Permanently sealed, heavy-duty axle roller bearings.
Blade Spindles – Cast-aluminum spindle housing with sealed bearings. Large diameter steel spindle pulleys operate at lower temperatures for extended belt life.
Clutch –200 ft.-lbs. of Torque - Magstop
Belt Idlers – Sealed-bearing belt idler system.
Electrical Connections – Delphi industrial watertight connectors.
Operator Comfort
Exclusive Front Frame Viewport – Low profile design provides improved visibility and sight line.
Seat – Features high-quality padding, adjustable suspension, and armrests that can withstand extended use while providing proper support.
23 in. Rear Tires – The large-diameter 23 in. tire delivers increased impact-damping comfort at higher top speeds.
12V Accessory Outlet – Convenient, integrated 12V charging plug and device storage compartment.