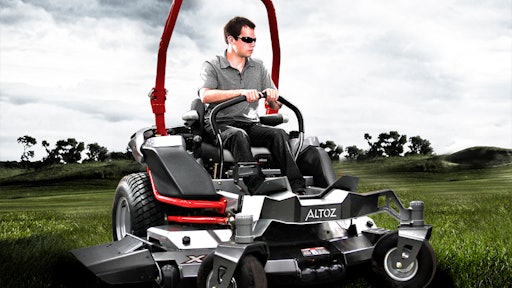 The 2014 Altoz XC S line of zero-turn mowers was engineered for the needs of the residential and commercial consumer. With high-end performance and precise construction, the XC S line meets and exceeds the demands of lawn care professionals. With three deck sizes and three engine sizes available, the XC S line comes with multiple options.
The premium cut of the XC S line comes from the Aero Deck High Output System, a hallmark of all Altoz precision mowers. Thanks to a deep deck design with an unrestrictive interior surface, the XC S line was engineered to produce maximum airflow, resulting in a superior cut with little clumping and efficient grass processing. A trio of premium mulching blades gets the job done thanks to the unique design that provides superior lift, cut, mulching and discharge.
The XC S line is as tough as they come thanks to a heavy gauge steel C-channel frame rails that provide maximum strength and rigidity. The power of the XC S line stems from a powerful deck drive system and clutch that produces 200 ft.-lbs. of torque. Additionally, heavy-duty deck and deck spindles, belt idlers, rugged front forks, sealed fork castors, and watertight electrical connections ensure that the XC S can endure tough conditions with unmatched longevity.
What highlights this American-made line of premium mowers is the emphasis on operator comfort. The seat features high-quality padding intended to withstand extended use while providing proper support, while the exclusive front-frame viewport provides improved visibility and unobstructed sightlines.
With performance, comfort, and durability that exceed expectations, the XC S line offers professionals and homeowners an unmatched dependable and high-quality option for lawn care.
The 2014 Altoz XC S line is available in three sizes (XC 540 S, XC 610 S, XC 720 S) and is manufactured in Greenbush, MN, alongside the XC Z, XP Z, and XP S lines. All will be available in select U.S. markets beginning in fall 2013.
Key Altoz XC S Features
Precision Cut
Available Deck Widths – 54 in., 61 in. and 72 in.
Aero Deck High-Output System – Refined, deep-deck shape with adjustable baffle creates the optimal vacuum for maximum grass lift, with unrestricted interior deck surfaces for optimal cutting uniformity, reduced clumping and efficient grass processing. Three standard mulching blades with 12 cutting edges and 18,500 FPM targeted tip speed deliver extra-fine mulching.
Deck Lift and Cut Height – The foot pedal operated deck lift offers easy cut height adjustments in 0.25 in. increments, from 1.5 to 5.0 in.
Anti-Scalping – Anti-scalp wheels with adjustable heights are recessed within the deck to protect them and minimize scalping.
Productivity
High Speed Drive – 0 to 12 mph top speed.
Maximum Engine Performance – Kawasaki FX Series four-stroke engines in 27-, 31- and 35-horsepower outputs.
Large Fuel Capacity – Dual 7 gallon tanks deliver 14 gallon capacity for extended operation.
Toughness
Chassis – Durable C-Channel frame rails feature heavy laser-cut and formed heavy gauge steel for maximum strength and rigidity, with a low-profile front cutout for improved sight lines for the operator.
Deck – Fabricated from multi-layered steel with thicknesses up to 0.312 in., the 72-, 61-, and 54-inch Aero Decks weigh 325, 275 and 255 lbs.
Drive System – Twin Hydro-Gear ZT-4400 Powertrain transmissions.
Front Wheel Fork – Constructed from 3/8 in. thick steel.
Fork Castors –Heavy-duty 1-1/4 in. tapered roller bearings.
Deck Spindles – Heat dissipating cast aluminum spindle housing with four sealed bearings per spindle. Extra large diameter steel spindle pulleys operate at lower temperatures for exceptional belt life.
Clutch – Heavy-duty clutch with 200 ft.-lbs. of torque.
Belt Idlers – Sealed bearing belt idler system.
Electrical Connections – Delphi industrial watertight connectors.
Operator Comfort
Exclusive Front Frame Viewport – Low profile design provides improved visibility and sight line.
Vibration Isolation System (VIS) – A six-point rubber-mounting system that isolates the seat, footwell and steering control levers from vibration.
Seat – Features high-quality padding that can withstand extended use while providing proper support.
23 in. Rear Tires – The large-diameter 23 in. tires dampen terrain impact for rider comfort.
12V Accessory Outlet – Convenient, integrated 12V charging plug and device storage compartment.