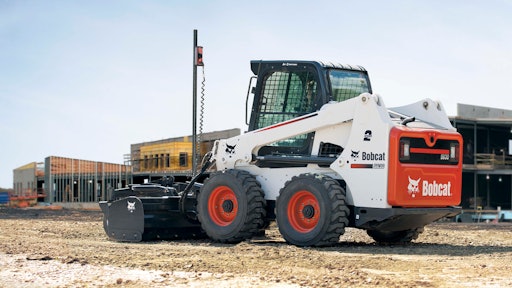 Bobcat Company has released its first Tier 4 600 frame-size loaders — the S630 and S650 skid-steer loaders and the T630 and T650 compact track loaders. The 600-platform loaders were the first Bobcat M-Series loader models introduced, setting the pace for greater productivity due to their enhancements in operator comfort, hydraulic power and easier serviceability. Today, these four 74 hp loaders provide operators with all of the same performance benefits of the previous Tier 4 Interim ?models and meet emissions standards without a diesel particulate filter (DPF).
Tier 4 compliance with non-DPF solution
The Tier 4 Bobcat non-DPF solution was achieved by designing an ultra-low particulate combustion (ULPC) engine. The ULPC is accomplished through a specially designed engine combustion chamber that significantly reduces the amounts of particulate matter created during combustion. Therefore, Tier 4 emissions compliance can be achieved without using a DPF.
In addition to eliminating the need for a DPF, the new engines used in 600 frame-size loaders will have increased torque. This increase in torque is produced over a wide range of engine rpm, allowing operators of all skill levels to better utilize the machines' maximum performance.
Simplified maintenance reduces costs
Known for fast and easy serviceability, Bobcat provides owners and operators even more simplified maintenance with the new 600-platform loaders. A 500-hour engine oil and filter change interval replaces the previous 250-hour interval to help reduce overall routine maintenance costs. Another maintenance improvement for the machines includes an air filter equipped with a built-in pre-cleaner filter to help extend the life of the filter in high-debris applications. Owners and operators will also benefit from a cartridge-style block heater that is easy to install and use, to assist with engine starts in cold conditions.
Machine protection systems minimize engine wear and damage
For over a decade, Bobcat loaders have been equipped with standard machine shutdown protection that monitors engine and hydraulic functions. The Bobcat engine continues to improve these investment-saving features. Prior to the Bobcat engine, engine coolant and hydraulic oil temperatures were monitored. If these functions fell outside of their normal operating ranges, the system alerted the operator and shut down the machine to prevent catastrophic damage.
With the Bobcat engines, machine shutdown is still possible when needed. However, instead of shutdown being the only solution, the system monitors coolant and oil temperatures and manages the engine to prevent them from reaching a point where the machine must be shut down. This prevents engine damage, minimizes engine wear and keeps operators working.
Another new feature of the skid-steer and compact track loader line is cold weather protection. Anytime the engine temperature is too low, the loader will temporarily limit the maximum engine speed (rpm) to prevent premature component wear or failure. Engine idle speed is also raised slightly to help the engine reach its operating temperature faster. As soon as the engine warms up to a predetermined temperature, the protection mechanism will deactivate.
Well-balanced Bobcat M-Series power and performance
The 600-frame size loaders' horsepower, weight and hydraulic flow combine to make them some of the most well-balanced in the Bobcat loader line. This loader size is ideal for landscaping and construction contractors who need more power than what mid-size frame loaders provide.
The S630 and T630 loaders feature a radius lift path, providing operators good reach and visibility at mid-range heights like loading flatbed trucks or backfilling. The S650 and T650 models feature a vertical lift path, providing operators the ability to lift heavier loads higher, making it easier to clear high-sided truck boxes and feed wagons, as well as place pallets.
All four Tier 4 600 frame-size loaders offer operators a two-speed option for faster travel when desired. The S630 and S650 skid-steer loaders have a maximum speed of 7.1 mph in low mode and 12.3 mph in high mode, while the T630 and T650 track loaders can travel at a top speed of 6.6 mph in low mode and 10.7 mph in high mode.
The Bobcat 600-frame size compact track loader models feature the first all-steel suspension designed to reduce vibration and noise. The rollers are suspended by high-strength steel leaf springs to minimize ground vibration. The forged steel rollers are permanently sealed and lubricated.
Cab-forward design provides industry-leading visibility to work areas
Like all M-Series loaders, the 600 frame-size loaders feature a unique cab-forward design that moves the operator closer to the attachment and provides unmatched visibility in all directions. The new loaders tout the largest cab door opening on the market, offering superior visibility to the cutting edge of the bucket or the corners of an attachment.
Windows on the sides and rear of the cab are larger in size to provide more visibility to the tires, tracks and back of the machine. The larger top window makes it easier and more comfortable for the operator to see an attachment with the lift arms raised, an advantage when loading trucks or performing other tasks.
Operator comfort is king
Comfortable operators are more productive, so to create a better working environment, the 600 frame-size loaders feature a large cab, redesigned interior and improved cab pressurization. The loaders have a best-in-class pressurized cab with a new one-piece seal that goes all the way around the door and fits into a special curved pocket. This minimizes the amount of dirt and dust that might enter the cab, creating more enjoyable working conditions and making it easier to clean the cab.
Operators also have the choice between standard foot pedal hydraulic controls, the Advanced Control System (ACS) or the Selectable Joystick Controls (SJC) on all machine models.
The best of both worlds: hydraulics and horsepower
The hydraulic systems on M-Series loaders have been engineered for higher standard flow and pressure, which provides increased attachment performance. Engine horsepower and hydraulic flow are matched to the loader's rated operating capacity, size and weight, producing a loader that can outperform higher-horsepower compact loaders.
Easier maintenance improves productivity
Operators want to spend minimal time on routine maintenance to start the workday earlier, and the loaders are designed to work long hours in demanding conditions. Simple check points and superior design make it easier to perform maintenance correctly at the proper intervals. The auxiliary hydraulic quick couplers are mounted directly to the front plate of the lift arm to provide a solid mounting, and hoses are routed through the loader arms for better protection.
Available only on M-Series loaders, the optional deluxe instrumentation panel intelligently monitors key loader functions — including fuel consumption — and the keyless start helps prevent theft. The 5-inch, full-color LCD screen offers better readability and operator interaction. Easy-to-read virtual sweep gauges allow operators to quickly read and understand the machine's performance.