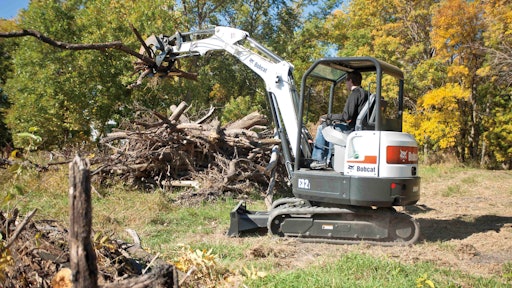 Bobcat Company has released two new Tier 4 excavators — the E32i and E35i – which feature increased fuel efficiency and a new forward-mount instrumentation system that presents operators with many of the functions, aesthetics and visibility they've come to enjoy with Bobcat loaders.
The new Tier 4-compliant E32i and E35i have been designed as additional offerings from Bobcat Company in the 3-ton class of compact excavators. The E32i and E35i are appealing options for rental customers and first-time equipment buyers. These two 24.8 hp excavators feature a direct-inject, 1.7-liter, naturally aspirated diesel engine that provides exceptional fuel economy while maintaining performance expectations for buyers in this excavator class.
Increased fuel efficiency
The E32i conventional tail swing model and the E35i Zero Tail Swing excavator are ideal for operating in confined areas. Additionally, these M-Series machines will provide exceptional fuel efficiency to reduce operating costs — up to an 8% increase in fuel consumption — when operating in the machine's Eco Mode.
Extendable arm advantage
Both Tier 4 excavator models can be equipped with the optional extendable arm, which is a telescoping arm that provides the best of both worlds — power and reach. The extendable arm option provides additional reach beyond the standard arm, and allows for the use of a hydraulic clamp, something not possible with any other compact excavator extendable arm on the market. The clamp capability is an ideal solution for contractors wanting to pick up and place material such as rocks, landscaping materials and debris in site preparation applications.
Forward-mount instrumentation improvements
A new forward-mount instrumentation system designed for enhanced functionality and improved ergonomics is being introduced with the E32i and E35i. The new forward location allows the operator to maintain awareness of machine vitals without losing focus on the task at hand and also improves ergonomics when the operator is interacting with the panel. This instrumentation system presents operators of Bobcat excavators with many of the functions, aesthetics and visibility they've come to enjoy with Bobcat loaders. From the operator's viewpoint, the location of the panel also aligns with the existing cab components and work group structures to maintain visibility to the attachment.
An available deluxe instrumentation panel includes an integrated keyless start system that provides for one assignable owner code, and up to eight operator codes. The deluxe panel also provides an Eco-Mode setting, access to fuel consumption data, attachment operating tips and detailed engine and hydraulic systems information. The M-Series excavator's optional deluxe instrumentation panel features multi-lingual functionality, similar to other Bobcat products.
M-Series machines
Like all M-Series excavators, these new Tier 4-compliant models feature convenient fingertip activated control of the boom swing function and auxiliary hydraulic circuits. Features such as auto-idle throttle and auto-shift travel are standard equipment for the new excavators. Auto-idle throttle contributes to reduced fuel consumption and easier communication between the operator and workers. The excavator will automatically idle the engine when the machine functions are not used for approximately four seconds, saving valuable fuel. Auto-shift travel automatically shifts the machine out of high range without having to manually downshift.
A total of 13 Bobcat attachments can help these two versatile machines do more than dig. They include augers, breakers, plate compactors, grading buckets, trenchers and rippers to name a few. The X-Change attachment mounting system, standard on most models — including the E32i and E35i — increases productivity because it allows the operator to quickly change attachments as jobsite requirements change. Another option is the Hydraulic X-Change system, which allows the operator to change buckets without even leaving the seat of the excavator. Additionally, the X-Change system's unique design maintains optimal "pin-on" bucket geometry to ensure arm and bucket forces are not compromised.