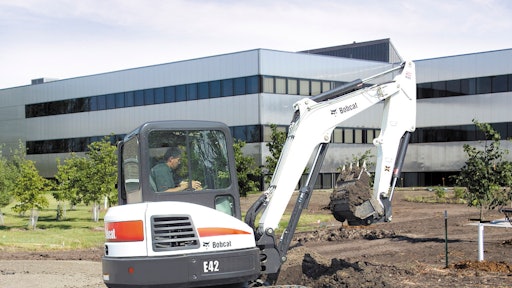 Bobcat Company has released four new Tier 4 excavators — the E42, E45, E50 and E55 — which include a non-DPF (diesel particulate filter) engine solution. These four medium-sized M-Series machines provide operators with all of the same performance benefits of the previous Tier 4 Interim models. The machines also feature a new forward-mount instrumentation system that presents operators with many of functions, aesthetics and visibility.
The Tier 4 Bobcat non-DPF solution was achieved by designing an ultra-low particulate combustion (ULPC) engine. The ULPC is accomplished through a specially designed engine combustion chamber that significantly reduces the amounts of particulate matter created during combustion. Therefore, Tier 4 emissions compliance can be achieved without using a DPF.
In addition to eliminating the need for a DPF, the new engines used in E50 and E55 excavators will have a 12% increase in torque. This increase in torque is produced over a wide range of engine rpm, allowing operators of all skill levels to better utilize the machines' maximum performance.
For over a decade, Bobcat excavators have been equipped with standard machine shutdown protection that monitors engine and hydraulic functions. The Bobcat Engine continues to improve these investment-saving features. Prior to the Bobcat Engine, engine coolant and hydraulic oil temperatures were monitored. If these functions fell outside of their normal operating ranges, the system alerted the operator and shut down the machine to prevent catastrophic damage.
With the Bobcat Engines, machine shutdown is still possible when needed. However, instead of shutdown being the only solution, the system monitors coolant and oil temperatures and manages the engine to prevent them from reaching a point where the machine must be shut down. This prevents engine damage, minimizes engine wear and keeps operators working.
Another new feature of the M-Series Tier 4 excavators is cold weather protection. Anytime the engine temperature is too low, the excavator will temporarily limit the maximum engine speed (rpm) to prevent premature component wear or failure. Engine idle speed is also raised slightly to help the engine reach its operating temperature faster. As soon as the engine warms up to a predetermined temperature, the protection mechanism will deactivate.
M-Series machines
The conventional tail swing E42 minimizes ground disturbance and excels at bulk excavation tasks, while the Zero Tail Swing E45 can excavate close to surrounding objects with unobstructed rotation and good all-around visibility. The E50 is a minimal tail swing excavator with a compact frame for projects in tight areas without sacrificing digging or attachment performance. Class-leading lift capacity and slew torque performance top the capabilities on the conventional tail swing E55.
Three of the Tier 4 excavators — the E42, E45 and E55 — offer a clamp-ready extendable-arm configuration that provides additional length when fully extended, giving operators ultimate reach without having to upsize the machine.
Like all M-Series excavators, these new Tier 4 models all feature an independent boom swing for offset operation as well as auto-shift travel, which boosts the machine's productivity by shifting the machine out of high range and back automatically. An auto-idle feature, which can be enabled at the operator's discretion, automatically causes the engine to return to idle if the excavator's functions are not used for four seconds, saving fuel and reducing sound levels.
A total of 13 Bobcat attachments that can help these four versatile machines do more than dig. They include augers, breakers, plate compactors, grading buckets, trenchers and rippers to name a few. The X-Change attachment mounting system, available on some models, increases productivity by quickly changing between attachments. Another option is the Hydraulic X-Change system, which uses hydraulic pins that retract and extend with the push of a button to change attachments, and it maintains optimal "pin-on" bucket geometry to ensure arm and bucket forces are not compromised.
Forward-mount instrumentation improvements
A new forward-mount instrumentation system designed for enhanced functionality and improved ergonomics is being introduced with the E42, E45, E50 and E55. The new forward location allows the operator to maintain awareness of machine vitals without losing focus on the task at hand and also improves ergonomics when the operator is interacting with the panel. This instrumentation system presents operators of Bobcat excavators with many of the functions, aesthetics and visibility they've come to enjoy with Bobcat loaders. From the operator's viewpoint, the location of the panel also aligns with the existing cab components and work group structures to maintain visibility to the attachment.
An available deluxe instrumentation panel includes an integrated keyless start system that provides for one assignable owner code, and up to eight operator codes. The deluxe panel also provides an Eco-Mode setting, access to fuel consumption data, attachment operating tips and detailed engine and hydraulic systems information. The M-Series excavator's optional deluxe instrumentation panel features multi-lingual functionality, similar to other Bobcat products.