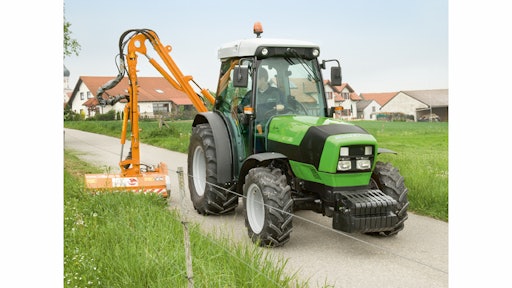 DEUTZ-FAHR's Agroplus range of agile, versatile tractors (V/S/F) feature a slimline design conceived to cater to all the needs of the vineyard and fruit orchard. Low and narrow (1.16 m), the go-anywhere Agroplus V is the most compact model of the three; the Agroplus F is the widest (1.43 m), to offer maximum grip together with the benefits of limited size; bristling with outstanding high-tech features, the Agroplus S is the most versatile (1.26 m wide).
Power and versatility under total control
Extraordinary versatility and efficiency are the key strengths of Agroplus transmissions. These transmissions were developed and tested in collaboration with the SDF Engineering Division, which boasts unrivalled experience in the design and continuous development of transmissions for specialised applications.
The base version, with synchronized shuttle, is offered in two configurations: with the extremely simple to use Over Speed gearbox, for a total of 30 forward speeds and 15 reverse speeds, or with the three-stage Over Speed Powershift gearbox with supercreeper gear, for a remarkable 45 FWD-REV speeds.
The Over Speed function allows a top speed of 40 km/h with any tire size fitted, without having to change any mechanical parts inside the transmission.
A range of speeds to choose from
Agroplus V/S/F tractors are equipped as standard with a PTO with a multiplate wet clutch and selectable speeds of 540/540ECO/1,000 rpm, or with a synchronised PTO.
An optional 1,000 rpm front PTO is also available.
Total precision and simplicity of use
The hydraulic system is equipped with a single 54 l/min pump as standard (or with dual tandem pumps with capacities of 33 and 25 l/min as an option) and offered in three configurations: six-way with flow regulator and three mechanical distributors; duplicated four-way system, with two mechanical distributors for central implements; or six-way with two electrohydraulic distributors plus one duplicated distributor with flow regulator, controlled from a joystick on the driver console.
The system adjusts the oil delivery and return flow for optimized usage of any implement mounted on the center of the tractor or at the front, for maximized productivity.
The rear lift can carry heavy implements, with an impressive load capacity of 3,000 kg, while the front lift has a smaller load capacity of 1,500 kg.
The Electronic Hitch Regulation (EHR) electronically controlled rear lift is available as an option: an implement offering extreme precision, which is incredibly simple to use.
Safety and agility
The compact design of the tractor, innovative front axle suspension layout, small size of the engine and slim forms of the flanks contribute to an impressive front ground clearance, keeping the components of the front axle transmission well protected.
For maximum traction even in the most challenging terrain conditions, Agroplus V/S/F tractors are equipped with an exclusive and specifically developed AUTO 4WD system, allowing the driver to engage and disengage four wheel drive with extreme ease.
All Agroplus versions feature an integral all-wheel braking system, with low wear wet disc brakes on all four wheels for superlative stopping power in all conditions - even on steep gradients or at high speed.
The maximum steering angle permitted by the smooth, nimble steering system differs according to model: with a steering angle of 50 degrees for the F, 60 degrees for the 4WD V and S versions, and 70 degrees for the 2WD Agroplus S and Agroplus F variants.
Size matters: both inside and out
Agroplus V/S/F tractors are available as platform or cab variants: platform versions are all compact, but differ in size according to model to cater for every possible application.
Agroplus V and Agroplus S are available with two sizes of platform and cab - 28 and 20 in. - both of which mounted on silent-blocks.
Even the lower of the two can comfortably accommodate 24 in. tires, to offer a machine with a low center of gravity and a very compact footprint (to prevent damage to surrounding plants), but with considerable interior space.
Agroplus F is available with two tire size dependent platform variants (measuring 28 and 24 in. in height at the mudguards respectively), both of which mounted on silent-blocks, and a 28 in. cab.
The large screen and windows ensure a clear view of the surroundings: fully glazed four A-pillar cab and windscreen with no central cross bar for total 360 degree visibility.
The comfortable work environment of the soundproofed, pressured cab with an effective air conditioning system, is complemented to perfection by superior ergonomics, with intelligently and intuitively laid out color-coded controls for immediate identification: each color corresponds to a specific operation, allowing the driver to quickly and instinctively find and use the right button.