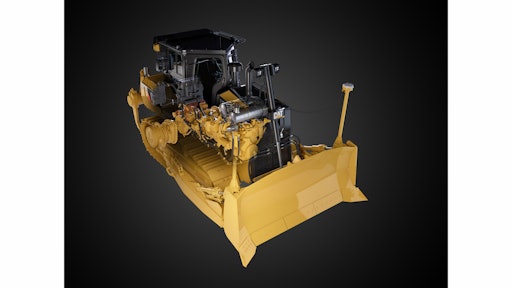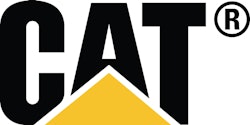 Since the first D7E dozers went to work on jobsites in 2009, customers have saved millions of gallons/liters of diesel fuel. The latest D7E model continues to provide outstanding fuel efficiency, along with some new performance-enhancing features. The D7E meets U.S. EPA Tier 4 Final/EU Stage IV/Japan 2014 (Tier 4 Final) emission standards.
The Cat D7E dozer, with an innovative diesel-electric powertrain, delivers up to 30% better fuel efficiency and 10% more production than its conventional D7R2 predecessor. Fuel savings, fewer mechanical parts to wear, reduced lubricant use and added production combine to lower owning and operating costs.
Three new productivity boosting dozing features help optimize the machine during grade work, improving quality and consistency for operators at all experience levels, all with less effort.
Stable Blade Control complements operator inputs and auto adjusts the blade for smoother, more precise grades.
Traction Control senses track slip and makes instantaneous smart blade adjustments to improve load consistency and maintain fuller blade loads, resulting in greater productivity with less undercarriage wear.
Slope Indicate provides a constant visual readout of the machine's mainfall and cross slope for real-time grade and slope guidance without a dedicated grade control system.
The proven Cat emissions reduction technology is transparent, requiring no action from the operator and no stopping for system regeneration. The selective catalytic reduction (SCR) system uses diesel exhaust fluid (DEF), which can be conveniently refilled at refueling time. Across a variety of applications, the D7E typically has used DEF at a rate of 2 to 2.5% of fuel consumption. The D7E has excellent fluid efficiency, defined as the amount of work done per unit of fuel and DEF consumed.
In less aggressive applications, many will find they can complete multiple shifts on a single tank of DEF.
Advanced Cat Connect technologies further enhance jobsite operations
Cat Connect offers LINK and GRADE technologies to help customers manage the D7E for optimum return on investment. Product Link helps fleet owners track location, hours, fuel consumption, idle time and events by wirelessly reporting all via the online VisionLink user interface. The system enables managers to make timely, fact-based decisions that can boost job site efficiency and productivity and lower operating costs. Cat AccuGrade is a dealer-installed grade control system that provides real-time in-cab guidance and automated blade movements to assist operators in efficiently attaining accurate grades in fewer passes, improving productivity as much as 50% over traditional methods.
Diesel-electric dozer proven in the field
The D7E engine powers an electrical generator that sends current through armored cables to a solid-state inverter, which supplies DC current to accessories. The propulsion module, featuring state-of-the-art AC electric motors, delivers well modulated torque via axles to the final drives. Electrical drive train components are sealed and liquid cooled with both oil and water to work efficiently in a wide variety of conditions and in high ambient temperatures.
The load-sensing hydraulic system continually adjusts hydraulic power to maximize work tool efficiency. Dozer blade choices include universal, semi-universal, straight and angle blades. There are also special application blades to meet the needs for processing materials such as wood chips, coal and waste. Rear attachment options include a multi-shank ripper, winch, drawbar and counterweight. Purpose-built Waste Handler and Stockpile configurations equip the D7E for optimum service in these and similar industrial applications.
The quiet, spacious cab uses a center-post design for outstanding all-around visibility, an in-dash monitor for displaying real-time machine data, and a heating/ventilation/air-conditioning system that is self contained and electrically powered. A speed recall feature allows pre-setting forward/reverse travel speeds, and then resuming set speeds by the touch of a button.
The tilt cab allows easy access to modular drive train components, and routine service points and sight gauges are grouped on the left side of the machine. A ground level service center houses the battery disconnect, hour meter, engine shutdown switch and access lighting switches. An LED indicator in the service center, when illuminated, warns that powertrain and accessory systems are energized; when not illuminated, systems are safe to service.
Note: Productivity, efficiency and owning/operating cost compared to previous D7R2 model.