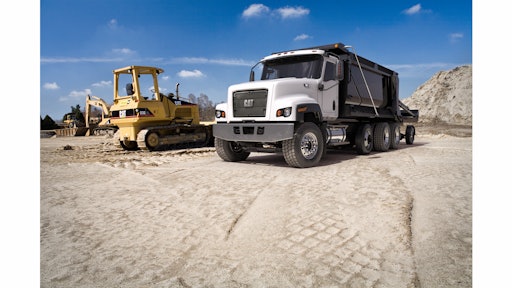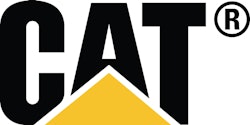 Introduced at CONEXPO-CON/AGG 2014, the CT681 is a Class 8 set-forward-axle model with a spacious and ergonomic cab, industrial styling, and a vocational-specific engine and transmission. Like the Cat CT660, the first model in the Cat vocational truck line, it's backed by bumper-to-bumper service at more than 400 Cat dealer locations with over 2,300 service bays in North America.
Extensive testing of the CT681 with North American customers was done as part of Caterpillar's field follow program—the equivalent of more than three years of heavy truck use. Applications included snow plow, concrete mixer, dump and super dump.
"This process provides a crucial feedback loop between our customers and our vocational truck product team, identifying any required changes to design and production," says Dave Schmitz, Global On-Highway Truck Product Manager. "Customers who have tested the truck tell us it drives well, it's powerful, it's quiet and their drivers enjoy getting behind the wheel. Based on this feedback, we're confident the CT681 is ready to handle whatever tough jobs our customers throw at it."
Industrial, attachment-ready design
With its set-forward axle, the CT681 allows customers affected by bridge law formulas in their states or on the interstate highway system to maximize loads. It's also ideal for those who prefer a longer wheelbase truck for better ride quality on long hauls or rough haul roads.
The truck's 114-inch bumper-to-back-of-cab (BBC) provides more room and flexibility to install bodies behind the cab, and an optional Front Frame Extension (FFE)—along with a Front Engine Power Take-Off (FEPTO)—makes it easy to mount attachments such as snow plows, hose reels, winches and hydraulic pumps. Mixer installation is also simplified, thanks to vertical tie-in plates mounted behind the cab.
Comfortable, productive cab
The CT681's spacious interior helps reduce driver fatigue, enhance safety and boost productivity. The ergonomic dashboard and center stack feature easy-to-read gauges that drivers can view through the steering wheel. A tuned cab air suspension system, premium grade sound insulation, and tight fitting components and trim deliver a smooth, quiet ride.
Drivers can choose from multiple seat options, including the Cat Comfort Seat, while a leather-wrapped steering wheel that tilts and telescopes comes standard. They'll also find plenty of room for paperwork, log books and other important items in the easy-to-reach side compartments, back-panel storage and oversized side pockets. Overhead, under-dash and adjustable map lights illuminate key work areas, and easy-access HVAC controls and vents are positioned for optimum air flow.
In terms of safety, the CT681 offers an uncompromised view of the road, thanks to a curved, sloped, wraparound windshield in a one- or two-piece design, sealed-beam halogen headlights and LED park/turn lights. Large, heated, cowl-mounted mirrors with integrated turn signals also enhance all-around visibility. A generous door opening, three-point grab irons and skid-resistant steps help ensure safe entry and exit.
Performance-matched engine and transmission
Under the hood, the CT681 is powered by a Cat CT Series Vocational Truck Engine with horsepower ratings from 365 to 430 and peak torque ratings from 1,250 to 1,550 lbs.-ft. Designed for vocational applications, these engines deliver optimum horsepower/torque combinations and the flexibility to match power and performance to specific jobs and operating conditions.
CT Series engines feature a highly efficient Selective Catalytic Reduction (SCR) solution to meet emissions standards, with upgraded in-cylinder technology and proven aftertreatment. A compacted graphite iron block, designed for unprecedented durability, reduces weight by as much as 200 lbs. compared to standard iron—allowing users to increase payloads for added efficiency and profit.
In addition, a single Electronic Control Module and fewer electrical connections help reduce diagnostic and maintenance time, and a fluid-free head gasket eliminates the risk of coolant leaking into engine oil or exhaust gases entering the cooling system.
Performance-matched with the engine is the optional Cat CX31 Automatic Transmission—a reliable performer in global vocational applications since 2004. With six forward speeds and one reverse, it's built to complement the torque output of Cat CT Series engines.
The Cat CX31 Automatic Transmission features the industry's highest power-to-weight ratio, full power shifting and quick acceleration to boost productivity. Ideal speed and torque combinations help improve fuel economy, and two side PTO locations and a Cat exclusive rear PTO enhance performance and serviceability.
Plus, automatic shifting is easy to learn and simple to operate, making it easier to find, train and retain productive drivers. Jobsite safety is enhanced as well, since drivers don't need to operate the clutch or remove their hands from the wheel.
Other options for the CT681 include a variety of manual transmissions and the Ultrashift Plus Vocational Transmission built by Eaton.
Cat Connect/LINK technologies
The CT681 comes standard with Product Link, a proprietary Cat telematics system that collects data from on-board systems and transmits it via satellite and cellular networks to a secure Internet site. Using Product Link and its easy-to-use web interface, VisionLink, truck owners and fleet managers can access accurate, timely data about how, when and where trucks are being used. With information from LINK technologies, customers can make fact-based decisions to help reduce costs, enhance productivity and improve security.
An optional Vehicle Infotainment System and Bendix Tire Pressure Monitoring System are also available on the CT681.
"We designed the CT681 based on hundreds of hours of customer input," says George Taylor, Director of Caterpillar's Global On-Highway Truck Group. "The result is a truck that's built to maximize payloads, work hard and last for years, even in the toughest applications, and the success of our field follow program bears that out."
Both the CT681 and the set-forward-axle CT660 are natural extensions of the Cat product line and an ideal complement to other Cat equipment on the jobsite. They reflect Caterpillar's commitment to continuously develop new products that accelerate customers' business success.