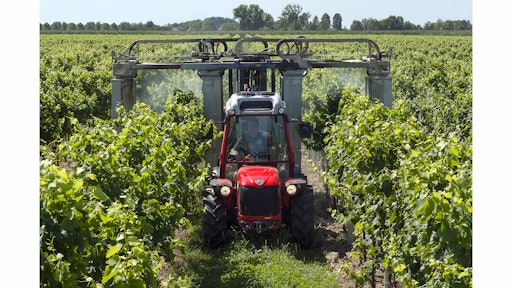 Antonio Carraro introduced several of its newest agricultural machines at EIMA 2014, which took place November 12 to 16 in Bologna, Italy. 
T SERIES - new basics for Mediterranean agriculture
The new T Series, the range of Antonio Carraro basic equal wheel tractors, have officially been released.
Essential, economical tractors yet extraordinarily robust and reliable. Ergonomically designed, these tractors have great reliability thanks to extensive Antonio Carraro experience and tradition in the equal wheel tractor sector. The tractors from the T Series can be considered the forefathers of all of the company's equal wheel tractors. Basic tractors, but full of the personality that sets each Antonio Carraro product apart and which translates into reliability, strength and handling for the operator. Tractors designed to work on hillsides, in the mountains and on specialized crops where grip, handling and dimensions are of vital significance. Two engine powers are available.
T Series Tigrone TN 5800 steering/Supertigre SV 5800 articulated
The 4 cylinder, 49.7 hp Yanmar engine; ACTIO chassis; low center of gravity, as well as 12 speeds (8+4) and servo assisted steering are the main characteristics of these tractors that guarantee stability and constant traction on hillsides, in the mountains and on uneven ground. The new bodywork is fitted with large grilles in perforated sheet metal that guarantee incredible thermal exchange, ideal in hot climates, frequently found in the countries around the Mediterranean.
T Series MAJOR - TN 5800/6400 steering – TC 5800F/6400F steering – SN 6400 articulated
The family referred to as Major is made up of various equal-wheeled or larger rear wheeled models (larger wheels for the TC-F model) and are fitted with a synchronized gearbox with 12+12 speeds, inverter and an independent PTO which offers great efficiency when working with equipment independently of the tractor's motion. The tractors include a 4 cylinder Yanmar engine with 49.7 hp (5800F model) and 56 hp (three turbo cylinders, 6400F model), and a steering or articulated ACTIO chassis. The control draft and position power lift facilitates the use of equipment. The comfort of these tractors is excellent thanks to their spacious drive position and ease of access. The rear mudguards are fitted with handles for the operator, useful and safe when carrying out tasks on lateral slopes.
T Series - Tigrecar 5800
The transporter version is a concentration of technology, function and comfort designed to satisfy the most diverse operative needs. Compact and with good handling, an 8+8 speed synchronized gearbox with inverter, it is a multi-purpose tractor ideal for working in narrow spaces, on steep slopes and uneven ground as it optimizes performance and operational time. The oil bath disk brakes on all four wheels, the supplementary optional Superbrake system, the final reducers on the front and rear wheels, provide solidity and operative safety. Onboard comfort and the ergonomics of the controls are excellent, thus allowing the operator to work for many hours without experiencing stress. The Tigrecar 5800 is a transporter suitable for specialized agriculture, maintenance and material movement on sports grounds, civil maintenance, building sites, roadway maintenance and forestry.

New engines in the 100 hp band
The diesel Kubota V3800 Series represents a generation of engines derived from a long succession of engines appreciated throughout the world not only in terms of power and reliability, but also for their respect for the environment thanks to their low emissions that are ever more ecological. 
Ergit 100 Series 10900 - Normal Chassis at 100 CV
Antonio Carraro presents four new models from the Ergit Series 100 at 98 hp with Kubota engines (3800cc, direct injection, 4 cylinders, compressed turbo) fitted with E-CDIS, a central direct injection system, four valves per cylinder, that guarantee maximum power and torque for greater speed flexibility and acceleration fluidity which all leads to lower fuel consumption, minimum noise levels and reduced vibrations. A "streamlined" engine that allows for the creation of a compact yet powerful tractor, with an extremely narrow turning circle and wide angle hitch.
The TRX 10900 is a reversible tractor with equal-sized wheels that is agile and compact and capable of carrying out a large quantity of tasks. Its full chassis with oscillation, ACTIO is synonymous with great stability and constant ground grip, even when simultaneously carrying heavy front and rear fitting equipment. The TRX is available with the Starlight cab, front power lift, JPM proportional joystick, six hydraulic outlets on the front and six on the rear.
The TTR 10900 features a Clean Fix system – a reverse flow fan that guarantees constant and efficient cleaning of the radiator and the front grilles on the bonnet – which is particularly useful and reliable during haying and for working safely in dusty environments. It is a reversible, equal wheel tractor with a wide tread, safe and with good handling on sloping ground. The hydro-pneumatic suspension of the equipment, with coaxial cylinders, called Uniflex (Antonio Carrao patent No PD2013A000161), guarantees stability and comfort in all circumstances, even on uneven ground. The TTR is available with the Extracomfort cab, front power lift and as standard it has a JM joystick and six hydraulic outlets.
The TRG 10900 is a powerful reversible tractor with different sized wheels, designed to be used in the heaviest of tasks by large agricultural companies. Its electronic proportional draft position and control system offers top level stability: the TRG offers safety and stability in all operational activities. On request it can be fitted with the damping function that controls the oscillation of the weight on the suspension due to uneven ground, by cushioning jerking movements and vibrations. The TRG is available with the Starlight cab, front power lift, JPM proportional joystick and six hydraulic outlets.
The TGF 10900 is a super low profile tractor with larger rear wheels. It works best amongst very narrow-rowed crops, guaranteeing traction, grip and handling even on sloping ground. It comes with 16 different tire combinations and is a "made to measure" tractor whose configuration fits in perfectly with the type of crop and ground conditions the operator is working in. It is a powerful yet compact tractor, ideal for working in dense "Y" fruit cultivations, in vineyards under awnings and in greenhouses on steep slopes. On horizontal slopes the TGF is always perfectly balanced even when carrying heavy equipment. It can be fitted with a classic Starlight or super low profile pressurized Protector 100 cab (available in four different versions) the latest version being certified as Category 4, which unites comfort, compact dimensions and work visibility to the total isolation of the operator from harmful fumes.
Protector 100: The only compact of Category 4
The pressurized Protector 100 unites comfort and visibility with the maximum isolation of the operator from harmful fumes during crop spraying. The hermetic sealing of the cab and its pressurization, guaranteed and monitored by the AirControl device, makes the working environment safe and healthy. Thanks to the active carbon filters aboard the Protector 100 cab, the operator can breathe perfectly filtered clean air. At the moment it is the only pressurized compact cab on sale with the Category 4 certification that can guarantee maximum isolation of the operator from the external environment (and above all from the inhalation of harmful fumes during crop spraying) until now never reached.
Mach 2: reversible steering with new Duo-track
Antonio Carraro continues to develop new concept tracked tractors, ideal for activities in inaccessible areas, especially on muddy, slippery surfaces. The use of rubber tracks guarantees exclusive solutions that lead to greater productivity, faster operational speed, improved speed of reaction, comfort and safety by drastically reducing the damage of ground compaction. Spurred on by the great success of the Mach 4, launched in 2008, the Padova company has continued to develop new versions of the original model, such as the Mach 2, a reversible steering duo-track, which went into production in 2014. The Mach 2, fitted with rear rubber tracks and front 20 in. tires is designed for those operators working on sloping cultivations, where constant grip, traction, stability and safety are essential. The exclusive set up of front steering wheels and rear
rubber tracks allows it to carry out complex manouvers easily and in full safety even on steep slopes; manouvers that are unthinkable with a tractor fitted with traditional tires. Thanks to its width of 1,400 mm, weight of 2,915 Kg, its brilliant 87 CV Yanmar engine, homologated speed of 35 Km/h, low center of gravity and vast choice of optional extras – amongst which are the StarLight cab – the Mach 2 represents an all rounder with a unique personality, ideal for any agricultural concern, that can meet any challenge rapidly and in complete safety. Finally, like the rest of the Antonio Carraro range, as testimony to its well-known reliability, it enjoys the option of an extended warranty (EXG) up to four years.
SRH 9800 Infinity: Tractor of the Year 2015 finalist
A finalist for the Tractor of the Year 2015 award in the Best Specialized category, Antonio Carraro's SRH 9800 Infinity (87 CV) is a compact, articulated tractor with reversible drive and a hydrostatic transmission (winner of the "Intervitis, Interfructa Innovation 2013" award in the first original version at the last Intervitis fair at Stuttgart – Germany); it is a revolutionary model that ever since its launch has been well-received by the operators in the sector (especially vineyards and orchards), thanks to its unique features, its ease of use and operational accuracy. The Infinity version possesses innovations in terms of gearbox features and the constant variation of the transmission, without power interruptions which is particularly appreciated when dealing with discontinuous loads and differences in ground level. The Infinity transmission has two mechanical ranges (work and transfer): from 0 to 15 Km/h and from 0 to 40 Km/h. Each range has three hydraulic speeds that can be inserted during movement (without discontinuity) via a switch on the dashboard (or Joystick). The Eco system allows for maximum speed to be automatically maintained at a low level of engine revolutions, while at the same time guaranteeing lower fuel consumption and excellent operative comfort (in terms of noise levels and vibration) due to the fact that the lowering of the engine revolutions occurs automatically, without the operator's intervention, once maximum velocity has been reached. The Infinity transmission, combined with the precision of the hydrostatic transmission, renders the tractor versatile and dynamic, and thus offers the operator infinite working speeds, for both calibrated, precise movements as well as for decisive or prolonged movements on plantations that require constant set speeds. The SRH 9800 Infinity is also fitted with an ESC device, an active control system of the revolutions of the PTO and operational speeds that can be monitored and independently adjusted which guarantees optimal performance even in the presence of discontinuous power absorption.
SRH Infinity includes the StarLight cab featuring a spherically curved profile, which allows for its disengagement from narrow spaces. The operator enjoys total, all-round visibility thanks to its total glass doors and quarter vent windows along with the four portholes on the front part of the cab, in line with the tires' tread. The active carbon filters protect the operator from harmful fumes. The acoustic comfort is on a par with that of an automobile thanks to its soundproof lining. All the pedals are suspended on the reversible drive tower, in an ergonomic position, so that the cab's living area is completely isolated from the outside without any risk of air infiltration from the drive platform.
Tony 9800 TR with continual variation gearbox
The Tony 9800 TR (87 hp- Yanmar engine – four turbo cylinders) is the latest in Antonio Carraro's line of "Grand" reversible tractors with a hydrostatic-mechanical transmission. A new concept transmission with
continual variation, four robotized speed ranges with electronic controls that noticeably increases the transmission's capabilities by increasing traction capacity 30% compared with the standard model. The Tony 9800 TR also offers electronic automatic control of forward speed movement and engine revolutions thanks to the ESC control system – Electronic Speed Control. It also has a large hydraulic capacity that amplifies the range of equipment it can be used with. The gearbox range, servo assisted and engaged via a switch (on the dashboard or the joystick) or automatically, does not result in discontinuous movement. The simple or electronic draft position and control lift is fitted with suspension and a joystick with adjustable oil flow. The electronic system is aided by an analogical/digital instrument that supplies all information regarding the tractor's functions. The central tunnel of the driver's seat is completely free of impediments, just as the command centre joystick offers maximum ergonomics and operational comfort. The StarLight cab (FOPS
certification and Category 4 protection from harmful substances), offers a large, soundproofed living space, with all round visibility. The cab is fitted with doors and spherically curved windscreens on butterfly windows, with a window by the power lift and skylight for excellent visibility above.
All the pedals are suspended on the reversible drive tower, in an ergonomic position, so that the cab's living area is completely isolated from the outside without any risk of air infiltration from the drive platform.
Groundcare Line - SP 5008 HST: 46 horses for civil maintenance
The SP 5008 HST has a brand new engine – diesel Yanmar 4 cylinder 46 hp direct injection – in order to provide greater power and performance when carrying out civil maintenance tasks. 
A compact mono-directional tractor, fitted with a cab, in possession of an articulated chassis and hydrostatic transmission, it is one of the vehicles aimed at green area maintenance, embankment clearance and winter roadway maintenance. It is predisposed to be used with front, rear and top fitting equipment such as the sweeper, snow blade, gritter, sand spreader, mower, grass collector, rear loading platform, forklift, chopper, excavator and borer. 
The cab offers ample space and all round visibility. The platform for the drive position is suspended on silent-block to avoid vibration and jerking whilst working. The pneumatically sprung seat, with head and arm rests, guarantees a relaxing drive position even after many hours work. Standard features of the tractor include air conditioning, work headlights, 12V plug, packed lunch compartment, parasol, telephone holder, adjustable steering wheel and convenient lever for the electro-hydraulic inverter, coat hook, document net.
Hydraulically controlled brakes guarantee gradual and decisive braking. The forward movement pedal hydraulically controls the hydrostatic transmission offering practicalness and operational safety. The JM joystick which governs the equipment is within the operator's easy reach. For tasks which require constant movement, the operator has the speed-fix switch which allows him to set required operational speeds.