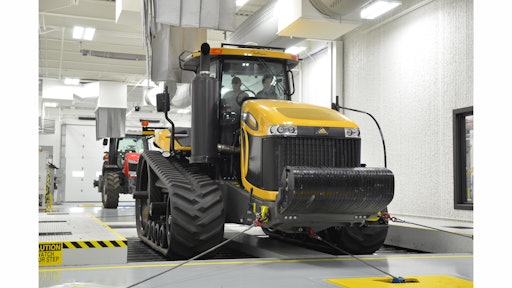 AGCO Corporation is in the midst of a multi-year, $42 million upgrade and expansion to its engineering and manufacturing facility in Jackson, Minnesota. The motivation behind the project, which kicked off in 2013, is to further improve the quality of the agricultural equipment built there, as well as the efficiency and production capacity of the facility.
"Farmers expect the best when they purchase AGCO equipment built here in Jackson, and we have a history of meeting those expectations," says Eric Fisher, AGCO Director of Operations. "With the continuous improvements we're making here and at other AGCO facilities, we continue to provide our dealers and farmers the highest-quality agricultural equipment available."
End-of-Line Quality-Assurance Testing
As of fall, 2014, all Massey Ferguson and Challenger tractors built in Jackson must pass five quality-assurance tests before being delivered to dealers and farmers. New end-of-line testing procedures ensure each tractor to come off the line performs at or above engineering specifications and is ready to work hard for farmers. The news tests — a jounce test, PTO dynamometer test and chassis dynamometer test — make up the fifth quality-check gate at the Jackson facility. Quality-check Gates 1 through 4 verify proper functioning of the hydraulic system, cab electronics, overall systems and fit, finish and tire or track width.
The first new quality-assurance test is the jounce test, which rocks each tractor side to side, mimicking a drive across a rough field. The speed and intensity of the rocking are varied throughout the test to simulate farming conditions from everyday to extreme. All hoses, fittings and electrical connections are monitored throughout the test to verify there are no leaks or electrical issues. The lights, wipers and other switches are manually verified again after the test to ensure everything works correctly for new tractor owners.
Tractors with a PTO go through a PTO dynamometer test. For this test, the PTO output is measured across the RPM band and compared to the tractor's rated horsepower and torque output. PTO performance is checked at a variety of speed and load levels to ensure farmers get the productivity they expect from their new tractor.
Finally, every Massey Ferguson and Challenger tractor built in Jackson must pass the chassis dynamometer test. This comprehensive test verifies proper functioning of the steering, brakes and suspension system, as well as transmission shift quality and engine performance. Tractors are held in place on a bed of rollers and run at various speeds and resistance levels to simulate conditions above and beyond what they are likely to encounter in the field. As with each of the three tests, any issues are corrected prior to delivery.
"The AGCO team here in Jackson invests a lot of hard work into every piece of equipment built here," said Arun Shankaran, AGCO senior manufacturing engineer of testing. "The new testing procedures ensure each tractor that comes off the line exceeds farmer expectations and is ready to hit the ground running."
Machining Critical Components In-House
Even well-designed, well-built tractors and sprayers are still the sum of their many parts. To improve the quality of the finished equipment coming out of Jackson, AGCO has invested heavily in manufacturing critical components in-house. The recently completed 30,000-sq.-ft. expansion of the component manufacturing area houses two new laser cutters, a new material handling system and an array of state-of-the-art welding and machining equipment.
All components manufactured in Jackson are first designed in 3D virtual-reality programs. Operators share 3D component information through each step of the manufacturing process with touch screens, and manufacturers are not allowed to move to the next step if the real model does not match the 3D model. This technology helps keep the finished components as consistent as possible.
The two new sheet laser cutters, for example, deliver 6,000 watts of cutting power to within 0.0016 of an inch for incredibly precise, consistent cuts. "The new laser cutting tools allow us to cut more parts, more accurately, every day," said Rod Paplow, AGCO manufacturing engineer program manager of components. "More accurate cuts mean better joints for welding. Stronger welds make for more durable frames, axles and other parts."
RoGator axles and Challenger track tractor frames are welded and machined using a StarragHeckert machining center. The StarragHeckert uses a spindle probe to analyze the component to be welded and machined in virtual space, and then machines critical mating surfaces and mounting holes to within 0.00016 inch of engineered specifications. This level of accuracy and consistency ensures everything fits together as designed, contributing to stronger welds and better component fitment.
AGCO plans to continue the installation of additional robotic welders, sheet lasers and new tube lasers over the next 24 months. These changes will increase component-manufacturing capacity by 20%, improve productivity and positively impact quality of all AGCO equipment built in Jackson.
Engineering in Virtual Reality
The engineering facility at Jackson also received an upgrade with the installation of a state-of-the-art 3D virtual-reality powerwall. Engineering models are displayed in 3D on an 8-by-16-foot glass screen, allowing engineers to review models virtually, collaborate and improve designs ahead of prototyping.
"The new powerwall is quickly becoming instrumental for our engineering process in Jackson," says Joe Black, AGCO senior business analyst. "Engineers can make small refinements, like adjust clearances, check sight lines and control ergonomics from the cab and review complete tractors, all virtually. This streamlines the design process, helping us build higher-quality tractors and sprayers."
Recent Investments in the Jackson Facility
Farm equipment manufacturing has been a part of the Jackson community since 1963, when Ag-Chem Equipment Company was founded as a distributor of spraying equipment. Ag-Chem was purchased by AGCO in 2001. In 2006, the first tractor assembly was brought to Jackson, with the new assembly line to handle the Challenger track tractors and articulated 4WD tractors. In June 2012, AGCO expanded its Jackson location to bring production of Massey Ferguson and Challenger wheeled row-crop tractors to North America.
That expansion included AGCO's first North American welcome center, the Intivity Center. The 17,000-sq.-ft., state-of-the-art visitor center showcases the farmer-focused innovation behind the brands upon which AGCO has been built. It offers an extensive collection of historical artifacts — many never before seen by the public — and includes a glimpse of the future of agricultural equipment through interactive displays demonstrating equipment technology in development at AGCO. For more information about Intivity Center or to make reservations to tour the AGCO Jackson manufacturing facility, visit IntivityCenter.com.