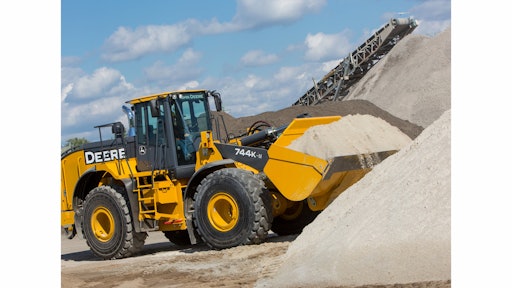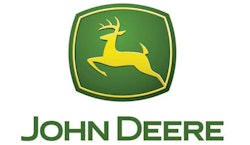 Three updated models join John Deere's industry-leading K-Series Four-Wheel Drive Wheel Loader lineup. The 744K-II, 824K-II, and 844K-II meet Final Tier 4 emissions standards while bringing added durability, productivity, increased uptime and lower daily operating costs to the jobsite.
"Advancements to the K-Series-II loaders came from the brightest minds in the industry – our Customer Advocate Group," says John Chesterman, Product Marketing Manager for Production Size Wheel Loaders, John Deere Construction & Forestry. "Armed with insights from loader owners and operators, we equipped these material movers with a Final Tier 4 solution and more robust axles, all of which is supported by the advanced diagnostics of Ultimate Uptime featuring John Deere WorkSight."
The EPA Final Tier 4/EU Stage IV diesel engines meet emission regulations without sacrificing power or torque. The 744K-II (303 hp), 824K-II (333 hp) and 844K-II (377 hp) are built on the Interim Tier 4/Stage IIIB solution, delivering the best combination of performance, efficiency and reliability. The technology was designed to be simple, fluid efficient, fully integrated and fully supported, employing field-proven cooled exhaust gas recirculation (EGR), easy-to-maintain high-uptime exhaust filters and selective catalytic reduction (SCR).
The K-Series-II loaders come equipped with larger, higher-capacity Teammate V Axles (744K-II & 824K-II) with standard cooling and filtration, and on-the-fly engageable front differential lock giving operators heavy-duty traction for the most demanding terrain. For added protection, axle oil is filtered by continuously cleaning wear particle and debris out of the oil. Together, this system provides increased axle reliability, durability and longevity.
Brake reactors and automatic self-adjustors were added to eliminate brake drag and to maintain a constant brake running clearance with better compliance and less heat. The hydraulic tank was moved underneath the steps (FT4 models only) to maintain excellent rear visibility without growing the size of the rear hood.
To eliminate downtime, K-Series-II FT4 loaders are equipped with remote battery terminals for faster and easier jump-starting. The engine compartment can remain closed and locked to charge the batteries, which reduces the threat of vandalism.
The 744K-II, 824K-II and 844K-II are LOADRITE L2180 ready, which not only provides operators on-board payload data, but is integrated into JDLink Ultimate for remote viewing and analysis.
All John Deere wheel loaders come standard with John Deere WorkSight, the most comprehensive, easy-to-use suite of technology available for increasing uptime and productivity while lowering operating costs. In addition to the base John Deere WorkSight features, dealers will work with owners to build an uptime package that meets user-specific needs, including customized maintenance and repair agreements, onsite parts availability, extended warranties, fluid sampling, response-time guarantees, and more.