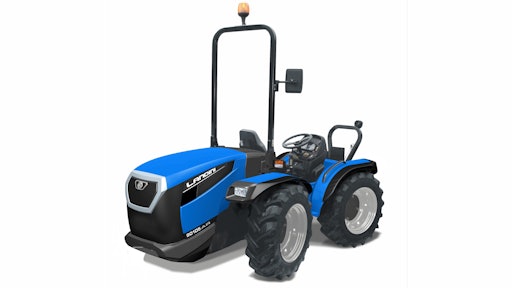 EIMA 2014 coincides with Landini's 130th anniversary. This is a unique opportunity for introducing new technology from a brand with a passion and dedication to succeed whilst retaining its noble traditions. The Landini brand has made steady progress during its time in the farm machinery business and is known for delivering the requirements of farming professionals and their operators globally.
The complete change to the Landini range commenced more than two years ago and now, with further innovations being introduced, completes the lineup for 2015 and beyond.
Not only has the product itself been renewed, it is also the introduction of new processes in the production process for which the assembly lines in Fabbrico, San Martino in Rio and Luzzara have been radically changed, enlarged and upgraded to suit ultra-modern manufacturing and organizational standards with the sole aim of building a quality product right the first time.
Landini's product innovation captures new sleek styling for the tractors, true to a Family Feeling engineered and detailed to create attractive-looking exteriors plus outstanding comfort and durability inside.
The machines on show at EIMA reflected the investment and dedication that has been undertaken by the team of people within Argo Tractors.
Firstly the new 6L Series which is a development of the Landpower, a true solid workhorse with a three model offering: 6-145L 143 hp, 6-160L 163 hp and 6-175L at 176 hp. All are fitted with Tier 4 Interim 4.5-liter 16 valve engines with SCR emissions systems. These power units are extremely fuel efficient and the large 270-liter tank allows long hours of operation between refuelling.
The 6L range is ideal for demanding tasks yet is agile enough to manouver around the farm even with a loader fitted. The wide opening bonnet provides unrestricted access to the engine compartment, while swing-up coolers make cleaning and maintenance both easier and quicker. The 6L Series offers an 18 x 18 mechanical reverse shuttle or can be supplied with the optional hydraulic reverse shuttle and three-speed powershift providing 54 x 18 gears. For special low speed requirements a creeper, with 410 m/h minimum speed, is also available.
Powerful hydraulics deliver 87 l/min flow plus 38 l/min dedicated to the steering system and up to five remote valves are available. The two-speed PTO with push button operation is easy to use and includes external operation for convenience.

Externally, the electronically controlled rear power lift has up to 8,400 kg maximum capacity, while the optional front linkage with optional PTO if required offers a 3,500 kg lift capacity.
Powerful and modern, the 6L Series reflects the stylish Family Feeling of Landini's new generation of tractors and features an enhanced cab interior in new colors.
Landini's next innovation covers the 5H Series. To underscore the brand's Family Feeling, this series features a new cab which has been designed to provide superior comfort and visibility and easy operator access.
Developed and manufactured in Argo Tractors' Italian factories, the new cab features a flat platform and four-pillar structure that ensures outstanding visibility. Inside, the cab is complete with every comfort and there's great attention to detail from the tilt/telescopic steering column that integrates the instrument panel and the ergonomic controls to the air conditioning system with filters installed in the rear pillars, giving the roof a "slim" line and reducing the height of the machine as well as making the filters easier to service.
As well as a new cab, this series also features further product enhancements and customer benefits. Hydraulic output has increased flow rate 63 l/min + 30 l/min for faster implement operation such as a loader and a larger fuel tank holding 120 liters.
The transmission can be powershuttle or Synchro shuttle depending on the customer requirements. Each offers an excellent choice of working speeds and reduced engine rpm for road transport.
The 5H Series has four models from 88.5 to 113 hp and Dual Power adding additional performance on the first three powershuttle models.
Next up is an extension to the 4 Series. The range has now been expanded to include three smaller models: 4-060, 4-070 and 4-080 with 61, 68 and 75 hp, each model having a small increase in power as the engine rpm lowers 64, 69 and 76 hp maximum power. More compact than the three higher-power models (4-090, 4-100 and 4-105), the new 4 Series tractors are available with a 12F + 12R mechanical shuttle or electro-hydraulic power shuttle with modulation control. Additionally, they can have a 16+16 creeper. Available in both platform and cab versions, these models epitomize Landini's low-power utility tractor philosophy and are ideal for all type of farming, from hay-making to work with a front loader. In addition, they can also be used in orchards and vineyards since their overall width can be reduced to 1.73 m using 12.4R36 rear tires.
The 4 Series compact range features Deutz Tier 4 Final engines with DOC oxidation catalysts, which do not require a DPF and susbsequent regeneration cycles.
The new 4 Series have pushbutton PTO operation for easy control, and a 49 l/min + 28 l/min steering circuit, two remote valves plus a third and mid-mounted loader valves that can be added for maximum versatility. At the rear, a mechanically controlled rear linkage provides 2,700 kg lifting capacity which can be increased to 3,400 kg with an additional cylinder. Finally the front axle has a limited slip system and electro-hydraulic 4WD engagement and provides maximum turning angles for those tight spaces these tractors will encounter.
Landini's 4 Series also includes the model 4-075 Tier 3, featuring a Perkins Tier 3 engine available in 2015 also for European markets, offering all of the above features.
Final innovations to the Landini range that were launched at EIMA 2014 is the 9000 Series equal wheel tractor, which will be shown as a footstep version but will also be available with a cab.
This new 9000 Series range includes two models, 9095 85 hp and 90105 95 hp.
The driveline provides a 16F + 16R with mechanical reverse shuttle and creeper as standard equipment, 2,300 kg capacity rear power lift and hydraulic circuit with 50 l/min flow rate + 31 l/min for two rear control valves and an optional Joystick to operate them (proportional + continuous delivery with flow rate regulation).
One final point is the easily reversible driver's position allowing maximum vision and comfort and this too is part of the standard equipment, both units are also available as an articulated version.