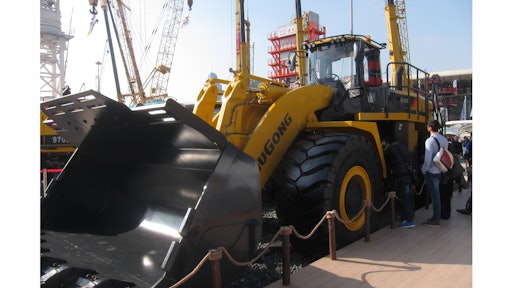 As one of the most influential exhibitions in the construction machinery industry, bauma China has always been an important platform for construction equipment manufacturers to show new products, strategies and abilities. In this bauma China, LiuGong's largest wheel loader, CLG8128H made its debut to the world.
CLG8128H is mainly used for large projects. It is developed according to LiuGong's product planning and market demand, which is featured with 4.04 m dumping height, 7.0 m3 rock bucket with movable blade and DANA-C9672 torque converter. With 12 ton rated load and 360 KN breakout force, it only takes 7.4 seconds to raise for full loading, which improves work efficiency.
For years, LiuGong has been staying ahead of the industry in technology research and development, among which the wheel loader technology has been practiced and tested for more than half a century. In 1966, LiuGong successfully developed the Z435, China's first wheel loader and in 1971, LiuGong successfully manufactured the first articulated wheel loader in China. This laid the foundation for the wheel loader's development in modern China. In 2001, LiuGong produced the first plateau-type wheel loader in the world, which filled the worldwide gap and won the Second Prize of State Scientific and Technological Progress, the one and only prize that has been awarded in this industry so far. In 2007, LiuGong became the largest loader supplier in the world. The launch of CLG8128 wheel loader not only establishes the market position of LiuGong's wheel loader, but also shows LiuGong's capability in technology innovation.