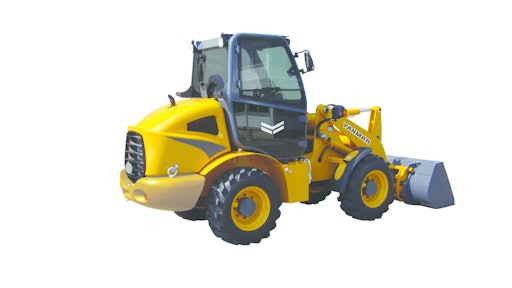 Yanmar Construction Equipment announced the launch in 2015 of its range of wheel loaders for the European market at INTERMAT 2015. The range will include four models: two available end of 2015 and two other current 2016. These products will be manufactured by the Italian company VF Venieri SpA.
The long-term contract between the two companies was signed during INTERMAT in Paris.
New products to complete Yanmar range
The aim for Yanmar is expanding its range with new complementary products for hydraulic compact excavators, and strengthen its presence in the compact equipment.
VF Venieri and Yanmar have been cooperating for many years on the distribution of products and cooperated for the design of the new range of wheel loaders, which feature a balance between robustness and quality of Japanese products, and Italian industrial performance.
The first two models which are named V7 and V8 will be launched in late 2015. These machines have a capacity of 0.7 and 0.8 m3 and will be equipped with a Yanmar engine 4TNV88 of 50 hp.
In 2016, the range will extend to products with a capacity of more than 1 m3 respecting the last Tier 3 emission standard for engines over 50 hp.
These products represent a sales volume of 10,000 units per year in Europe, with France, Germany and Scandinavia as main markets.