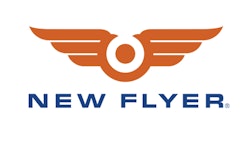 New Flyer of America Inc., a subsidiary of New Flyer Industries Inc., the leading manufacturer of heavy-duty transit buses in North America, announces that New York City Transit Authority (NYCT) granted New Flyer an award for an additional 72 heavy-duty, 40-foot, low floor, Xcelsior buses (72 equivalent units or EUs).
This award is supplementary to the January 2014 contract announcement for 276 heavy-duty 40-foot Xcelsior clean diesel powered buses and will replace vehicles that have reached the end of their useful life.
NYCT and MTA Bus Company (together, MTA) comprise the largest transit agency in North America with over 5,700 transit buses in their fleet of which approximately 1,000 or 17% are New Flyer buses. Over the last four years, New Flyer has delivered 668 transit buses or 758 EUs to MTA with clean-diesel and natural gas propulsion systems in both 40- and 60-foot configurations.
Paul Soubry, New Flyer's President and Chief Executive Officer says, "We are very proud to have been awarded yet another opportunity to build buses for the NYCT, the largest bus operator in America."
He adds, "NYCT has among the harshest and most demanding operating profiles of any transit agency, so continued contract awards reaffirm that our Xcelsior is meeting their customer's needs and is built to rely on."