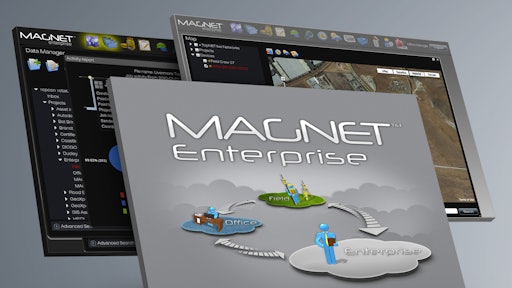 Topcon Positioning Group announces the latest update to the entire MAGNET suite of software solutions. MAGNET v3.0 includes new and enhanced features designed to increase interconnectivity and productivity.
"This updated system includes improvements for users at every level within the software suite," says David Ahl, Director of Software Product Management. "Data exchange is more fluid than ever before between the office and the field with the addition of Topcon eXchange for CAD. Now users can take advantage of seamless data transfer of Autodesk solutions to Topcon solutions without additional file conversion steps."
MAGNET v3.0 also offers customization options built to allow operators to save their most commonly used functions to improve efficiency. In addition, new project management functionalities such as redlines, schedules and tasks, and timecards — as well as new software installation and update methods designed to offer convenience and a simplified overall experience for the user.
"This system-wide update shows our continued commitment to offer world-class integrated services that provide our customers complete solutions that support what they do every day," says Ahl. "From Hybrid Positioning functionality for flexible stakeout options — to the connectivity with the LN-100 via the MAGNET Construct app for Android — the data exchange from active project sites to and from the office has never been easier or more efficient."
MAGNET users that are currently covered with their software maintenance period are eligible to update to version 3.0 immediately.