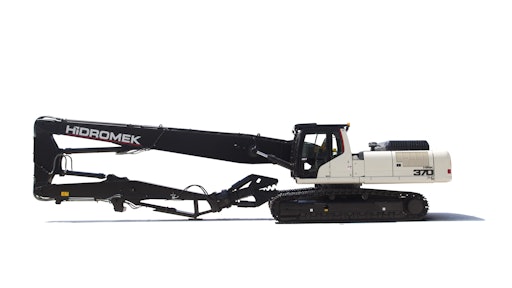 Hidromek exhibited its range of backhoe loaders, excavators and motor graders at INTERMAT 2015, one of the world's largest construction equipment exhibitions held at Paris-Nord Villepinte Exhibition Center between April 20 and 25, 2015.
The world premiere of Hidromek's first articulated wheel loader was held at INTERMAT. The loader has 4 m3 loading bucket capacity with 24 tonnes working weight.
A 324 hp turbo diesel engine with 6 cylinders produced by Mercedes and adapted for industrial use by MTU, which is the one of the group firms of Rolls Royce, has been located at the heart of the machine which has an astonishing 1,600 Nm maximum torque value. The wheel loader has been designed by Hidromek engineers after careful evaluation of operators' demands and extreme working conditions of quarries and mines and will be in serial production in 2016.
During the show, Hidromek announced its new Alpha Series HMK 102 B backhoe loaders. Hidromek also introduced its motor grader range, MG 330 and MG 460. The company exhibited several products including its HMK 62 SS mini backhoe loaders, Supra Series HMK 102 B backhoe loaders, Gen Series HMK 140 W with a two-piece boom wheeled excavator, Gen Series HMK 140 LC with a dozer blade, HMK 220 NLC, HMK 300 NLC, HMK 370 NLC HD and newly added HMK 490 LC HD crawler excavators.
HIDROMEK is the leading construction equipment manufacturer in Turkey for backhoe loaders and hydraulic excavators. In 2013, HIDROMEK acquired the motor grader business of Japan's Mitsubishi Heavy Industries Ltd. (MHI). The deal included the production facilities in Thailand, as well as its product know-how, technology and after-sales services capabilities. When this new investment was added to Hidromek's product portfolio, it further increased the company's global competitiveness. Currently, Hidromek continues its production in five locations (three in Ankara, one in İzmir, one in Thailand).
In addition to growing its sales and the dealer network, Hidromek has been making investments in new premises and production facilities. The most recent one will be used for the production of HMK Excavator range doubling the current capacity. The new plant will cover an area of 1 million m² and the construction has started and is due to be in operation in 2015, clearly sending a strong message to the market regarding Hidromek's future intentions.
Hidromek intends to increase its world ranking from the current 46th position to the 'Top 50 World Construction Equipment Manufacturers' list compiled by KHL Publishing Group. Hidromek is the first and only Turkish company that takes part on this prestigious list.
Today, Hidromek exports its backhoe loaders and excavators to more than 50 countries in five continents. Hidromek serves over 100 dealers all around the world and manages its European operations from its own sales and after-sales service center in Barcelona, Spain. It has also started its own sales, service & parts operations in Russia supporting the Ukrainian, Belarus and Polish markets.
Hidromek produces two types of backhoe loaders. HMK 102B is a rigid chassis machine with 4x4 drive, with a turbo diesel engine and a fully automatic power-shift transmission. HMK 102S is a 4x4x4 machine with the same engine and transmission and it also provides 4-wheel steering. Both machines can be equipped with various attachments such as hydraulic breakers, clamshell buckets, grading blades, augers, etc. thus, making them multi-purpose machines for different needs. Hidromek presented the new Alpha Series at INTERMAT.
HMK 102B ALPHA Series Backhoe Loaders (BHL) step forward with its low fuel consumption and high productivity in its class. Its reliable world-class components, six forward fully automatic transmission, high durable steel frame and a newly designed comfortable operator cab are the other main characteristics of HMK 102B Alpha Series BHLs.
HMK 102B SUPRA Series BHL is the most advanced machine in its class with standart MSS, torque lock-up, patternshifter, piston type hydraulic pump, flowsharing and flowcharging features, air suspension seat, TIPSHIFT, hydraulic boom lock, OPERA Control Unit and other equipment.
The mini backhoe loader model HMK62SS exceeds the customer expectations through better performance, versatility, operation comfort and safety. It delivers customers a compact and reliable machine strong enough even in the toughest conditions under long working hours.
Hidromek excavators cover a wide range between 14- and 50-ton machines serving numerous applications, including specialized machines such as material handlers, demolition and long reach excavators. The new member of the Hidromek GEN Series excavators, the HMK 490LC HD, was presented during the show. HMK 490LC HD is a crawler excavator with a 348 hp (260 kW) Isuzu engine. Operating weight of the machine is 50.800 kg with a 6.550 mm boom, a 2.650 mm arm and 2.7 m³ standard bucket which all are designed as heavy-duty type.
The performance and pump life of HMK490LC HD have been maximized by using two axial pistons and variable displacement hydraulic pumps from Kawasaki. The heavy-duty upper frame is designed to withstand extreme working conditions. Several additional plates provide durability. The long undercarriage of 490LC HD provides a stable and rugged working platform for heavy working conditions.
Operator comfort and safety is very critical for Hidromek. Heavy-duty works include long working hours and lots of dangers. In order to ensure the safety and comfort of the operator, the newest member of the Hidromek excavator family HMK 490LC HD has been built with a number of special features. These features include head and front guards to protect the cabin from falling materials, and undercarriage full-guards to protect the crawler. The ROPS and FOPS certificated cab is provided standards with the top, front and side guards for operator's protection. The standard rear view camera automatically works when the machine travels and it can also be manually turned on with a select switch on the monitor.
Hidromek backhoe loaders and excavators are completely designed and manufactured in-house. The performance of the products are ensured through intensive quality assurance systems as well as manufacturing best practices. Hidromek uses components from internationally known producers to ensure high quality performance and the availability of the parts.
Hidromek is recognized internationally for its success in the industrial design field. In 2008 and 2010, Hidromek was awarded "The Superior Design Award" for The Backhoe Loader Maestro Series, and the "Good Design Award" by Design Turkey for the Excavator Gen Series, becoming the only firm that has won two awards in a row in its own category. In 2011, Hidromek was awarded the "Good Design 2011" by the Good Design Awards, which is one of America's most prestigious design awards. In 2012, Hidromek was awarded the "If Product Design Award" in Germany.