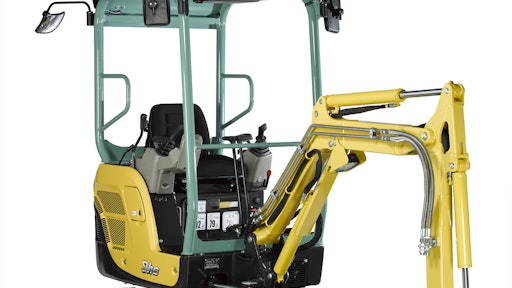 Following the development of the SV26, Yanmar has launched a new range of 1.5 to 2.5 tonne mini-excavators with ultra-short rear swing radius. The new, more powerful, more comfortable and easier to use SV16, SV18 and SV 22 combine very compact dimensions with high levels of performance and a high degree of stability.
Still just as compact
The three new models in the SV range are characterized by their very compact dimensions and very short rear overhang. They are easily transported on a small trailer or light truck. They can be operated in very narrow sites and are ideal for working in urban areas and for landscape work. 
Improved comfort and an improved ergonomic design
Following the pattern set by the SV26, the ergonomics of the cab interiors have been refined to ensure improved operator comfort and productivity. All the machine's operating movements are now controlled by means of joysticks. The instrument panel holding all control buttons, the blade control and the second-gear speed control are located together on the right-hand side of the cab for improved accessibility and better control. The ventilation openings are positioned to ensure not only even heating throughout the cab but also high-efficiency demisting of the windows. The ceiling light comes on automatically when the door is opened.
To ensure safety when working at night the machines are fitted as standard with an LED light located on the lower part of the boom. Three additional LED lamps and a flashing revolving light on the cab can also be fitted as an option. The use of low consumption LED lamp technology results in improved levels of lighting and reduces the amount of energy used.
Excellent reliability and accessibility
Certain sections of the bodywork are treated using a cathodic electrophoretic system to prevent any oxidation, and the PTO pipes are placed as close as possible to the arm to protect them from damage. The refueling system has a new protective design which prevents spills contaminating the interior of the machine and stops odors spreading into the cab.
As with the SV26, the SV16, SV18 and SV22 are equipped with a digital instrument panel which checks and monitors maintenance operations and displays any abnormalities.
Versatility
In order to extend the range of use of accessories used on the SV range, these machines are now equipped with the proportional PTO control on the right-hand joystick.