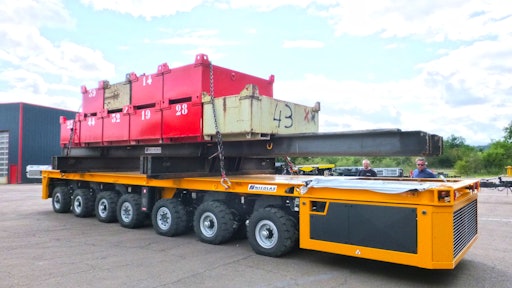 The French manufacturer of heavy haulage vehicles NICOLAS Industrie SAS, part of the worldwide leading TII Group, designed, manufactured and delivered a special self-propelled transporter, the NICOLAS Multiwheeler, for the newly founded company Russian Gas Turbines LLC (RGT). NICOLAS has been chosen to design and manufacture this self-propelled heavy transporter with very specific and unconventional technical requirements because of its vast expertise in the field of special vehicle construction.
During the construction process in close dialogue with RGT became clear: The NICOLAS Multiwheeler was supposed to have an especially low platform height compared to conventional self-propelled transporters with hydraulic suspension systems. Besides, it had to be able to maneuver within the limited space at the RGT workshops precisely as well as to position the load on a special test bench with a very low distance limit on the platform edges carrying up to 120 tons of load.
Since its delivery the NICOLAS Multiwheeler has been successfully and flawlessly carrying out its tasks of moving heavy loads within the site's territory. "The feedback from RGT has been overwhelmingly positive," says Alwin Radtke, Area Manager Sales at TII Sales and responsible for the sales and aftersales service of TII Group vehicles in Russia. "This type of NICOLAS vehicle has been sold to Russia for the first time and we are very proud that our customer is successfully operating our self-propelled transporter as part of his inplant logistic system."
The NICOLAS Multiwheeler is a highly rigid vehicle that can be operated in temperature conditions from -40 to 40C and humidity up to 100%. It enables the efficient transfer of gas turbines between the assembly factory and the test and painting workshops. It is also used to store and transfer gas turbines to the shipping areas. Special attention was taken during construction in order to get a very good accessibility to all components for maintenance, thus lowering the total cost of ownership without any safety losses.