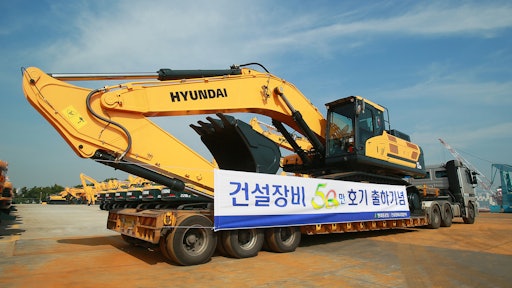 Hyundai Heavy Industries (HHI), the world's biggest shipbuilder and a leading construction equipment manufacturer, announces it recently handed over its 500,000th piece of construction equipment to a client.
The 500,00th construction equipment production record was achieved 28 years after the company introduced its first excavator in 1987. Although the company started the business with 426 new excavators in 1987, it has now emerged as a major player in the market with the broadest product range among Korean makers. HHI's product lines include 1.5 ton excavators, 30 ton forklifts, and Korea's largest 120 ton excavators. The company recently announced its eco-friendly and high efficiency HX Series excavator models.
HHI has been active in making inroads into global construction equipment markets with five overseas production factories in China, India and Brazil. Through tireless efforts in R&D, differentiated customer services and marketing activities, HHI achieved $2.7 billion in global sales in 2014. This year, the company targets to secure $3.0 billion in global sales.
Rhee Sang-gi, COO of the Construction Equipment Division of HHI, says, "We will continue to introduce new models with improved quality and performance, and solidify our position as a reliable maker in the international construction equipment market."