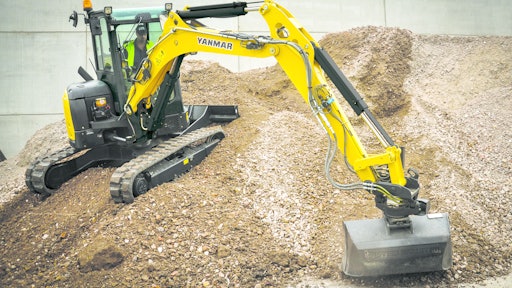 Yanmar Construction Equipment Europe S.A.S. (YCEE) will show a cross section of its product portfolio at this year's demopark + demogolf (June 23 to 25, 2015) in Eisenach. The construction equipment manufacturer from Japan will display mini and compact excavators of various weight categories and demonstrate how to enhance the machines' versatility by attaching modern accessory equipment, swing devices and tilt rotators; thus, the machines become experts for each operation. Together with the group's subsidiary Yanmar Agriculture, specialized in agricultural products, YCEE will present its portfolio at booth E-585.
Among others, Yanmar will display: an SV18 with quick coupler CSW01, PowerTilt and trench clearing bucket made of Hardox 400. The configuration with the hydraulic PowerTilt swing device allows a 180-degree rotation of all buckets and accessory equipment. Thus, the machine can work even more precisely and be more flexible. Furthermore, Yanmar will present a SV26 with quick coupler CSW03 and a root slicing device. With this combination, the excavator is well equipped for complete forest clearance of tree stumps and root stocks. A ViO33, equipped with quick coupler CSW03 and a rake as well as a ViO38 with a bucket with a hold-down-clamp will also be presented at the 500 square meter Yanmar booth.
The highlight: The Yanmar excavators ViO80 and ViO57 equipped with Steelwrist tilt rotators demonstrating their capability. The tilt rotator allows a 360-degree rotary motion of the accessory equipment and a pivoting motion of about 45 degrees. The attachments can be changed within only seconds. This significantly enhances the machines' operational possibilities and increases its productivity up to 30%. The performance of Yanmar excavators with Steelwrist tilt rotators can be observed during the exciting live presentations at the Yanmar demonstration area of 150 square meters.
Andreas Hactergal, Sales and Marketing Director of YCEE, says, "Individually, our machines are already true all-rounders. Combined with the right attachment, they become experts. At this years demopark + demogolf, we present several convincing combinations which are tailored to the specific requirements of the green sector. We are looking forward to an exciting exhibition."