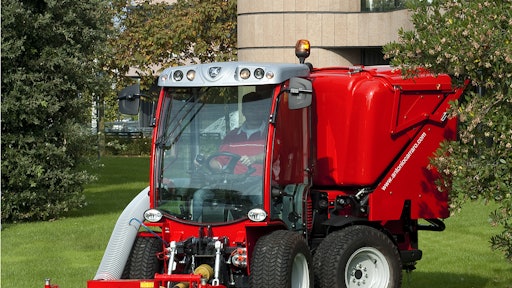 During Salonvert 2015, Antonio Carraro will exhibit several of its latest tractor models. 
Tigre 4000 – The super-compact all-rounder
The Tigre 4000 – a tractor with four equal-size wheels and steering chassis powered by a Yanmar three-cylinder engine with 31 hp and peak torque at 1,700 rpm – offers, on a smaller scale, the same features as the top-of-the-range Antonio Carraro tractors. These include, amongst other things, a high-performance engine and an ACTIO oscillating chassis for increased safety, comfort and productivity; a ground clearance of up to 275 mm to travel comfortably over rough terrain; and an innovative bodywork design. Built to be an all-rounder, the Tigre 4000 will handle a variety of tasks in public and private green areas, small fields, vegetable gardens and greenhouses. With its sleek, compact design, this tractor offers excellent forward visibility and will negotiate the tightest corners with ease. The bonnet opens wide to provide easy access to the engine compartment for inspection and maintenance. A large front steel grille surrounds the engine on three sides ensuring optimum airflow. The front bumper, which acts as a ballast and a sump guard, features an integrated tow hook. The tractor comes with a 540 rpm and ground speed PTO and a power lift with up to 850 kg lift capacity. Despite its ultra-compact size and a turning radius of only 2,870 mm, the Tigre 4000 does not compromise on comfort. The spacious, easily-accessible driving position and the clean, uncluttered central tunnel provide an extremely comfortable working environment for the operator.
Tigre 4400 F – For those who don't settle
The bigger brother in the Tigre family, the Tigre 4400 F, offers more in every respect: more power with its 38 hp
engine; more traction with its oversized rear wheels; more lift capacity with a rear hitch that provides up to 1,000 kg lifting power at ball joints; more options, such as the auxiliary hydraulic system and draft control hitch; and, last but not least, more comfort, thanks to a roomy driver station mounted on anti-vibration mounts with more floor space for operators' feet and a tilt-adjustable steering column offering a surprising amount of comfort for such a compact vehicle. Specially designed for the maintenance of green areas, construction jobs, earthmoving applications and specialized farm jobs, the Tigre 4400 F features a 54 -rpm and ground speed PTO. As an option, the PTO clutch can be engaged/disengaged on the go. 

TTR 4400 II – Inimitable
The TTR 4400 II HST is a one-of-a-kind hydrostatic tractor with four equal-sized wheels and reversible driving position. Extremely maneuverable and perfectly balanced for work with all types of implements, this model is powered by a quiet, fuel-efficient Yanmar three-cylinder, direct-injection engine that delivers 38 hp and provides excellent performance for a variety of municipal applications, such as cleaning of urban areas, mowing, groundskeeping, snow clearing, material handling and the like.
The Speed-Fix system allows the operator to set the ideal forward speed to suit the task at hand and the soil
conditions, either on flat or sloping ground. The ACTIO chassis with low center of gravity, the RGS reversible driving system for work with either towed or front-mounted implements, and the independent 540/1,000 rpm PTO make this tractor ideally suited for a wide range of highly-specialized tasks, especially in the municipal sector. As an option, the TTR 4400 II HST can be equipped with an air-conditioned cab with automatic climate control. The most requested high-tech options include an on-off joystick for implement control, a front lift and PTO on the engine side (rear lift and PTO as standard) and double-acting hydraulics at rear, ideal for the use of snow blades on icy grounds where high traction is required for removing ice. 
SP 5008 – For total comfort
The SP 5008 HST is a hydrostatic, articulated tractor powered by a Yanmar 46 hp four-cylinder engine making it ideally suited for the maintenance of green areas, cleaning of stone pavements, snow clearing, road maintenance and upkeep of public parks and gardens. Fast, comfortable and versatile, the SP 5008 HST features a roomy cab that provides excellent all-round visibility and offers a wide range of standard comfort features (MP3 player, air
conditioning, adjustable steering wheel and much more). This model also features a loading platform fitted above the bonnet for material handling operations. Designed to accommodate a variety of front-, rear- and side-mounted implements such as sweepers, snow blades, salt spreaders and mowers, the SP 5008 HST will provide maximum performance with any type of implement. Mounted on silent blocks to minimize vibrations and jolts, the driving position is equipped with a comfortable air suspension seat with head and arm rests, an adjustable steering wheel and a conveniently-located electrohydraulic shuttle lever. With all these comfort features, the SP 5008 HST provides a smooth, stress-free ride for long hours of service. The tractor is further fitted with hydraulic brakes for powerful and modulated braking, while the pedal-operated hydrostatic transmission ensures simple and safe driving. The JM joystick is placed within close reach, making it easy for the operator to control the implements. The button-operated Speed-Fix device allows the operator to set and maintain the ideal travel speed for the task at hand. 

SRH 9800 Infinity – Infinite possibilities
After winning numerous awards at major trade shows around Europe, the SRH 9800 Infinity – a compact, narrowtrack tractor with reversible driver station and articulated chassis – continues to grow in popularity. Powered by an 87 hp Yanmar engine, this tractor features an innovative continuous-variable hydrostatic transmission which provides the operator with infinite operating speeds while dispensing with the gearshift lever. This transmission offers two mechanical speed ranges: 0 to 15 Km/h and 0 to 40 Km/h. Each range provides three hydrostatic speeds that are shifted through a selector switch integrated into the joystick. Speed changes can be made on the go without losing power or traction. The tractor features a forward pedal which assists braking when going downhill by stopping the vehicle automatically upon releasing the accelerator, without using the clutch or brakes. The tractor travel can be controlled either through a lever located under the steering wheel or through a button integrated into the joystick enabling the operator to virtually control all tractor operations from a single controller. The transmission is further equipped with an Eco system which, when the tractor reaches 40 km/h, automatically reduces engine speed from 2,600 to 2,100 rpm, thereby lowering noise and fuel consumption. The SRH 9800 Infinity relies on a highly-efficient hydraulic system with as many as 11 hydraulic outlets and a vertical tie rod, both controlled by joystick. An additional feature is the ESC device, which allows the operator to adjust the travel speed and the PTO revolutions independently of each other to maintain constant performance, regardless of load variations. Available also with sound-insulated, air-conditioned Starlight cab mounted on silent blocks, the SRH 9800 Infinity reflects Antonio Carraro's commitment to offer each customer a tailor-made product with custom options designed to suit specific soil conditions – be it steep slopes, uneven grounds or unstable surfaces.
TRH 9800 - Universal
The TRH 9800 is a multi-purpose equal-wheel tractor with reversible driving position. The electronically-controlled
hydrostatic transmission is integrated with the engine, an 87 hp, 3,300 cc model with four valves per cylinder and
electronic injection system. The TRH 9800 features a computer system that controls the ground speed, the engine
rpm, the acceleration and the PTO revs. The hydrostatic drive makes this tractor ideal to handle a wide range of
implements, from multi-blade lawn mowers for large areas to digging trenchers that may require fine variations to
ground speed to suit soil conditions. The TRH 9800 features an electronic proportional joystick for control of the
implement hydraulics and a fully customizable man-machine interface for added driving precision and comfort.
The TRH 9800 can be fitted with either a StarLight cab or an EasyStar 6-post half-cab. A comprehensive range of
options is available to suit a variety of needs, including pneumatic suspension seats, bull bars, counterweights, wheels, power lifts and hydraulic systems. The TRH 9800 offers one of the best compromises on the market between performance, features and cost.

Mach 4 – Extraordinary
The Mach 4 is an 87 hp articulated reversible tracked tractor with four independent rubber tracks. This quadtrack
offers an innovative solution which combines the benefits of both a tired tractor and a conventional tracked vehicle without the drawback of each. While it can travel on road up to a speed of 40 km/h, thereby reducing the time and cost of road transfer compared to conventional tracked tractors, the Mach 4 will provide extraordinary tractive power, ensuring unequalled performance on the roughest terrains and enabling maneuvers that would be
unimaginable for a conventional tractor. Emphasized by the black finish and by the front bull bar, the aggressive
design of the Mach 4 reflects the mix of ruggedness and style of an extraordinary tractor that is designed for operators with extraordinary needs. The advantages of this phenomenal Antonio Carraro tractor are well proven: great versatility of the reversible driver station Rev-Guide System RGS and excellent traction ensured by the ACTIO oscillating chassis, which, combined with the longitudinal oscillation of each track and optimum weight distribution, causes less soil compaction than a human foot. The machine "floats" even on the crumbliest terrains, ensuring maximum grip without slippage even on muddy, unstable or marshy grounds. The precise, smooth steering of the articulated chassis enables the Mach 4 to maneuver easily through tight turns and move nimbly between crop rows.
For the Mach 4, Antonio Carraro offers a wide range of convenience features, including: Superbrake braking system, gearbox with E-Drive reverse shuttle, CleanFix self-cleaning radiator system, JPM joystick integrated into the armrest to allow easy operation of the power lift and all implements (pruner, forklift, snow blade, trailer and much more).