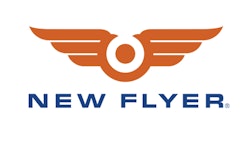 New Flyer of America Inc., the leading manufacturer of heavy-duty transit buses in Canada and the United States, announces that the company's Winnipeg manufacturing facility has been selected as the only Canadian finalist for the 2015 IndustryWeek Best Plant Award.
Established in 1990, IndustryWeek's annual salute to outstanding North American manufacturing facilities serves two purposes:
To recognize plants that are on the leading edge of efforts to increase competitiveness, enhance customer satisfaction, and create stimulating and rewarding work environments.
To encourage other manufacturing managers and work teams to emulate the honorees by adopting world-class practices, technologies, and improvement strategies.
In order to qualify, candidate facilities are judged by a panel of IndustryWeek editors, who may solicit independent evaluations from manufacturing experts and other knowledgeable persons. New Flyer demonstrated strong evidence of:
A comprehensive effort to achieve world-class manufacturing capability.
Improvements in manufacturing operations, including shortening of manufacturing cycle times, improvements in productivity, and reduction of inventories.
Extensive employee involvement and empowerment programs, especially efforts to create and provide training for high-performance work teams.
A strong customer focus, including customer-satisfaction programs, customer involvement in product design, employee contact with customers, and efforts to reduce customer lead times.
Effective supplier-partnership programs, including efforts to solicit supplier evaluations of plant practices.
"We are tremendously proud to be named among the finalists for this prestigious industry recognition," says Kevin Wood, New Flyer's Vice-President of Manufacturing. "This honor of being the only Canadian finalist across all of North America, is a tribute to the hard work and dedication to improving performance seen in each New Flyer employee. We could not be more pleased to have been the only transit bus manufacturer to receive this prominent distinction".
"New Flyer has become known for their focus on sustainability both in terms of what they build to how they build," says Ron Koslowsky, Vice President of the Canadian Manufacturers & Exporters. "They have used technology to facilitate a lower environmental footprint, as well as to gain competitive advantage in the marketplace and secure profitability in the process. Their commitment to their employees extends through the care and attention to safety demonstrated by their exemplary record."