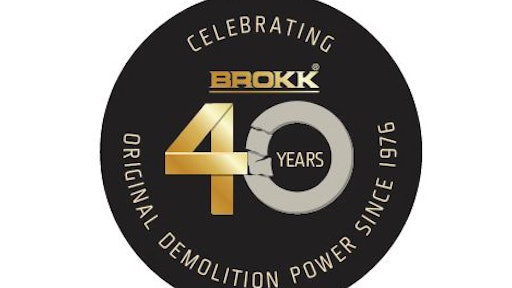 Brokk celebrates 40 years of innovation in 2016 as the world's leading manufacturer of remote-controlled demolition machines. Brokk introduced its first demolition machine in 1976 to demolish a furnace at a lead smelting plant. Since then, Brokk has led the way in making demolition machines a vital tool for many projects and industries across the world. Brokk will mark the 40-year milestone with a range of events throughout 2016.
Brokk's history and the history of remote-controlled demolition machines are the same. It all started in 1976 when two entrepreneurs in Skellefteå, Sweden faced a confined space demolition challenge that led them to develop the world's first demolition robot. This machine led to Brokk's establishment, and the company continues to innovate and solve increasingly complex demolition problems today.
For the past 40 years, Brokk has delivered about 7,000 demolition machines to more than 100 countries across the world. What started as a niche machine for special projects is now mainstream and vital to many demolition, process, cement, nuclear decommissioning and underground projects. With the experience and expertise developed during these 40 years, Brokk continues to push the boundaries and lead the development in the demolition machine industry.
"We are proud and excited to be celebrating 40 years of innovation in the remote-controlled demolition industry. Our products have not only changed the nature of the demolition business, but they also improved the environmental and safety factors for contractors and operators  worldwide. That is definitely worth celebrating," says Peter Bigwood, Vice President of Sales and Marketing for Brokk in North America.
The celebration starts with a sneak preview of the new Brokk 120 Diesel, the world's smallest diesel-powered model. The basic design elements remain the same as other Brokk machines: a compact, flexible, productive and stable machine with an innovative three-part arm system for maximum reach and precision. As with any Brokk machine, work can be done safely and efficiently with a wireless remote-control box, allowing the operator to stay clear of hazards.
The anniversary year includes numerous events. Brokk will join the world ́s biggest construction exhibition, bauma, in Munich, Germany, April 11-17 and attend a number of other major exhibitions during 2016:
bauma 2016, April 11-17, Munich, Germany, Hall FM.613
World Tunnel Congress, April 22-28, San Francisco, CA, Booth 709
Svenska Maskinmässan, June 2-4, Solvalla, Stockholm, Sweden, Stand N:01
ONS: Offshore North Sea, Aug. 29-Sept. 1, Stavanger, Norway 
Electra Mining, Sept. 12-16, Johannesburg, South Africa 
MINExpo, Sept. 26-28, Las Vegas, NV
Demcon, Sept. 29-30, Stockholm, Sweden
bauma China, Nov. 22-25, Shanghai, China 
Brokk will be placing a special golden stamp with a logo commemorating its 40 years on every machine that leaves the factory in 2016. The logo will include the slogan, "Original Demolition Power since 1976."