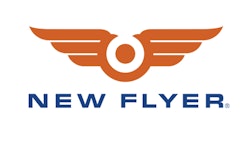 New Flyer of America Inc., a subsidiary of New Flyer Industries Inc., the leading manufacturer of heavy-duty transit buses and motor coaches in the United States and Canada, announces that the New York City Transit Authority (NYCT) awarded New Flyer a contract for 138 heavy-duty 40-ft. Xcelsior compressed natural gas (CNG) buses. The contract is a firm order for 138 XN40 Xcelsior buses and is valued at approximately $78 million.
New Flyer has also bid to supply the NYCT with 139 60-ft. Xcelsior buses. That contract has not yet been awarded and there can be no assurance that it will be awarded to New Flyer.
NYCT and MTA Bus Company (together, MTA) comprise the largest transit agency in North America with over 5,700 transit buses in their fleet and an annual ridership of nearly 670 million. New Flyer began building buses for MTA more than two decades ago and to date has built over 1,900 buses, of which 1,353 are actively in service for MTA today.
NOTE: All dollar amounts are stated in U.S. currency.