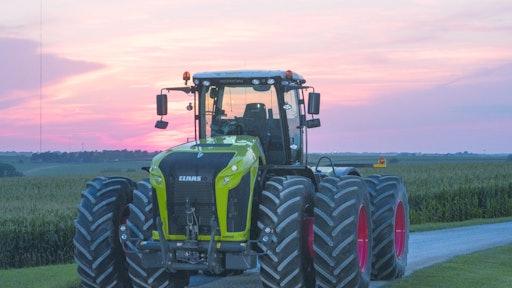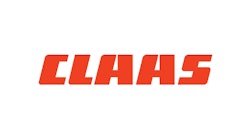 CLAAS of America recently received several awards for its product innovation and work within the industry. In addition to winning an Association of Equipment Manufacturers (AEM) 2015 Pillar of the Industry Award, CLAAS was honored to have six of its products selected for the American Society of Agricultural and Biological Engineers (ASABE) 2016 AE50 Product Awards.
Pillar of the Industry
Winners of the Pillar of the Industry Award are selected for their extensive activities with I Make America, AEM's signature program, which includes employee involvement, providing a voice for the agriculture industry and work at trade shows and with trade associations.
"This is an important time for companies to advocate for the agricultural industry," says Leif Magnusson, President, CLAAS Global Sales – Americas. "This award recognizes the extensive efforts by CLAAS of America employees throughout the year to inform and educate about regulatory and safety matters. We are very honored to receive this recognition."
Innovation Wins at AE50
The AE50 Awards program celebrates product innovations for agricultural, food and biological systems. Each winner is hand-selected by a panel of engineering experts. Winning products are chosen for innovation, engineering advancement and impact on specific markets.
"With all CLAAS products, our goal is to ensure a better harvest with premium products designed for maximum throughput, efficiency and reliability," says Magnusson. "To be honored with six AE50 Awards emphasizes that we are achieving those goals."
The CLAAS products selected for the 2016 AE50 Awards include:
DYNAMIC COOLING System (LEXION 670)
The DYNAMIC COOLING System, featured on the LEXION 700/600 Series combines, is an exclusive cooling system located on the top of the combine, where the air is the cleanest. With this new system, air passes through the redesigned side panels, keeping dust and debris from building up on the radiator.
HD Variable Speed Feederhouse Drive
In addition to the features found in the standard feederhouse, the HD Variable Speed Feederhouse Drive delivers a stronger, more efficient header drive output, which helps farmers meet the demands of larger heads. With the HD feederhouse drive, output power reaches 200 kW.
CRUISE PILOT
The CRUISE PILOT system automatically controls the harvesting speed of the LEXION combine for optimal harvesting efficiency. Depending on the travel mode, the system monitors multiple parameters simultaneously including ground speed, crop volume in the feederhouse, engine load and grain loses. With this system, the LEXION runs consistently at the upper limit of productivity at all times and produces better harvest results.
JAGUAR 900 Series
The JAGUAR 900 Series represents the widest range of self-propelled forage harvesters in the world. This series now utilizes the power of multiple features that work together optimally to ensure cost-effective chopping to the highest professional standards under all field conditions. These features include DYNAMIC POWER, VISTA CAB, CEBIS information and cooling system, TELEMATICS, QUANTIMETER and V-MAX knife drum.
XERION 5000-4000
With the XERION 5000-4000 tractor series, productivity meets efficiency. This line of tractors enhances the power of other XERION models with a new engine, a rigid frame and greater comfort. XERION 5000-4000 is defined by a number of unique features, including an exclusive CVT transmission, a tighter turning radius than articulated tractors, and a variable cab option featuring a cab that rotates 180 degrees for optimal flexibility with various implements.
DISCO 1100 Mowers and Conditioners
The DISCO 1100 Mower and Conditioner supports day-to-day operations and enables users to achieve optimal results in forage harvesting. This product combines the MAX CUT mower bar, SAFETY LINK system and ACTIVE FLOAT hydropneumatic suspension for perfectly cut forage.
Companies from around the world submit entries to the annual AE50 competition and up to 50 of the best products are chosen by a panel of international engineering experts. The judges select products that will best advance engineering for the food and agriculture industries. The AE50 awards program is sponsored by Resource to emphasize the role of new products and systems in bringing advanced technology to the marketplace. These engineering developments help farmers, food processors and equipment manufacturers cut costs, enhance quality and increase profits.