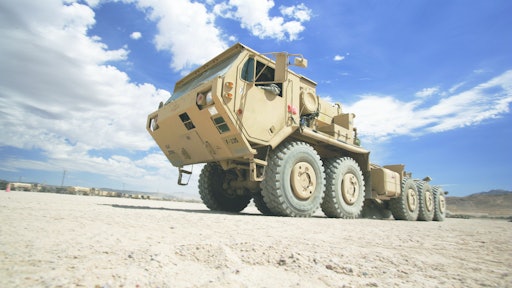 Oshkosh Defense LLC, an Oshkosh Corporation company, will recapitalize 1,212 Family of Heavy Tactical Vehicles (FHTV) and produce 345 trailers following multiple orders from the U.S. Army valued at more than $430 million. Oshkosh will upgrade the Army's fleet of Heavy Expanded Mobility Tactical Trucks (HEMTT) and Palletized Load Systems (PLS) to provide the same performance and life cycle cost advantages as new production vehicles. All work performed under the contract will be completed in Oshkosh, WI, with deliveries occurring from 2016-2017.
"We understand the critical need to improve reliability for in-theater operations without sacrificing performance on aging vehicle fleets," says John Bryant, Senior Vice President of Defense Programs at Oshkosh Defense. "That is why Oshkosh recapitalized vehicles are assembled on the same production line as new vehicles, and complete the same extensive performance tests and inspection procedures as new vehicles."
Since 1995, Oshkosh has recapitalized more than 12,000 of the U.S. Army's heavy vehicles to equip soldiers with the latest technology and safety upgrades to achieve operational readiness. Through recapitalization, heavily used vehicles are returned to Oshkosh, stripped to the frame rails and completely rebuilt to like-new condition.

The Oshkosh HEMTT is the backbone of the Army's logistics fleet with a 13-t payload and multiple variants for a wide range of operations. Oshkosh's latest configuration, the HEMTT A4, brings significant improvements in power, maintenance and safety to the battlefield, traversing even the most challenging environments easier and more efficiently. The Oshkosh PLS A1 supports the Army's distribution and resupply system by providing unparalleled performance for loading, unloading and delivering ammunition and other critical supplies needed in battle. The PLS carries a wide range of cargo and is specially designed to load and unload a variety of flatrack or ISO compatible containers on its own. The latest configurations of FHTV trucks also include air-conditioned and armor-ready cabs, electrical upgrades and anti-lock braking to help keep soldiers safe.