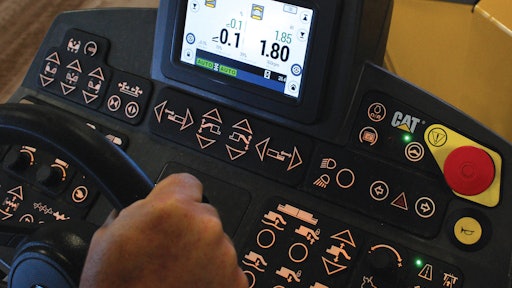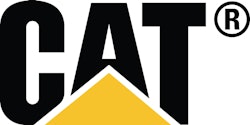 Two new Cat pavers—the wheeled AP500F and rubber track AP555F (using Caterpillar's Mobil-Trac undercarriage)—feature advanced, easy-to-use control technology and quick-heating electric screeds that boost productivity of machine and crew. New screed platforms are available in both vibration-only and vibration/tamper-bar configurations.
Fuel-efficient engines
Powering the new pavers is the Cat C4.4 ACERT engine, rated at 106 kW (144 metric hp) and available in configurations that meet either EU Stage IV/U.S. EPA Tier 4 Final, Stage IIIA/Tier 3 equivalent, or China Off-Road Stage III emissions standards.
The C4.4 ACERT engine's Eco-Mode setting, when used with automatic engine-speed control, is designed to efficiently manage engine speed for optimum fuel economy and for reduced sound levels. Eco-mode automatically adjusts engine speed to meet high-load situations, or when added cooling is required.
Screed-heating system
An integrated generator powers a new screed-heating system, further reducing fuel consumption. The Caterpillar-exclusive generator used in the AP500F and AP555F pavers was developed by the same team that designed and engineered the Cat D7E electric-drive dozer.
The generator connects directly to the engine and combines with the heat-distribution system of the SE50-Series screeds to bring the screed to proper temperature in approximately 15 minutes, compared with the previous 30-45 minutes. The engine runs at 1,300 rpm while the screed is heating, compared with the typical speed of 2,200 rpm, saving fuel and reducing sound levels.
Diagnostics for the screed-heating system are designed to minimize paving interruptions if a screed temperature-sensor malfunctions by automatically adjusting the system to maintain consistent heat.
Technology
New touchscreen displays for the AP500F and AP555F models provide increased flexibility when operating and adjusting the machine. The high-visibility color displays incorporate user-friendly options that allow accessing controls for new technology through the touchscreen.
For crew convenience, the most frequently used functions are controlled by switches, such as the new single-switch control for the auto-fill feeder system, simplifying setup and helping operators with varied experience and skill levels to attain consistent results. The auto-fill switch allows the feeder system to alternate between auger and conveyor operation, helping operators establish a proper, initial head of material.
For enhanced operating flexibility, ratio control for the conveyors, as well as mix-height adjustment, can be controlled from both the screed and the operator's platform. An available pendant control enables the screed operator to stand alongside the machine during operation.
Operating Consoles
Operating console controls are designed to be as simple and flexible—or as advanced—as the contractor prefers. Crews preferring limited options can access an organized, efficient control system, and crews preferring more functions can access various menus through the touchscreens.
Propel and feeder-system settings transfer between operating stations via a single switch, and speed, as well as operation and travel modes, are automatically adjusted at both stations. The operator also can make various screed adjustments without leaving the seat. Cat Grade Control also now can be operated from the tractor consoles.
A warm-up/clean-out mode operates the feeder system at a reduced speed, enabling more efficient wash-down. The feature also automatically lifts the auger for simplified transport.
Undercarriage design
The Mobil-Trac undercarriage is designed to combine the traction and flotation of a track paver with the speed and mobility of wheel pavers. The system's oscillating bogie sets assist the track in maintaining contact with irregular surfaces and also minimize grade deviations and tow-point movement, resulting in smoother paving results.
The Mobil-Trac System is maintenance-free, with rubber-coated components that shed asphalt and prevent accumulation. Self-tensioning accumulators, center guide blocks, and internal belt cables ensure track durability and reliability. 
The wheeled AP500F is available with six-wheel drive to deliver optimum traction; the system provides 200% more front pull force, compared with previous models. A front-wheel assist or four-wheel-drive option increases front-wheel pull force by more than 50%, compared with previous models. New radial tires also provide increased traction.
Screed Options
The SE50 V and SE50 VT screeds are designed to enhance ride and mat qualities, while providing versatility in urban areas. The SE50 V is a vibratory-only model, and the SE50 VT provides both vibration and tamper-bar action. The SE50 V offers a maximum paving range of 6.5 m (21.3 ft.) and the SE50 VT provides widths to 8 m (26.3 ft.).
Quick-change screed extensions facilitate changes in lift widths. Slotted mainframe extensions and strike-off plates enable one-person assembly. Integrated hooks assist with extension assembly and alignment. Power controls use hydraulics to attach and remove the self-latching screed extensions. Lockouts on the screed prevent inadvertently changing adjustments.
Screed extensions have two-speed proportional control for fast as well as precise control near obstacles. A pendant control adjusts the height of optional hydraulic end-gates, as well as extender width and tow-point height.
Screed-plate life is extended with proprietary, abrasion-resistant steel, and a machined screed frame facilitates installation of plates, which bolt flat to the frame.