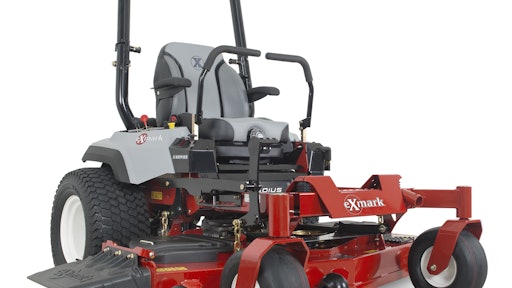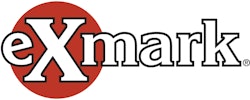 With the launch of its new Radius, Exmark introduces its next generation of zero-turn mowers. The new machines deliver the durability and cut quality landscape professionals need with an innovative new design that will appeal to professionals and homeowners alike.
Exmark Director of Marketing Daryn Walters says the Radius was developed to give landscape professionals the company's renowned productivity, quality of cut and long-term durability in a new value-oriented design that achieves a lower total cost of ownership than other commercial zero-turn riding mowers.
"We took the lessons learned from the evolution of our industry-leading Lazer Z, combined with the feedback we've received from our customers and dealers, and applied them to the new Radius machines. As a result, Radius models exude Exmark's commercial heritage, while demonstrating our commitment to building simple, heavy-duty, professional-grade zero-turn mowers."
The Radius is available in three models: E-Series, S-Series and X-Series. Each features a heavy-duty unibody frame that's fully welded of 2-in. by 3-in. rectangular steel frame tubes for maximum strength and durability. The frame design places the heaviest components, including the engine, fuel tank and hydro drive system, lower in the frame for improved weight balance and increased stability, traction and maneuverability.
Large front caster tires and rear drive tires offer increased traction, ground clearance and stability, with reduced ground pressure to minimize turf compaction.
Walters says Exmark's design team worked hard to raise the bar on operator ergonomics and comfort on Radius models, with features including an isolated floor pan, which reduces vibration and noise felt by the operator compared to standard flip-up foot rests.
"The Radius design positions the operator in a more ergonomic position to reduce fatigue during long periods of continuous operation, and new controls are designed to deliver superior handling and operator control."
Radius S-Series models feature operator seats equipped with Exmark's adjustable isolation technology, while Radius X-Series machines are equipped with the company's full-suspension seat, which suspends the operator atop 3 in. of travel that's easy to adjust for operator weight or ride quality preferences. Both seats use specialized foam design and patented Elastomeric Vibration Control material to significantly increase comfort by reducing bumps and vibration felt by the operator.
Exmark designed the Radius with patented Lazer Z-style deck strut isolation technology, which eliminates deck sway, offers smooth deck height adjustment and delivers increased durability with reduced maintenance. The isolation technology also increases operator comfort by reducing the vibration felt through the Radius chassis.
Side-discharge Radius E-Series and Radius S-Series models use Exmark's 5-in. deep UltraCut Series 3 cutting deck. Radius X-Series models upgrade to a 5.5-in. deep UltraCut Series 4 deck for increased capacity at higher cutting speeds. Both decks feature Exmark's exclusive Flow Control baffles to deliver the company's signature cut quality and are available in a choice of 48-, 52- or 60-in. cutting widths.
Exmark also offers the Radius S-Series model with a 60-in. UltraCut Rear Discharge cutting deck. The high-capacity 5.5-in. deep, rear-discharge deck features a baffled deck and counter-rotating blade design to maximize cut quality and ensure even clipping distribution in a wide range of cutting conditions.
Cutting decks include a standard deck step, which provides a safe point of reference for the operator when mounting or dismounting the machine.
Exmark's integrated hydro transmissions and maintenance-free sealed bearing blade spindle assemblies further reduce maintenance requirements and increase the commercial durability of Radius models. There are just four grease points on the entire machine. Belts are easy to access without tools and engines are equipped with oil drain hoses for clean and easy oil changes. An integrated jack receiver is welded to the Radius frame to ease access to the underside of the Radius deck and chassis when equipped with Exmark's jack accessory (available separately).
Each Radius model features a proven commercial engine and drivetrain to maximize performance, productivity and reliability. Radius X-Series models use a Kawasaki FX engine powering a high-capacity hydro drive system to achieve forward speeds of up to 10 mph. Radius S-Series machines feature Kohler ZT Confidant engines, with ground speeds of up to 9 mph. Both models feature heavy-duty canister-style air filtration systems. Radius E-Series machines are powered by the Exmark 708cc V-Twin engine and integrated Hydro-Gear transmission, for speeds of up to 8 mph.
Additional Radius features include:
Digital hour meter
Reliable window-style fuel gauge
12V power port for charging electronics
Integrated hitch
Roll-Over Protection System (ROPS) – Easy to adjust, with a rear-facing angle to push branches away from the operator. Round, tubular construction makes installation of accessories quick and easy.
Commercial warranty